In Harvey's Wake
As Harvey leaves Texas behind, Houston shelters remain a lifeline for thousands
More than 10,000 people remain in Houston shelters, where Texans rescued from rising waters figure out their next steps and search for provisions.
HOUSTON — Anthony Moore stood amid thousands of this city's displaced residents and scores of volunteers at the George R. Brown Convention Center on Thursday and clung to a garbage bag filled with toys, shirts and diapers.
The 37-year-old spent days trapped in his flooded northeastern Houston house where he lives with his wife, two children and grandmother. But after they ran out of water, Moore decided he and his wife should leave everyone else behind and walk more than eight miles to get supplies at one of dozens of shelters for Hurricane Harvey evacuees.
"I said, 'Baby, let's try and make it,'" said Moore, who wore a black baseball cap that said "H-Town."
Between 6,500 and 8,000 people remained at the convention center Thursday, days after Harvey slammed into the coast as a catastrophic Category 4 hurricane and then dumped epic amounts of rainfall on southeast Texas after lessening into a tropical storm.
As floodwaters recede and the extent of the unprecedented damage comes into sharper focus, many will have to stay in the city's shelters for an indefinite amount of time. One woman who was among the first to arrive at the convention center has already found a job cleaning the building.
"I'm just grateful and thankful for, you know, what they've done here," said the woman, who got separated from reporters amid the building's bustle before she could give her name.
The convention center was part dorm, part animal shelter, part counseling center. Volunteers checked people in. Stacks of donated food, clothes and diapers peppered the large exhibit spaces. County housing authority employees scoured the building and other shelters Thursday in the hopes of finding public housing tenants, who are among the city's most vulnerable residents and who scattered during the storm's early chaos.
Many of the people who fled to the shelters amid the merciless rain have begun to return home, head to other cities or find friends and family with dry rooms to spare. Others, like Moore, are still showing up in search of food, water and clothing.
"The volunteers have been real nice," Moore said.
At the height of the state's still-unfolding crisis, more than 10,000 people flocked to this building in downtown Houston. It's one of seven shelters that the city, Harris County and Red Cross are jointly operating. Nonprofits and churches have opened dozens more, but county officials are transferring people from smaller buildings to NRG Stadium southwest of downtown.
That facility had 2,300 people Thursday, but can hold 10,000.
"It's just a lot more comfortable and effective than putting up cots in a school gymnasium," said Joe Stinebaker, communications director for Harris County Judge Ed Emmett.
And with Hurricane Irma gathering strength in the Atlantic Ocean and another storm brewing in the Gulf of Mexico, officials say the larger shelters are likely to become mainstays for the foreseeable future.
"We're certainly not going to take any chances, shut it down, then have another storm and have to gear it all up again," Stinebaker said.
Cities throughout the state have also turned convention centers and other large facilities into makeshift homes for those who fled the storm and its subsequent floods.
Haley Gray and her family arrived at the Houston convention center early this week after their Channelview home flooded.
"It was almost like a river," she said.
She and her sister's seven children were rescued by a helicopter and have been at the shelter for four days. On Thursday, they were relocating to a hotel. From there, they'll begin to figure out what to do next. Gray is on disability and helps take care of her sister's kids, ages 1 to 11. The family's car was likely totaled in the flood. Most of their belongings were ruined. Like many, they must now chart a new life with few resources and a cloud of uncertainty hanging over their heads.
"I don't think we're going to be able to go back because it's pretty bad," she said as her nieces and nephews crowded around her.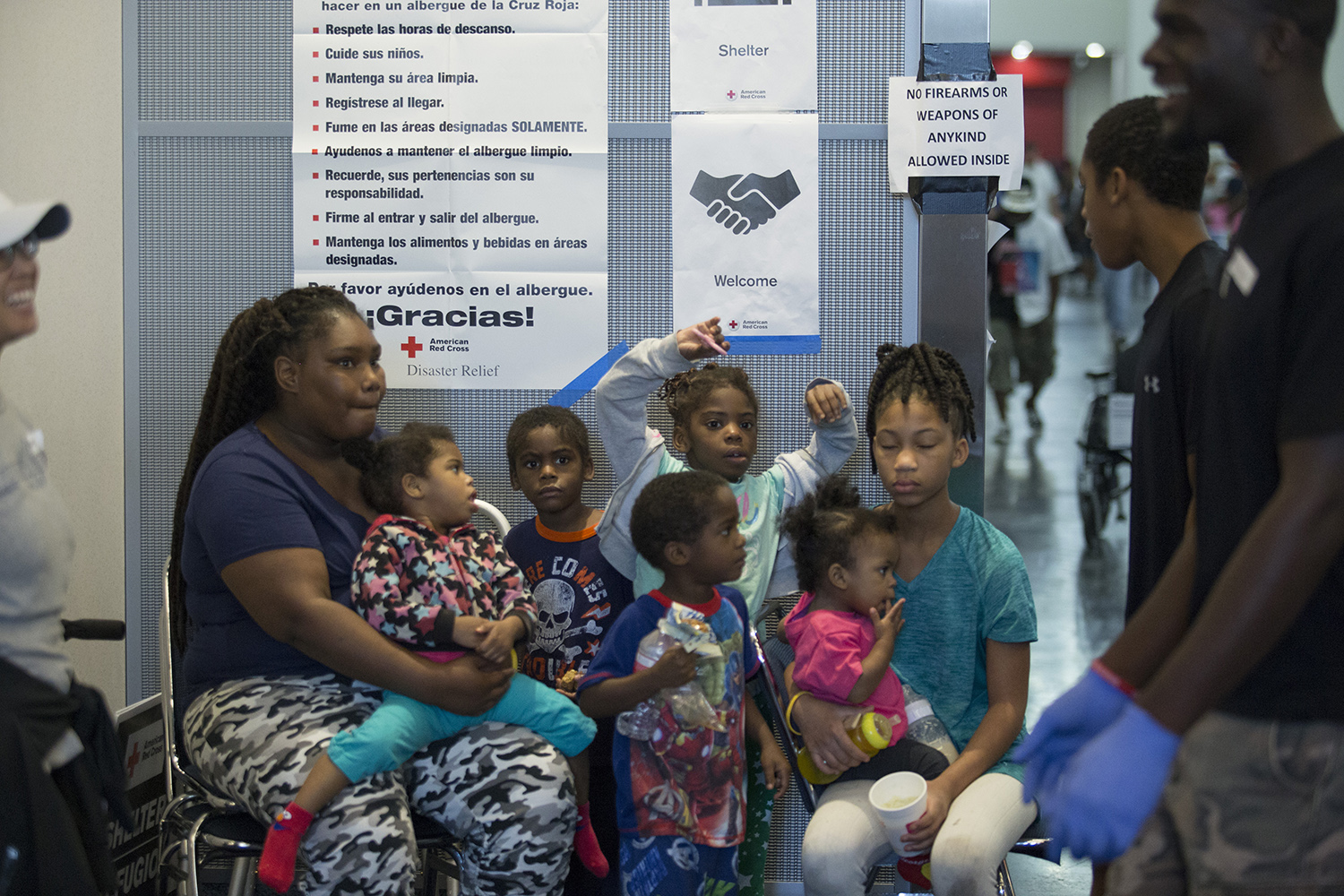 Moore and his wife, meanwhile, planned to spend the rest of the day figuring out how to get back home with the donations they collected. Moore tried calling 911 when the water rose, but was told he'd be put on a waiting list for rescue. Help never came.
As they collected supplies, their two kids and Moore's grandmother waited in a waterlogged house. Moore, who is a carpenter, hopes a friend will pump most of the water out. He'll sweep out the rest, then get to work making the house habitable again.
"So I'm just going to try and do everything over," he said.
Giulia Afiune contributed to this report.
Texans need truth. Help us report it.
Our Fall Member Drive is underway, and we need your support. The Texas Tribune is a critical source of truth and information for Texans across the state and beyond — and our community of members, the readers who donate, make our work possible. Will you join as a member with a tax-deductible donation of any amount?
Yes, I'll donate today
---
Information about the authors
Explore related story topics