Liveblog: What's Left for the 83rd Legislature
The clock is ticking for lawmakers hard at work to pass prize bills in the final days of the 83rd legislative session. Here's a look at what's still outstanding. Check back often: We'll update this story as deals are brokered or broken.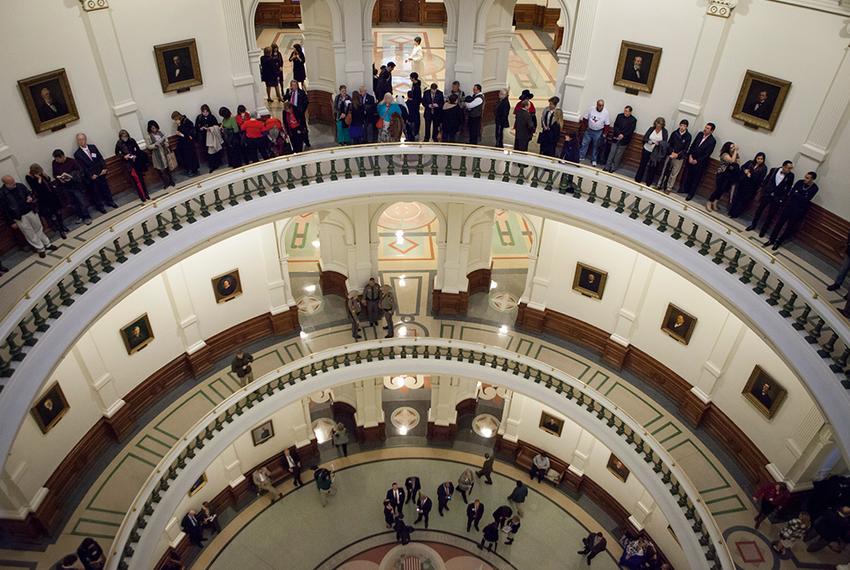 The clock is ticking for lawmakers hard at work to pass prize bills in the final days of the 83rd legislative session. Here's a look at what's still outstanding. Check back often: We'll update this story as deals are brokered or broken.
BUDGET
None of the bills key to a budget deal have reached the governor's desk yet. Both chambers need to vote by Monday on a unified version of SB 1, the main budget bill. The Senate needs to agree to the House changes made to SJR 1, which would ask voters to create a water infrastructure fund. Budget leaders in both chambers need to resolve their differences on HB 1025, a supplemental budget bill that includes a $2 billion appropriation for that water fund as well as other spending pivotal to the budget deal.
Some major tax relief bills remain unresolved. House and Senate members need to find middle ground on HB 500, the major franchise tax relief bill of the session. Same with HB 213, which deals with a tax exemption for small businesses, and HB 7, which includes $630 million in refunds to residents and businesses from the System Benefit Fund, an account set up to help low-income Texans pay their utility bills. HB 800, which provides tax credits for business spending on research and development, is headed to Gov. Rick Perry's desk.
ETHICS
The chambers have yet to agree on SB 219, an omnibus reform bill for the Texas Ethics Commission. The measure was loaded up with amendments in the House that force lawmakers to be more transparent with their finances. It also includes a contentious "dark money" amendment aimed at getting politically active nonprofits to disclose their donors; a similar bill, SB 346, is sitting on the governor's desk, and is considered to be at risk for a veto.
HIGHER EDUCATION
Conferees have yet to issue a report on SB 215, the Texas Higher Education Coordinating Board's reform bill. In addition to seeing the extent to which the final version maintains restrictions on the coordinating board that were added in the House, questions also remain about the fate of amendments that tweak the state's B-On-Time student loan program to prevent universities from losing money on it.
HB 29 was originally designed to require universities to offer incoming students optional four-year fixed tuition plans — a proposal backed by Perry. It was returned to the lower chamber by the Senate significantly altered to put new restrictions on regents of public university systems, similar to a bill already sitting on the governor's desk, SB 15. The Senate reduced the substance of the original bill from three pages to 14 lines, so House members are looking — at a minimum — for some of that to be restored.
PUBLIC EDUCATION
Two major education bills — SB 2, which expands the state's charter school system, and HB 5, which makes changes to high school testing and course requirements — are still up in the air as lawmakers from the House and Senate hammer out their differences in conference committee. Both are the last chance for other education measures that have died to hitch a ride, and will likely affect negotiations on a number of other smaller education bills.
ENERGY
If lawmakers take no action to extend the life of the Railroad Commission, the oil and gas regulatory agency would shut down. All eyes are on the conference committee for HB 1675. That bill provides "safety net" legislation that can extend the life of an agency — and the RRC, having failed to go through the "sunset" agency review process this session, needs its life extended. As passed by both chambers, the measure does not currently extend the RRC's life, but the conferees could use a special maneuver to do it.
TRANSPORTATION
Lawmakers may try for a last-ditch effort to find more funding for the Texas Department of Transportation, which says it needs $4 billion more a year just to maintain current congestion. SB 1730, which clears the way for several major road projects around the state to move forward as public-private partnerships, appears headed to Perry's desk.
HEALTH CARE
Medicaid expansion — or the lack thereof in Texas — remains a sticking point in the final days of legislative negotiations. The House attached an amendment to SB 7, a key bill to transition people with disabilities to Medicaid managed care, that would prevent the state from ever expanding Medicaid eligibility without legislative approval. Senate Health and Human Services Chair Jane Nelson, R-Flower Mound, said she's working on new language to capture the intent of supporters of the amendment without creating unintended consequences.
Lawmakers are still hammering out the details to two other Medicaid overhaul bills, SB 8 and SB 58, which would crack down on Medicaid fraud and expand behavioral health services in Medicaid managed care.
Independent pharmacies around the state are watching to see if House and Senate lawmakers can come together to pass SB 1106, a bill to provide greater transparency in negotiating rates with Medicaid managed care organizations. The Senate didn't agree with a House amendment that requires managed care plans to submit quarterly reports to the state detailing how much they're reimbursing different providers in their network for the same drugs.
IMMIGRATION
Lawmakers aren't giving up on what's been a surprising bipartisan push to create a new driver's permit for undocumented immigrants. The measure, championed by state Reps. Roberto Alonzo, D-Dallas, and Byron Cook, R-Corsicana, is intended to fix what lawmakers call an unintended consequence created in 2011, when they mandated that an applicant for a new or renewed license prove they are in the country legally. Lawmakers would have to adopt an "outside the bounds" resolution, where legislation is attached to a separate measure still moving through the legislative process, in order to pass the provision.
The non-binding HCR 44, aimed at telling Congress that the Texas Legislature supports comprehensive immigration reform, has yet to be voted on. The measure, filed by two House Democrats, includes talking points from Republican groups that support reform. The holdup is two-fold: conservative Republicans do not support the path to citizenship provision included in a bipartisan U.S. Senate bill, and Republicans generally won't support an effort that President Obama considers a second-term priority. Because it's a concurrent resolution, it isn't dead. But whether or not the Legislature has the stomach to call out members and force a vote is another matter.
CRIMINAL JUSTICE
The chambers have yet to agree on SB 213, the reform bill for the Texas Department of Criminal Justice. The bill reauthorizes the state's sprawling prison system and provides for the expansion of re-entry programs for inmates who are released from state custody. The House and Senate put in differing provisions regarding the potential closure of two prison units. The bill also includes a number of amendments, including one that would require a study of the prison grievance system, one that would study the agency's visitation policies, one that would require the collection of information about inmates after their release and another that would allow for the collection of information about inmates who were previously in the state's foster system.
SOCIAL SERVICES
After an animated debate, the House clock ran out on SB 11, a bill that would subject applicants of certain welfare benefits to a drug test. But SB 21, a similar bill that would require drug testing for certain unemployment benefits, passed the House and is awaiting final approval in the Senate. If it goes to conference committee, it could potentially be used as a vehicle for SB 11. Lt. Gov. David Dewhurst has pushed for this legislation: "Stay tuned," he tweeted.
GUNS
A controversial amendment that would give lawmakers the ability to carry concealed handguns where others cannot has forced HB 508 into conference committee negotiations. The bill as written would penalize state agencies or other government entities if they refuse to acknowledge the rights of some authorities to carry concealed handguns in places where the practice is not otherwise permitted. A Senate amendment extended this all-access pass to lawmakers; the House vehemently opposed it.
Texas Tribune donors or members may be quoted or mentioned in our stories, or may be the subject of them. For a complete list of contributors, click here.
Quality journalism doesn't come free
Perhaps it goes without saying — but producing quality journalism isn't cheap. At a time when newsroom resources and revenue across the country are declining, The Texas Tribune remains committed to sustaining our mission: creating a more engaged and informed Texas with every story we cover, every event we convene and every newsletter we send. As a nonprofit newsroom, we rely on members to help keep our stories free and our events open to the public. Do you value our journalism? Show us with your support.
Yes, I'll donate today