Texas may expand ballot access for elderly and voters with disabilities
A bill that cleared the Legislature aims to prevent voter fraud at nursing homes and widen ballot access for elderly Texans. Somehow, politics didn't get in the way.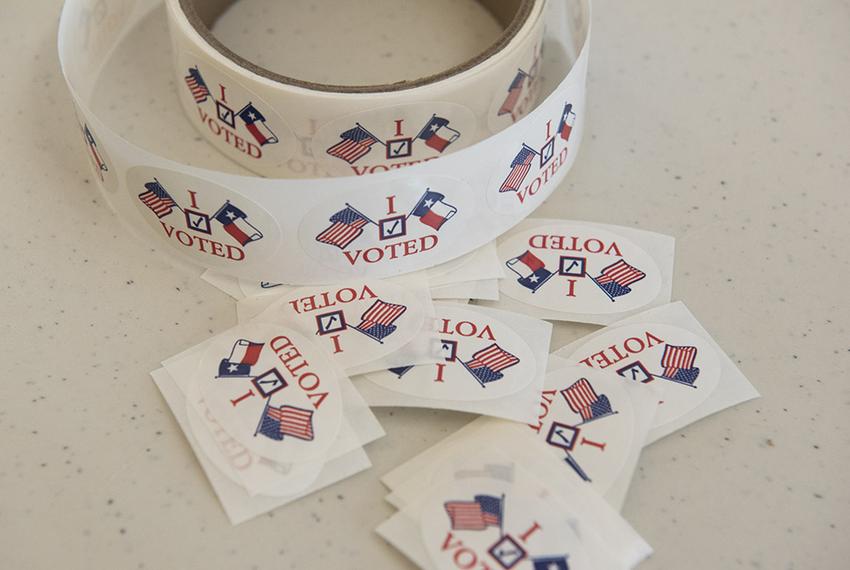 Editors' note: This story has been updated to note that Gov. Greg Abbott signed the proposal into law.
Something peculiar happened last week when few people were looking: Texas lawmakers approved legislation that might make it easier for thousands of people to vote. And they didn't let politics get in the way.
A day after House Republicans and Democrats spent six hours bickering over voter identification requirements, the Legislature sent Gov. Greg Abbott a separate proposal — backed by both parties — to simultaneously curb voter fraud at nursing homes and widen ballot access to elderly Texans who live in them. (Update, June 15: Abbott signed the bill into law.)
"I relish the moments where we can do things that actually help people without politicizing it," Rep. Diego Bernal, a San Antonio Democrat who sponsored the bill, said as he was decompressing from a legislative session that ended with a kerfuffle-gone-viral on the House floor.
Along with separate provisions that benefit voters with disabilities, House Bill 658 would create a process for collecting absentee ballots at nursing homes and similar facilities. It would essentially turn them into temporary polling places during early voting to discourage facility staffers, political operatives or others from trying to manipulate residents' votes, a well-documented threat surrounding such vulnerable voters.
Glen Maxey, legislative director for the Texas Democratic Party, called the proposal the state's largest expansion of voting rights since it moved to early voting.
For years, Texas has ranked near last nationally in voter turnout, and attempts to reverse that trend have been shredded in a political buzz saw. The Republican-dominated Legislature has instead focused on ID requirements and other restrictions at the polls. Such efforts, which Republicans claim were needed to prevent fraud, have irked Democrats and run afoul of federal voting rights laws by making it tougher for blacks and Latinos to vote, according to recent court rulings.
But without controversy this session, the Legislature found a proposal that meets both parties' goals.
State law allows Texans with disabilities, those who are at least 65 years old or those who plan to be out of their home county during voting to request a mail-in ballot. Under the new legislation, when residential care facilities request five or more absentee ballots, counties would be required to send election judges — representing each party — to deliver the ballots during early voting and oversee voting at those homes, providing assistance if necessary.
Under the bill, judges would arrive at a nursing home with enough ballots so that any qualified voter there could fill one out. Folks who may have forgotten to request an absentee ballot could fill out the paperwork on site and cast a vote during the judges' visit.
With some 3,000 assisted living facilities affected statewide, Maxey sees the legislation as mammoth expansion of ballot access to voters who might otherwise struggle to complete all the paperwork on their own.
"It's all a recipe for lots of steps that an 85-year-old may not be able to maneuver," he said. "So I just looked at it and said, 'Hey, this is a bonanza.'"
Republicans, meanwhile, can tout the measure as a crackdown on voter fraud — this time, a type that's actually a documented problem.
The state's strict 2011 voter ID law, which Republican lawmakers sought to soften this year to appease the courts, addressed only ballots cast in person, where experts have found scant evidence of widespread trouble.
But mail-in ballot shenanigans are a different story, as Texas lawmakers have identified in their own research.
"What the committee found was that most election fraud occurs through the mail-in ballot system, through voter registration, and through politiqueras or vote brokers which are predominantly found in South Texas," the House Committee on Elections wrote in a 2008 interim report. Politiqueras are typically paid to harvest votes by bringing elderly voters to polling places or manipulating the mail-in ballot system.
Mary Helen Flores said she witnessed such voter fraud in her hometown of Brownsville, and it tainted local elections. She formed a group in 2010 that sought to expose those practices. Following the 2012 primary elections, the group conducted an investigation of six Cameron County ballot harvesters and handed information to federal authorities — which led to guilty pleas for illegally assisting voters and other offenses.
"The candidate that paid would get the votes they paid for," Flores said. "It would change election results."
She recalled interviewing a woman with Alzheimer's disease who was staying at an adult day care when someone else allegedly cast an absentee ballot in her name.
"Her name was used, and her vote was used," Flores said. "She was never even involved in the process."
The legislative effort comes amid a Dallas County probe of broader mail-in ballot irregularities affecting at least two Dallas City Council races. The county's district attorney, according to news reports, has received an "off-the-charts" number of complaints from voters — especially in West Dallas — who said they received mail-in ballots they didn't request and feared that someone else voted in their place.
"Our seniors will have a lot better of an opportunity to vote in the next election, and they'll be less likely to have their votes stolen," said state Rep. Tom Oliverson, R-Cypress, who filed separate legislation dealing with voting at nursing homes. That bill died, but lawmakers tacked its provisions onto the surviving legislation.
If enacted, Bernal's bill would also help voters with certain disabilities by allowing election judges to move voters to the front of long lines at the polls — a response to reports during last year's busy primary election that some voters with disabilities went home rather than bear the heat.
"Long lines do deter people with disabilities a lot of times," said Chase Bearden, director of advocacy for the Coalition for Texans with Disabilities. "Seeing people out voting with disabilities gets other people encouraged to vote, too."
Read related Tribune coverage:
After ruling that Texas lawmakers intentionally discriminated against minorities in drawing the state's congressional map, a three-judge panel has also found fault with the state's House map.
The state of Texas has been on a losing streak when it comes to redistricting and voter ID laws, with federal judges repeatedly finding that the state intentionally discriminated against minorities. Whose legal advice were they following?
Another federal judge has ruled that Texas legislators intentionally discriminated on the basis of race when changing voting and election laws. But even if the laws change back, the state still got away with it.
Disclosure: Chase Bearden has been a financial supporter of The Texas Tribune. A complete list of Tribune donors and sponsors is available here.
Your New Year's resolution list isn't complete without …
… supporting the Tribune. This new year, resolve to do your part to sustain trusted journalism in Texas. Join thousands of readers who power The Texas Tribune's nonprofit newsroom.
Donate now