Texas House backs voter ID overhaul, with changes
The 95-54 vote followed a six-hour debate that saw fierce pushback from Democrats, who argued the legislation wouldn't go far enough to expand ballot access and might discourage some Texans from going to the polls.
The Texas House on Tuesday tentatively approved legislation to overhaul the state's embattled voter identification law, moving it one step closer to Gov. Greg Abbott's desk.
Senate Bill 5 would in several ways relax what some had called the nation's most stringent ID requirements for voters — a response to court findings that the current law discriminated against black and Latino voters.
The 95-54 vote followed a six-hour debate that saw fierce pushback from Democrats, who argued the legislation wouldn't go far enough to expand ballot access and contains provisions that might discourage some Texans from going to the polls. Democrats proposed a host of changes through amendments, a few of which surprisingly wriggled through.
Tuesday's vote was part of flurry of last-minute efforts to salvage a bill that languished in the House for nearly two months, worrying Republican leaders who believed inaction would torpedo the state's position — and bring down federal election oversight — in ongoing litigation over the current ID law.
Before heading to Abbott's desk, the bill needs a perfunctory final House vote, and the Senate must sign off on the House amendments, including some significant ones.
Authored by Sen. Joan Huffman, R-Houston, the legislation would overhaul a 2011 law that Texas has spent millions of taxpayer dollars defending in court, losing so far in each round.
The state has long argued the 2011 requirements were needed to prevent voter fraud, but opponents — backed by the court rulings — have cited the paucity of proven in-person voter fraud and suggested lawmakers instead sought to keep minorities from going to the polls.
"I know a court has ruled otherwise, but as someone who was here in 2011, I don't believe there's any evidence that we intended to discriminate," Rep. Phil King, R-Weatherford, the bill's House sponsor, said Tuesday. "We didn't want anyone to be disenfranchised, we didn't want any disparate impact — we just wanted to be pragmatic."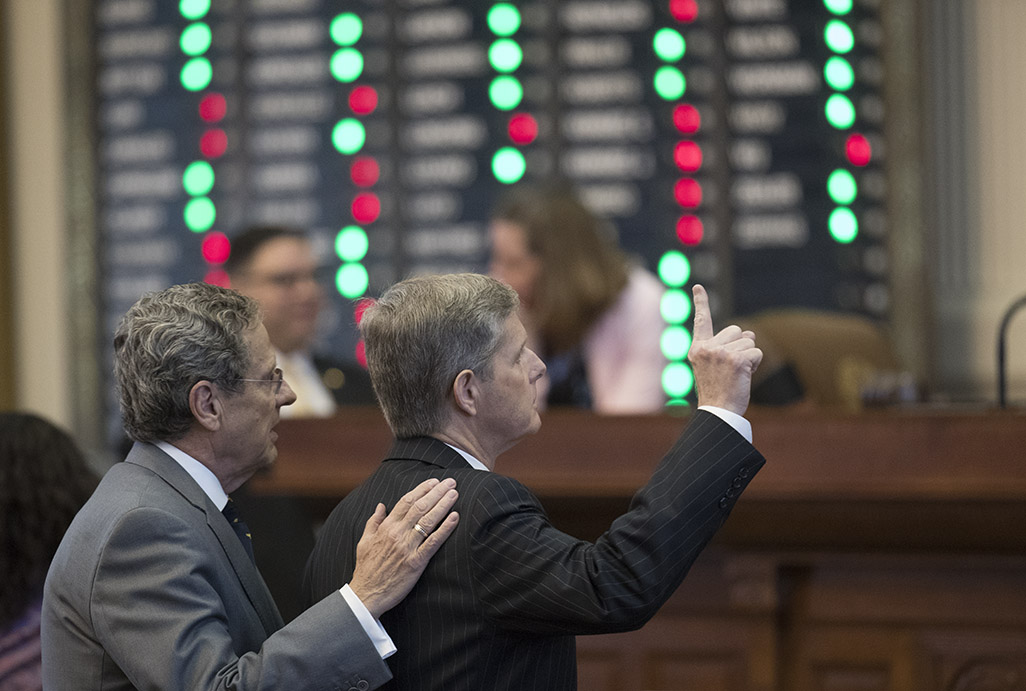 SB 5 would add options for voters who say they cannot "reasonably" obtain one of seven forms of required ID, and it would create criminal penalties — which House members reduced on Tuesday — for those who falsely claim they need to choose from the expanded list of options.
If it's signed by the governor, the bill will be used to try to placate the courts.
Last year, the U.S. 5th Circuit Court of Appeals ruled Texas lawmakers discriminated against minority voters by enacting the 2011 law. U.S. District Judge Nelva Gonzales Ramos upped the ante in April, ruling the state discriminated on purpose. That raised the possibility she could invoke a section of the Voting Rights Act to place Texas under federal oversight of its election laws — a process called preclearance.
The state's lawyers want to point to SB 5 next month when they return to Ramos' Corpus Christi court for a hearing on how to remedy the voting violations. Republican leaders hope she will accept the new law and refrain from putting Texas under preclearance.
"SB 5 addresses every situation that the courts have found in six years of litigation," King said.
Ramos temporarily softened the ID rules for the 2016 elections, and Huffman's legislation largely follows its lead. It would allow people without photo ID to vote if they presented alternate forms of ID and signed affidavits swearing a "reasonable impediment" kept them from obtaining what was otherwise required.
Those voters could present documents such as utility bills, bank statements or paychecks. In Huffman's version of the bill, those found to have lied about not possessing photo ID could be charged with a third-degree felony — punishable by up to 10 years in prison.
But the House accepted an amendment authored by Rep. Joe Moody, D-El Paso, that would reduce the penalty to a Class A misdemeanor, which carries no more than a year of jail time.
That was a win for Democrats and civil rights groups that had called the legislation a good start but want ID options beyond what was in the bill — student IDs or tribal IDs, for instance — and raised particular concerns over the Senate bill's stricter penalties.
More than 16,400 Texas voters signed "reasonable impediment" affidavits during the 2016 general election, according to a tally of documents provided by the Texas Secretary of State's office. And an Associated Press analysis found at least 500 instances in which voters signed the affidavit — and didn't show photo ID — despite indicating that they owned one, a phenomenon some county clerks attributed to widespread confusion about legal changes just ahead of the election.
That's why some Republicans argued for strict penalties for false claims. Democrats called it it too harsh for the crime — particularly in cases where a Texan is otherwise casting a legal vote.
"If they are who they say they are, why are we prosecuting them?" Moody said, before proposing an amendment King ultimately accepted.
Tuesday's tentative House approval came hours before the chamber's midnight deadline to vote on Senate legislation, capping Republicans' furious push to rescue a bill that long sat untouched in the chamber. The maneuvering included a rare last-minute emergency declaration Sunday night from Abbott.
The lengthy debate on Senate Bill 5 was expected to doom at least some of the dozens of bills behind it on the House calendar.
Before it reaches Abbott, the bill must return to the Senate, which must weigh seven House amendments or request a conference committee to squabble over each chamber's legislation. One amendment would allow voters to present IDs that had been expired for four years, rather than two years, as the Senate bill would. Another would require the secretary of state to study ways to boost the state's perennially low voter turnout, and a third amendment would require the secretary of state's office to reveal details — currently withheld — about its spending on voter education efforts.
Democrats said the amended SB 5 would not pass legal muster, arguing lawmakers should instead scrap all vestiges of the 2011 law.
"We're in for a long, hot summer of having to defend this in court," said Rep. Alfonso Nevárez, D-Eagle Pass. "And guess what? We're going to lose again."
Read related Tribune coverage:
Republicans fear a failure to overhaul strict Texas voter ID rules could torpedo the state's position in litigation over whether lawmakers discriminated against minority voters.
After ruling that Texas lawmakers intentionally discriminated against minorities in drawing the state's congressional map, a three-judge panel has also found fault with the state's House map.
The state of Texas has been on a losing streak when it comes to redistricting and voter ID laws, with federal judges repeatedly finding that the state intentionally discriminated against minorities. Whose legal advice were they following?
Texans need truth. Help us report it.
Independent Texas reporting needs your support. The Texas Tribune delivers fact-based journalism for Texans, by Texans — and our community of members, the readers who donate, make our work possible. Help us bring you and millions of others in-depth news and information. Will you support our nonprofit newsroom with a donation of any amount?
Yes, I'll donate today
---
Information about the authors
Explore related story topics