2016 Year in Review
Trump, women's health, child welfare top Texas news in 2016
Here's a look at the top health and human services storylines The Texas Tribune tracked this year.
2016 Year in Review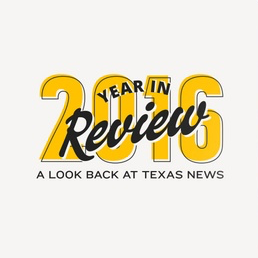 For those obsessed with Texas government and politics, 2016 was filled with big news, from the somber (the ambush of police officers in Dallas) to the absurd (University of Texas students toting dildos to protest the new campus carry gun law). And then there was the election. Here's our roundup of the year's most memorable Texas stories.
More in this series
The election of Donald Trump, fights over Medicaid funding, Republican-led efforts to restrict abortion and a slow-burning crisis in the state's child welfare system spelled a chaotic year for Texas health and human services policy in 2016. Here's a look at this year's top stories.
1. Trump's win means uncertainty for health care reform
The election of Donald Trump to the White House has given Republicans the opportunity to dismantle the Affordable Care Act, President Obama's signature health law. That's causing deep-seated uncertainty for millions of Texans with government-subsidized coverage and for the state's large health care business sector. It remains unclear exactly which provisions of the health law will be gutted under a Trump administration; mental health advocates, for example, worry that benefits for counseling and substance abuse treatment will be lost in the shuffle.
No matter how much of Obamacare is repealed, changes to the law are sure to have an outsized effect in Texas, which is home to more uninsured people than any other state. The law already faced uncertainty in Texas before the presidential election because several insurers announced this year they would not sell health plans on the marketplace, but federal health officials say Texans are still enrolling in coverage at a breakneck pace. Meanwhile, Texas leaders continued their vehement opposition to the health law this year, including not wanting to expand Medicaid coverage to adults living in poverty.
2. Backlash over cuts to a therapy program for children with disabilities
More than a year after Texas officials originally planned to make sweeping cuts to the amount of money in-home therapists get paid for seeing children and babies with disabilities, state leaders finally implemented the $350 million Medicaid cut on Dec. 15. But on Nov. 29, House Speaker Joe Straus vowed to restore that funding when lawmakers reconvene in Austin in 2017. Senate lawmakers ordered the cut, which was approved in the state's two-year budget passed in 2015, but it was tied up in court for a year before its opponents lost their battle at the Texas Supreme Court.
The Republican lawmakers behind the proposal said Texas could manage to pay less for children's therapy services without jeopardizing children's access to care, but that balance appeared impossible in some cases. In East Texas, children in the state's Early Childhood Intervention program briefly lost access to care when the Tyler-based nonprofit Andrews Center withdrew from the program, telling state officials it could not operate under the financial uncertainty caused by the rate cut. Up to one-fourth of the state's early intervention providers could be at risk of closure, U.S. officials warned in December.
3. Texas loses a key court case over abortion
The U.S. Supreme Court tossed out the Texas Legislature's House Bill 2 this summer, ending requirements for Lone Star State abortion providers such as minimum sizes for rooms and doorways and pipelines for anesthesia. Legal experts say the decision will likely help overturn similar requirements in other states. In the wake of HB 2, some abortion clinics shuttered, leaving 19 clinics in Texas.

4. State officials push burial, cremation for fetal remains
Health and Human Services Commission officials were met with an outpouring of intense support and scathing criticism when they announced a proposal in July requiring the cremation or burial of aborted fetuses, disallowing the remains to be put into sanitary landfills. While reproductive rights advocates and funeral home representatives said the costs would be passed on to patients, anti-abortion groups said this would be a way to better respect the dignity of unborn life. Health officials slated the rule to go into effect on Dec. 19, but a federal judge has delayed it until after he makes a decision following a Jan. 3-4 hearing on the matter.
5. Special masters suggest foster care fixes
Almost a year after U.S. District Judge Janis Jack ruled that Texas' long-term foster care system violated children's civil rights, special appointed federal investigators released a report confirming state legislators' and advocates' worst fears about the shape of the Texas Department of Family and Protective Services. The federal investigators did not hold back in making recommendations on addressing issues such as large Child Protective Services worker caseloads, high employee turnover rates and caseworkers needing more training. While Texas lawmakers have expressed openness to the suggestions, they're not thrilled about potentially having federal court oversight or spending more money on investigators. Texas Attorney General Ken Paxton's office objected to the special masters' recommendations in November, calling them "over-broad" and pointing out that there is no proof they would work.
6. The funding fight over child welfare heats up
In October, Gov. Greg Abbott, Lt. Gov. Dan Patrick and House Speaker Joe Straus ordered Department of Family and Protective Services Commissioner Hank Whitman to craft a plan that would help in hiring and training more staff and undo the backlog of endangered children going unseen by caseworkers. But Whitman's original $53.3 million plan to hire 550 new staffers had Senate Finance Committee members reeling at the price tag and its viability. Weeks later, state officials softened and gave the agency a $150 million boost to hire 829 new workers. But lawmakers plan to watch the department closely as it strives to meet intense reporting requirements and goals for seeing at-risk children faster.
7. Maternal deaths stump public health researchers
Texans were stunned to learn that the Lone Star State is one of the deadliest states for new mothers. One study by the medical journal Obstetrics and Gynecology found that 148 women in Texas died from pregnancy-related complications within 42 days of the end of their pregnancy. Two years before, 72 women died from those causes. Authors noted that "in the absence of war, natural disaster, or severe economic upheaval" a doubling in maternal mortality rates was alarming. While the data is complicated, scientists pointed to deaths by drug abuse and suicide, cuts to access to reproductive health care and usual pregnancy woes such as excessive bleeding, obesity-related heart problems and infection as a combination of problems leading to the deaths.
8. Zika arrives in Texas
In the waning days of 2016, Texas saw its first mosquito-to-human transmission of the Zika virus when a woman in Cameron County, in the Rio Grande Valley, tested positive for the virus. Days later, four more locally transmitted Zika cases were confirmed in South Texas. "We knew it was only a matter of time before we saw a Zika case spread by a mosquito in Texas," said John Hellerstedt, the commissioner of the Texas Department of State Health Services, in response to the news, but he said it was unlikely that infected mosquitoes would become "widespread."
The arrival of the virus, which has been linked to birth defects, prompted various policy responses. Texas Medicaid began paying for mosquito repellent as a preventive measure, and advocates for the uninsured urged state leaders to expand Medicaid coverage to poor adults as a way of offering preventive services to more people. In August, a Harris County infant died of Zika complications, the first known fatality in Texas linked to the virus.
9. A spotlight on mental health
The Texas Tribune partnered with the Mental Health Channel in 2016 for a series about the state's biggest challenges in providing mental health care. Texas lawmakers routinely tout recent improvements to the state's mental health safety net, citing new funding and program expansions. But the state still struggles to find psychiatric hospital beds for all patients who need them, and the waiting list has grown. A Texas Tribune investigation told the story of a family kept in the dark when a 55-year-old man died at a state mental hospital after a restraint gone wrong.
And as suicide rates rise in Texas and across the country, prevention efforts are targeting the small towns that dot the state's vast rural expanses, where the likelihood that a person will take his own life is noticeably higher and appears to have grown over time. Other state efforts at improving mental health treatment have focused on the state's troubled foster care system, where officials are pinning hopes on a new network of clinics to better connect children with trauma-informed behavioral health care. And at the Texas public universities, students who need help dealing with depression, anxiety and other mental health issues often must wait weeks to see a counselor.
10. Texas and the feds strike a deal on health care funding
A long-running negotiation over billions of dollars from the federal government that pay hospitals for treating patients without health insurance came to a head in 2016. The Obama administration agreed to temporarily keep some money flowing into Texas — to the tune of about $3.1 billion in federal and local funds for one year — to help hospitals treat uninsured patients, despite the state's refusal to offer health coverage to low-income adults. The program, known as the 1115 waiver, began in 2011 and was originally intended to help Texas expand its privatized managed care health insurance system for Medicaid patients and to cover spiraling uncompensated care costs borne by hospitals.

Texans need truth. Help us report it.
Independent Texas reporting needs your support. The Texas Tribune delivers fact-based journalism for Texans, by Texans — and our community of members, the readers who donate, make our work possible. Help us bring you and millions of others in-depth news and information. Will you support our nonprofit newsroom with a donation of any amount?
Yes, I'll donate today
---
Information about the authors
Explore related story topics