Suicide Prevention Efforts Focus on Small Texas Towns
Public health experts are looking more closely at the issue of suicides in small towns.
Throughout Mental Health Month in May, The Texas Tribune is partnering with the Mental Health Channel and KLRU to focus on some of Texas' biggest challenges in providing mental health care. See all the stories in this series.
In the last five months, LaNelia Ramette has been to the home of eight Denton County families who had just lost a loved one to suicide. Three of those times, she arrived on the scene before the police tape came down.
Unlike the police officers and medical examiners she encounters on her shifts, Ramette is not a typical first responder. She is a volunteer who appears at the scene of tragedy — with the medical examiner's permission — to be a voice of compassion in a suicide survivor's darkest hour.
"You are going to survive this," she tells them. She knows this from personal experience. Ramette's son fatally shot himself in 2010.
Ramette is a trained member of Denton County's Local Outreach to Suicide Survivors (LOSS) Team, which dispatches mental health professionals alongside volunteers who have been "touched by suicide" to offer immediate support to grieving loved ones.
Roughly one person each week commits suicide in Denton County, according to the Texas Department of State Health Services. (Statewide, there are about eight suicide deaths each day.) National research has found the rate of suicide is twice as high in families of suicide victims than in the general population. Public health experts think one way to reduce that risk is to send support networks directly to the survivors and as quickly as possible.
Ramette will often visit with grieving families for as long as 90 minutes in the aftermath of a suicide, just removed from the scene — on the steps of an apartment building, on a front porch or in her car. There, Ramette shares information about the support groups and counselors who have helped her move on from her son's death.
She recently recalled, in basic terms, the typical scenes she witnesses. There was the woman who lost her fiancé. The sisters who lost their brother. Parents who lost a child.
The LOSS Team, a 5-month-old venture started by the Denton County mental health authority in partnership with the medical examiner's office, seeks to connect survivors with resources to help them recover — and to prevent those people affected by suicide from becoming victims themselves.
"To walk into a room with somebody that has experienced the worst day of their life and say, 'I was where you were six years ago,' I think there's an instant bond or connection that occurs," Ramette said.
It's one tactic aimed at preventing suicide that public health officials have turned to as they grapple with a troubling phenomenon. In Texas and across the country, suicide rates are on the rise. And in the small towns that dot the state's vast rural expanses, the likelihood that a person will take his own life is noticeably higher and appears to have grown over time.
Though many of the calls Ramette fields are from the urban center of Denton, her volunteer work takes her to small towns like Justin and other agricultural pockets of the county, where people are farther from a central network of care. State data shows suicides happen at a disquieting rate in small towns throughout rural Texas.
The rate of suicide was 15 percent higher in counties with an urban population of less than 20,000 people than in more metropolitan counties, according to a Texas Tribune analysis of death records between 2004 and 2013.
Nationwide, the rate of suicide is on the increase, up 24 percent from 1999 to 2014, according to the National Center for Health Statistics. In Texas, the rate has grown more slowly, from from 10.5 deaths per 10,000 people in 1999 to 11.6 in 2013.
The effects of those trends have been most pronounced in small-town America. Suicide rates in the nation's rural counties rose 20 percent between 2004 and 2013, according to the Centers for Disease Control and Prevention. That was well above the 7 percent rise in suicide rates experienced in metropolitan counties over the same time period.
Rural adolescents commit suicide at roughly twice the rate of their counterparts in urban settings, according to a study published last year in the journal JAMA Pediatrics.
Experts say that a multitude of factors is probably at play, and that it is difficult to specify a reason why people in smaller towns are more likely to commit suicide.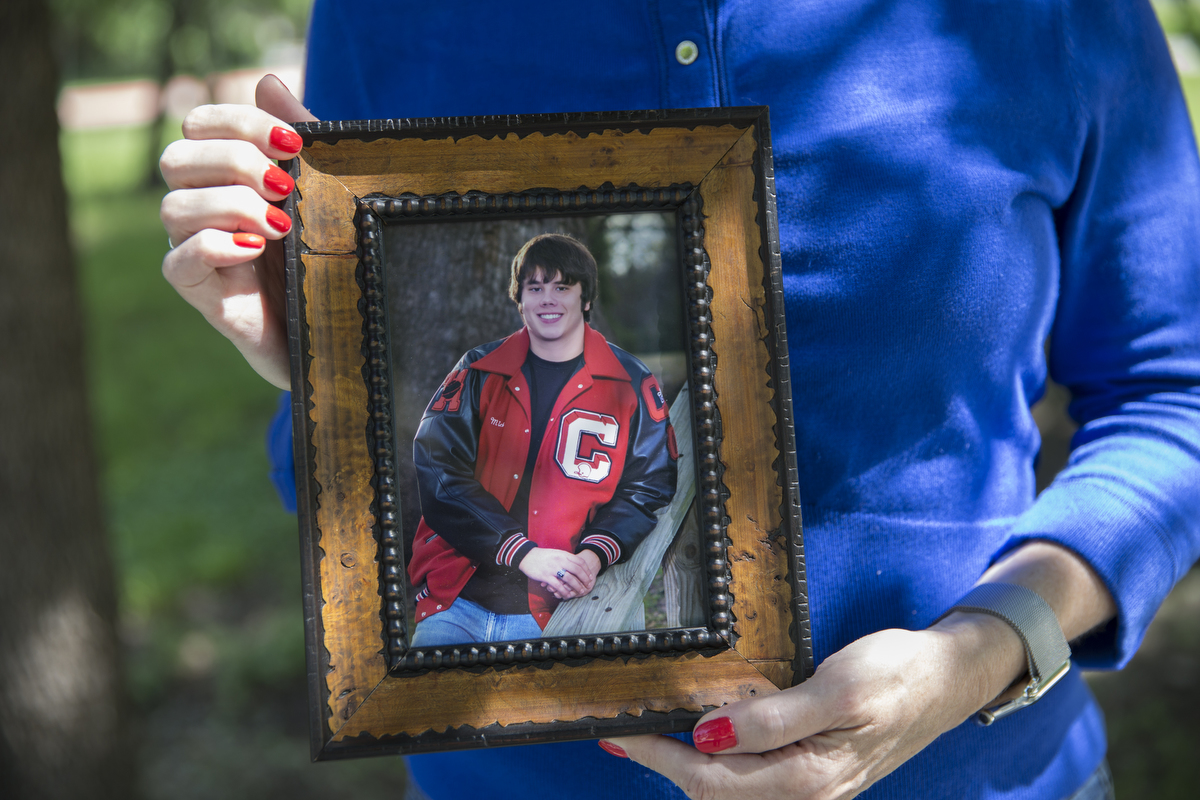 Rural Texans are more likely to be older white males, a group with higher rates of death by suicide, said Lloyd Potter, the state demographer and former director of the National Suicide Prevention Resource Center. They are more likely to own a gun, which some studies say can be a predictor of a greater likelihood to die by suicide. Rural Texans often face economic hardships and are more likely to be veterans, another group with disproportionately high suicide rates.
"You could go on and on," Potter said of the possible factors.
Getting those people connected to treatment remains a vexing problem. Texas lacks adequate numbers of mental health professionals in smaller towns, said Jane Bolin, professor of health policy at the Texas A&M Health Science Center. And federal services for veterans are especially lacking in rural areas, she said.
"There's literally shortages on every front in rural areas, and the more rural you go, the worse it gets," she said.
Mental health care advocates say the disparities in suicide rates also highlight the challenges of getting care in isolated towns that offer little to no anonymity.
One problem is the stigma attached to seeking out mental health care, said Vince Paulin, chief operating officer of the Hill Country Mental Health and Developmental Disabilities Centers. Though people of all backgrounds often feel ashamed to seek mental health treatment or talk about suicide, he said, those challenges are often harder to overcome in rural Texas.
Ramette said she had encountered that phenomenon in her work on the LOSS Team.
"There's kind of a rural mentality, a pick-ourselves-up-by-our bootstraps, we don't need help kind of mentality," she said.
Still, generally speaking, Ramette said survivors are grateful to talk to her. She typically hands the survivor a notebook, she said, telling them how journaling offered her an emotional outlet after her son's death. She answers their questions, which might range from, "How do I make sense of this?" to "Who will help me clean up the mess?"
"You are going to survive this."— LaNelia Ramette, LOSS Team volunteer, saying what she tells people who have lost loved ones to suicide
For rural Texans who do seek mental health care, finding a professional can sometimes require driving hundreds of miles away. Of the state's 254 counties, roughly 200 are designated as Mental Health Professional Shortage Areas. That's a federal classification meaning there are more than 30,000 people per psychiatrist — the threshold at which it becomes nearly impossible for the average person to get a referral to a mental health specialist, experts say.
For the many impoverished Texans in rural counties who lack health insurance, local mental health clinics serve as their safety net for getting care.
Paulin, whose local mental health authority serves residents in 19 Central Texas counties, said simply connecting with patients was one of the greatest challenges facing rural providers. A combination of poverty and the sheer distance people have to travel to seek care creates a significant barrier to accessing care.
Many of Hill Country's patients live on a fixed income, and few want to spend the time and gas money to drive to a far-flung mental health appointment. In many cases, providers do the traveling.
"I've had to drive hours and hours," Paulin said. "It's beautiful country, but you sit there and you think of, 'Boy, how do we reach these people?' It's really difficult."
Molly Lopez, director of the Texas Institute for Excellence in Mental Health at the University of Texas at Austin's School of Social Work, said a lack of economic resources was a recurring obstacle to providing mental health care in smaller towns.
"I do think that there are significantly more workforce shortages and reduced access to care in more rural areas," she said.
Lopez is studying ways that the state's system of locally run safety-net mental health clinics can build on its efforts to reduce suicide. She's received funding through the Texas Department of State Health Services to research how every community in Texas, large or small, could create a "core infrastructure" for suicide prevention, which might include steps such as forming a LOSS Team.
Suicide researchers say one thing that has hindered their ability to study preventive efforts is that the state does not keep track of suicide attempts. The American Association of Suicidology estimates there are 25 suicide attempts in the U.S. for every death.
"We desperately need that data," said Merily Keller, a suicide prevention trainer for the advocacy group Mental Health America of Texas. "When we talk about preventing suicide, we need to prevent suicide upstream, we need to prevent attempts, not just deaths."
Though the Denton County LOSS Team is in its infancy, it was modeled after a similar program in Tarrant County that has existed since 2011. Officials there say it has helped survivors seek out mental health care much more quickly than they would have otherwise.
Officials say Tarrant County, which includes Fort Worth, and Denton County are the only two Texas counties with a LOSS team. Christine Smith, the Tarrant County team's coordinator, said she thinks the program has been an effective tool for prevention because it's helped eliminate some of the stigma around discussing suicide and seeking help.
"These people are in the most tragic places of their lives," she said of the program's volunteers. "It's unbelievable how you can be in such a devastating state and want to help others."
Disclosure: The University of Texas at Austin and the Texas A&M University System have been financial supporters of The Texas Tribune. complete list of Tribune donors and sponsors can be viewed here.
---
Information about the authors
Quality journalism doesn't come free
Perhaps it goes without saying — but producing quality journalism isn't cheap. At a time when newsroom resources and revenue across the country are declining, The Texas Tribune remains committed to sustaining our mission: creating a more engaged and informed Texas with every story we cover, every event we convene and every newsletter we send. As a nonprofit newsroom, we rely on members to help keep our stories free and our events open to the public. Do you value our journalism? Show us with your support.
Yes, I'll donate today