University of Texas/Texas Tribune Polls
UT/TT Poll: Texans Say Mental Health Top Cause of U.S. Mass Shootings
Mental health issues, gun laws, unstable families and media coverage get most of the blame for mass shootings in the U.S. in recent years, according to the latest University of Texas/Texas Tribune Poll.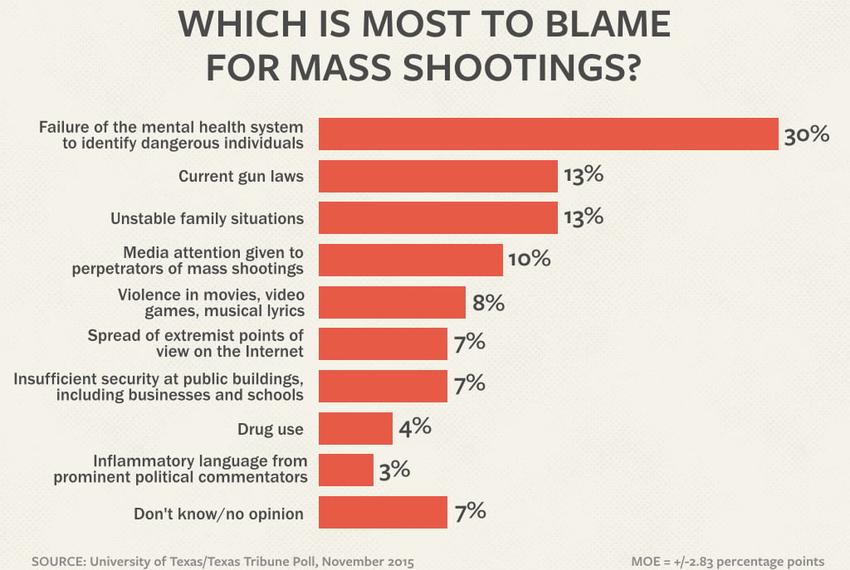 Mental health issues, gun laws, unstable families and media coverage get most of the blame for mass shootings in the U.S. in recent years, according to the latest University of Texas/Texas Tribune Poll.
Voters also attributed either "a great deal" or "a fair amount" of the blame for shootings in the U.S. to the spread of extremist views on the internet and to drug use.
"When we look at the explanations for the shootings, what we see is that there is bipartisan agreement on the failure of the mental health system," said Jim Henson, head of the Texas Politics Project at the University of Texas at Austin and co-director of the poll. "It was the No. 1 response among most major subgroups. If I was a political leader looking for an area where we could get agreement on gun violence, this is where I would look."
Gun control laws should be stricter, according to 41 percent of Texas voters, and less strict, according to 18 percent in the poll, which was in the field just ahead of the Paris attacks. Just over a third would leave those laws alone. That's a small shift from the February UT/TT Poll, when 36 percent wanted stricter gun control laws and 22 percent wanted those laws made less strict.
Recent domestic shootings not only get a lot of attention from the public and the media, there have been lots of them, said Daron Shaw, co-director of the poll and a government professor at the University of Texas at Austin, speaking of recent mass shootings in the United States. "It prompts immediate reactions that we ought to regulate guns. But when you offer a plethora of options, I think people respond to the notion that there are crazy people out here and you ought to do something about these crazy people."
Shaw noted the 41 percent who want stricter gun laws in a state that is generally seen as pro-gun rights. That said, he said 54 percent either want gun control laws left alone or loosened.
Asked how they view the National Rifle Association, 48 percent say they have a favorable opinion, while 31 percent have an unfavorable opinion of that group. While 56 percent of Republicans have favorable impressions of the NRA, only 7 percent of Democrats do. And while 24 percent of Republicans have a negative opinion, 78 percent of Democrats do.
Immigration and the Border
Texas voters consistently rank immigration and the border as top issues facing the state — a signal to politicians that those positions matter — and the voters have some hardline views on the subject.
More than half agree with this statement: "Undocumented immigrants currently living in the United States should be deported immediately." While 39 percent disagree, 55 percent agree. Some are more emphatic: 30 percent strongly agree, and 21 percent strongly disagree.
Partisan and ethnic differences are deep. While 74 percent of Republicans agree, 64 percent of Democrats do not. Anglos (63 percent) and blacks (54 percent) agree, but Hispanics (58 percent) do not.
"I don't know that the public has a set way of viewing immigration in the way they have a set way of viewing something like taxes," Shaw said. "There are reasons to question whether you can frame this in a way that advantages you in 2016, and whether that's in the long-term interest of the party."
Almost half of Texas voters favor amending the U.S. Constitution to repeal automatic citizenship for children born here regardless of their parents' legal status. But while 48 percent favor that notion, 39 percent oppose it.
"Republicans continue to have highly restrictive attitudes on immigration," Henson said. "You see overall support for deportation, but that number is driven by lopsided results among Republicans and especially, Tea Party Republicans.
"To the extent that we are hearing the drums beating loudly and persistently on immigration in the Republican presidential primary, this is where the sheet music is coming from," he said. "These numbers are extremely one-sided."
Sanctuary cities — a term for cities where local law enforcement agencies do not actively enforce some federal immigration laws — are not popular with Texas voters. The survey found that 60 percent disapprove of sanctuary cities while 23 percent approve. As with the other immigration questions, the answers were marked by partisan differences. For instance, only 2 percent of Tea Party Republicans said they approve of sanctuary cities, compared with 46 percent of Democrats.
"It suggests that the Trump/Cruz line sells pretty well in Texas," Shaw said, Donald Trump and Ted Cruz were tied for the lead for the presidential nomination among Republican primary voters in the poll, and each has taken a particularly hardline approach to immigration policy and favored deporting undocumented immigrants now in the U.S. "It's important to get it right because so many people think it's a big important issue."
Abortion
An overwhelming majority — 87 percent — say women who want to avoid becoming pregnant should have access to birth control. Only 5 percent say they should not have access; the remainder express no opinion.
Almost half of Texas voters — 45 percent — consider themselves "pro-life," while 35 percent consider themselves to be "pro-choice," the survey found. The remainder — about one voter in five — chose neither label.
"I think the label matters because candidates use the label," Shaw said. "If you drill down and ask people more detailed questions, the label matters but doesn't specifically map their policy positions."
That roughly corresponds with voters' opinion of Planned Parenthood.
"The clear problem here is that because Planned Parenthood is an abortion provider and because they have a political arm that is very active and very identified with Democratic candidates, they have become a political target," Henson said.
While 34 percent say they have a favorable impression of the organization, 46 percent say they have an unfavorable opinion. Included in that last group are 38 percent who say they have a "very unfavorable" opinion of Planned Parenthood.
Republicans lead the way to those ratings, but the organization's Democratic support has weakened in Texas, compared with results from the May 2012 UT/TT Poll. Then, 77 percent of Democrats had favorable opinions of Planned Parenthood, but that dropped to 62 percent in this poll. Most of those Democrats landed in the neutral/undecided bin, Henson said.
Planned Parenthood has spent much of 2015 responding to a series of videos released by abortion opponents — the Center for Medical Progress — that purport to show Planned Parenthood officials discussing the sales of tissue and organs from aborted fetuses. Though Planned Parenthood has criticized the videos for being heavily edited, last month the organization said it would no longer take reimbursement for fetal tissue research.
"The recent negative campaign against Planned Parenthood at the national level and in the state seems to have successfully reframed them in the mind of some people and weakened them with some Democrats," he said.
Voters' views of Planned Parenthood contrast sharply with their opinions of the NRA, another highly politicized organization in the news. Each is seen by voters largely through partisan filters.
"Any of these organizations that come across as being intrinsically involved in the partisan debate have kind of a stench about them," Shaw said. That's reflected in the partisan underpinnings of voter opinions.
Same-sex marriage
Texans are split exactly down the middle when it comes to same-sex marriage, with 43 percent saying gay and lesbian couples should have the right to marry and 43 percent saying they should not have that right.
Those overall numbers mask partisan differences. Among Democrats, 65 percent approve of same-sex marriage. But 59 percent of Republicans disapprove. There is also a gender gap: 48 percent of women approve, while only 38 percent of men do.
And there is also a big church gap: Same-sex marriage is not okay with 68 percent of Texans who attend church more than once a week and 56 percent of those who attend at least once a week. Among those who never attend church, 51 percent say same-sex couples have the right to marry.
"Texans are very divided," Henson said. "If you look at it, they are still more open to gay marriage now, but Republicans are still resistant. Democrats have moved much more rapidly on the issue than Republicans. With some of the recent politicization of gay marriage and the national conversation, it's not surprising to see Republicans not moving much on this."
The University of Texas/Texas Tribune internet survey of 1,200 registered voters was conducted from Oct. 30 to Nov. 8 and has an overall margin of error of +/- 2.83 percentage points. Numbers in charts might not add up to 100 percent because of rounding.
This is one of several stories on the latest University of Texas/Texas Tribune Poll. Thursday: The race for president. Friday: What Texas voters think about various state and federal officeholders and institutions. Tomorrow: The mood of the state.
Disclosure: The University of Texas at Austin is a corporate sponsor of The Texas Tribune. Planned Parenthood was a corporate sponsor of the Tribune in 2011. A complete list of Tribune donors and sponsors can be viewed here.
Texans need truth. Help us report it.
Independent Texas reporting needs your support. The Texas Tribune delivers fact-based journalism for Texans, by Texans — and our community of members, the readers who donate, make our work possible. Help us bring you and millions of others in-depth news and information. Will you support our nonprofit newsroom with a donation of any amount?
Yes, I'll donate today
---
Information about the authors
Explore related story topics