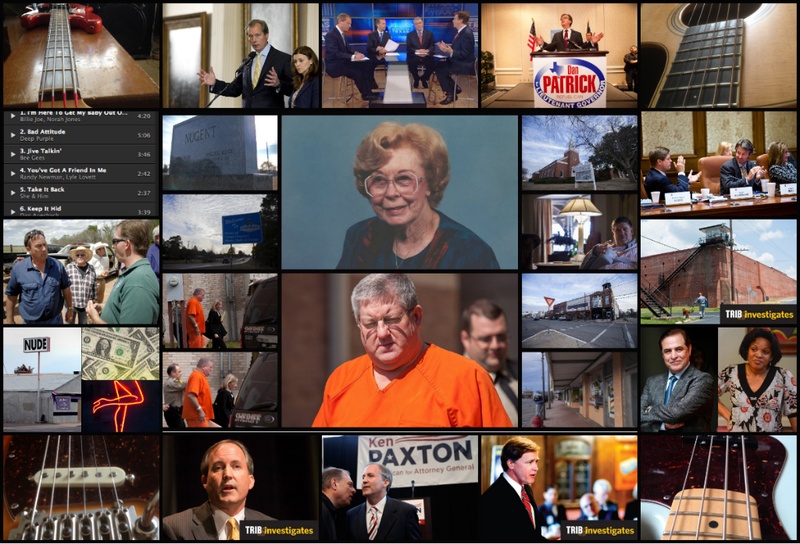 Murderer Bernie Tiede, the subject of Richard Linklater's film "Bernie," was released from prison this week on the condition that he live with Linklater, so our playlist starts with Billy Joe and Norah Jones singing "I'm Here To Get My Baby Out of Jail."
The easiest way to enjoy the playlist is to download Spotify, which is a free program. But even without it, you can still follow along. Here are this week's other selections:
The co-chair of the committee investigating the actions of University of Texas System Regent Wallace Hall has personally concluded that the regent should not be impeachment but that he does have an "obnoxious attitude," so we added Deep Purple's "Bad Attitude."
Incumbent Lt. Gov. David Dewhurst and his primary rival, state Sen. Dan Patrick, R-Houston, engaged in a particularly heated debate this week, inspiring the inclusion of "Jive Talkin'" by the Bee Gees. Dewhurst also picked up the endorsement of former lieutenant governor candidate Jerry Patterson, which is why next on the playlist is "You've Got A Friend in Me" by Randy Newman and Lyle Lovett.
The Texas Tribune thanks its sponsors. Become one.
In the attorney general's race, the Allen Police Association withdrew its endorsement of state Sen. Ken Paxton, R-McKinney, so we have She & Him's "Take it Back." And the Trib's Jay Root and Edgar Walters detailed the past efforts of his opponent, state Rep. Dan Branch, R-Dallas, to prevent the disclosure of conflicts of interest that can arise when lawmakers work for firms that lobby the state Legislature. This inspired the addition of "Keep It Hid" by Dan Auerbach.
We have Roy Rogers singing "Don't Fence Me In" as a nod to the continued dispute along the Red River over 90,000 acres of land that the Bureau of Land Management is trying to determine if it owns or the citizens who are currently paying taxes on the land do. Meanwhile, the comptroller demanded that strip clubs pay up six years worth of state-mandated patron fees, so we added Wyclef Jean's ode to strippers, which is called "Perfect Gentleman."
While confiscations of illicit cellphones in prisons have dropped, a Tribune investigation found that few inmates or correctional officers face legal consequences for smuggling the devices, so we added Stevie Ray Vaughan's "Telephone Song." And because the two Democrats competing in the primary runoff for U.S. Senate are such a study in contrasts, we close with Frank Sinatra and Keely Smith singing "Nothing In Common."
Enjoy!