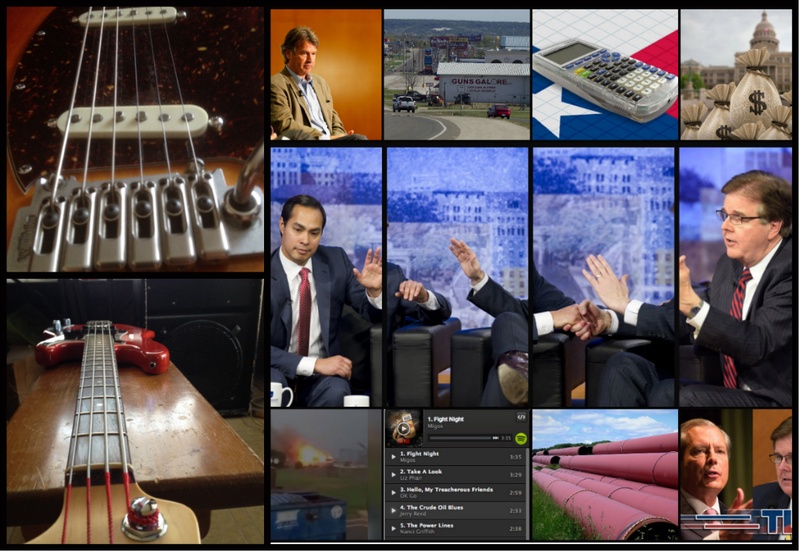 In honor of a heated televised debate between state Sen. Dan Patrick, R-Houston, and San Antonio Mayor Julián Castro on immigration policy, we kick off this week's news-inspired playlist with "Fight Night" by Migos.
The easiest way to enjoy the playlist is to download Spotify, which is a free program. But even without it, you can still follow along. Here are this week's other selections:
A report alleging potential criminal wrongdoing in the handling of private student information on the part of University of Texas System Regent Wallace Hall was referred to Travis County prosecutors, so our second song is Liz Phair's "Take a Look."
Next up is OK GO with "Hello, My Treacherous Friends," which was added as a nod to Texans for Lawsuit Reform's defection from Lt. Gov. David Dewhurst's band of supporters to that of Patrick, his runoff rival. Then we have "The Crude Oil Blues" by Jerry Reed, included because domestic drillers are ramping up their calls for the repeal of U.S. laws banning most overseas crude exports.
The Texas Tribune thanks its sponsors. Become one.
The Tribune's Jim Malewitz chronicled a dispute before the Public Utility Commission over the installation of power lines, so we have Nancy Griffith's "The Power Lines." That's followed by "Calculator" by Micachu and the Shapes, added in light of concerns about a new rule requiring eighth-graders in Texas to have graphing calculators or tablets for certain standardized tests.
This week also prompted reflection about the one-year anniversary of a fertilizer explosion in the town of West, so we have "One Year Later" by The Get Up Kids. Terri Langford's story about renewed discussion over whether those on military bases in Texas should be able to carry concealed handguns inspired the addition of My Chemical Romance's "Gun." A report was released detailing the reasons for a dip in the rate of uninsured adults in Texas, so we added "I Got Insurance" by Dan Sartain.
Finally, because a political action committee inspired by this song sparked controversy this week, we included "Boats and Hoes" from the 2008 movie Step Brothers. Warning: Listening to this song is not recommended for the easily offended.
Enjoy!