UT Regent Hall Case Referred to Travis County Prosecutors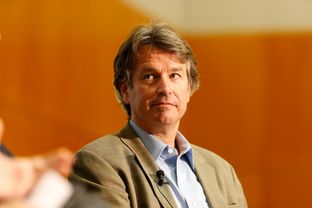 Updated, 4:45 p.m.:
Gregg Cox, the director of the Public Integrity Unit in the Travis County district attorney's office, said he expected that it would take about one week for his staff to determine whether they would move forward on the case against University of Texas System Regent Wallace Hall.
Allegations that the regent may have violated criminal statutes in his handling of private student information were forwarded to the Travis County district attorney and the Travis County attorney on Friday by a legislative committee that has been investigating the regent.
Cox said his office would coordinate with the county attorney's office to make sure no work was duplicated. In the meantime, he said, one of the Public Integrity Unit attorneys would review the allegations and conduct a legal analysis to determine, as Cox put it, "if the facts alleged are true, would it constitute a criminal offense? And if so, would we have venue and jurisdiction to handle that case?"
That process, he said, has already begun.
Original story, 3:12 p.m.:
Allegations of potential criminal wrongdoing in the handling of private student information by University of Texas System Regent Wallace Hall have been referred to Travis County prosecutors. The concerns were raised in a recent report laying out grounds under which Hall could possibly be impeached.
Rod Welsh, the Texas House's sergeant-at-arms, sent a letter to Travis County District Attorney Rosemary Lehmberg and Travis County Attorney David Escamilla on Friday, providing them with a copy of the recent report prepared by Rusty Hardin, a Houston lawyer and special counsel to the House Select Committee on State Agency Operations.
The committee has been investigating whether Hall ought to be impeached after legislators raised concerns about the propriety of his investigations into University of Texas at Austin operations. Hall has said it was his responsibility as a regent to investigate potentially questionable activities at the university, including alleged favoritism in the admissions process for those with ties to lawmakers.
Hall did not immediately respond to a request for comment. His lawyers have accused the committee of being "a mechanism intended to chill the regents from performing their sworn duties."
Hardin's report to the committee laid out four potential reasons to impeach Hall. There are a number of steps left in the process, but if it were to reach that conclusion, Hall would become the first nonelected government official to be impeached in Texas history.
While it is not necessary to prove that a crime was committed to impeach an official, Hardin did raise the possibility that the regent had run afoul of the law in his handling of private student information.
"Hall's improper use of confidential information violated federal and state privacy statutes, violated the Texas Penal Code, and constituted 'official misconduct' under the Texas Public Information Act," Hardin wrote.
In a letter to their fellow committee members on April 4, committee co-chairs Dan Flynn, R-Van, and Carol Alvarado, D-Houston, wrote: "The report notes that Regent Hall's conduct with respect to protected student information is serious enough to implicate two possible offenses in the Penal Code. In addition, Regent Hall's conduct may constitute a criminal offense under the Texas Public Information Act."
"Accordingly," they continued, "we are referring this information of possible criminal violations to the Travis County Attorney's Office and the Travis County District Attorney's Office."
Disclosure: The University of Texas at Austin is a corporate sponsor of The Texas Tribune. Rusty Hardin was a major donor to the Tribune in 2012 and 2013. A complete list of Texas Tribune donors and sponsors can be viewed here.