Inside Intelligence: The Best and Worst Legislators Were...
We asked our insiders this week about Texas Monthly's forthcoming list of the Ten Best and Ten Worst Legislators — perhaps the most talked-about and eagerly anticipated media pronouncement in the state in any odd-numbered year.
We asked our insiders this week about Texas Monthly's forthcoming list of the Ten Best and Ten Worst Legislators — perhaps the most talked-about and eagerly anticipated media pronouncement in the state in any odd-numbered year.
The magazine's senior executive editor, Paul Burka, and senior editor Nate Blakeslee have put the finishing touches on the list, which will be released via the @texasmonthly Twitter feed Wednesday morning. But before they have their say, we wanted to know which members deserved to be Bests and which deserved to be Worsts. We were also curious about which first-term members were worthy of Rookie of the Year honors. And we wondered how the leadership should be treated: Do Speaker Joe Straus, Lt. Gov. David Dewhurst and Gov. Rick Perry deserve to be included as Bests or Worsts?
Lucky for us, our insiders were in agreement on their picks for both lists. Interestingly, in one celebrated case, they put the same member on both the Best and Worst lists.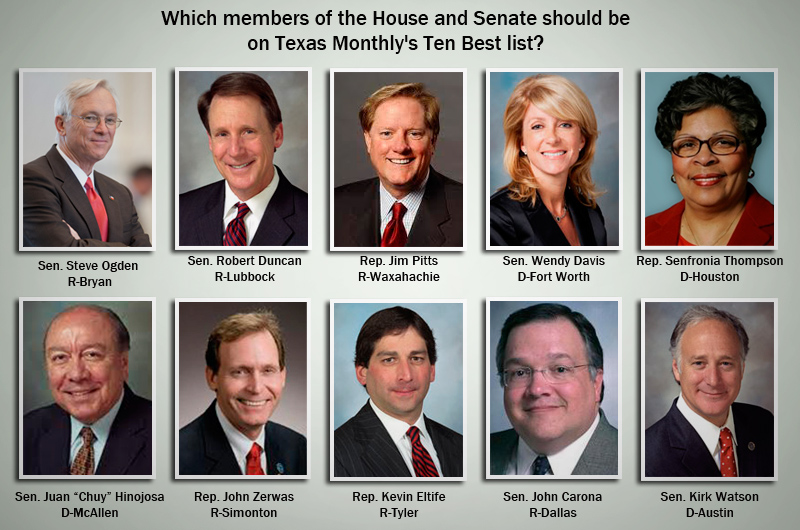 For Bests, they cited, more often than other lawmakers, Sen. Steve Ogden, R-Bryan; Sen. Robert Duncan, R-Lubbock; Rep. Jim Pitts, R-Waxahachie; Sen. Wendy Davis, D-Fort Worth; Rep. Senfronia Thompson, D-Houston; Sen. Juan "Chuy" Hinojosa, D-McAllen; Rep. John Zerwas, R-Simonton; Sen. Kevin Eltife, R-Tyler; Sen John Carona, R-Dallas; and Sen. Kirk Watson, D-Austin. For the record, 93 different members of the Legislature received at least one mention from our insiders.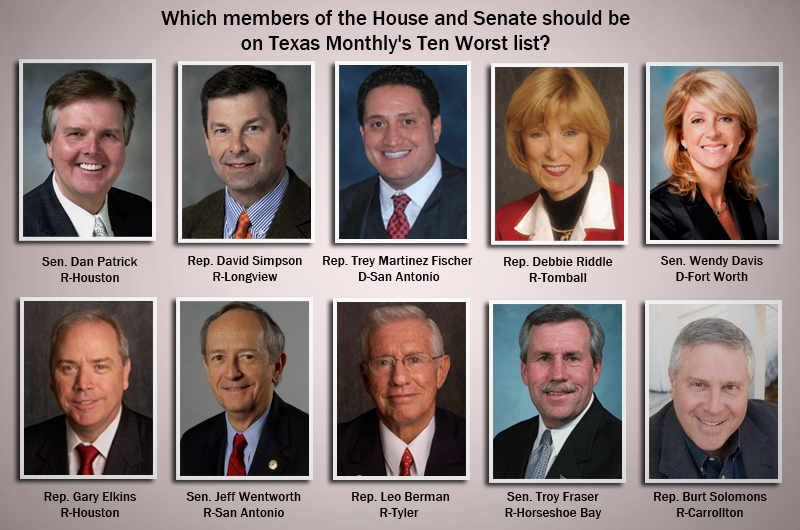 For Worsts, our insiders selected Sen. Dan Patrick, R-Houston; Rep. David Simpson, R-Longview; Rep. Trey Martinez Fischer, D-San Antonio; Rep. Debbie Riddle, R-Tomball; Sen. Wendy Davis, D-Fort Worth; Rep. Gary Elkins, R-Houston; Sen. Jeff Wentworth, R-San Antonio; Rep. Leo Berman, R-Tyler; Sen. Troy Fraser, R-Horseshoe Bay; and Rep. Burt Solomons, R-Carrollton. One hundred and two different members of the Lege received at least one mention.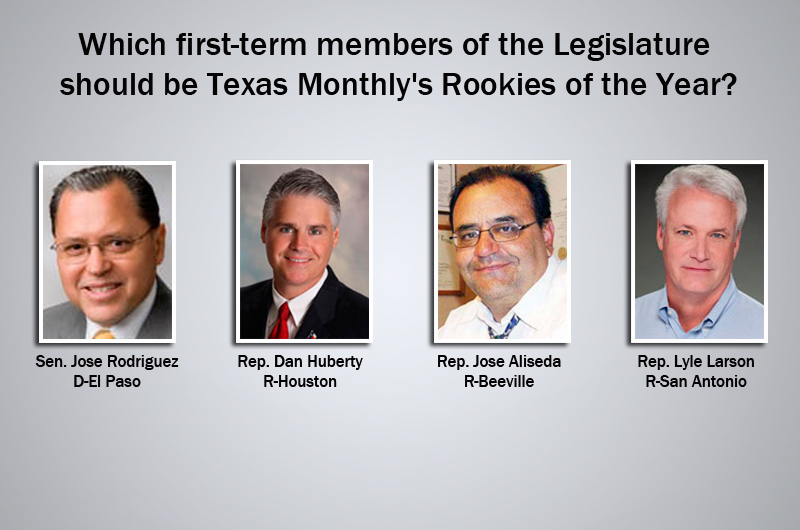 For Rookies of the Years, our insiders like four first-terms more than any other: Sen. Jose Rodriguez, D-El Paso; Rep. Dan Huberty, R-Houston; Rep. Jose Aliseda, R-Beeville; and Rep. Lyle Larson, R-San Antonio.
As for the leadership? Well, our insiders can't say they weren't, um, candid. The full set of verbatim answers is attached, but here's a sampling:
"Straus: Worst. No leadership, bad legislative management, total failure to use a supermajority. Dewhurst: Worst. No leadership. Perry: Worst. Partisan pandering and meddling in the process, cronyism."
"Dewhurst and Perry belong on the Worst because they let their political ambitions supercede what is best for Texas in not using the Rainy Day Fund. I wouldn't put Straus on either list because he was in a tough spot given the dynamics of the House."
"Perry on the Worst list due to his insistence on using the legislature to advance his presidential ambitions. Dewhurst on the Worst list because he buckled under and sidestepped the two-thirds rule. Straus on the Best list because he kept the House from sinking into complete chaos."
"All three are on the Best List. Balancing a budget without a tax when there is a $27 billion projected shortfall is unprecedented. No other state in nation could do it."
"Straus: Worst, because he cannot lead. Dewhurst: Worst, because he caved on TSA; Best because he herds cats as well as anybody could. Perry: Best Conservative LEADER."
"Best — difficult times bring out difficult leadership."
"Worst: Straus. Allowing House to be tied up in knots over Points of Order. Worst: Dewhurst. Erosion of 2/3rds rule. Best: Perry. You can't deny his power and influence over the direction this state is taking."
"Worst for all three. Total lack of leadership on issues that mattered. No cajones."
"Leadership should be judged by the members, not TM."
This week's particpants: Cathie Adams, Brandon Aghamalian, James Aldrete, Jay Arnold, Charles Bailey, Reggie Bashur, Don Baylor, Rebecca Bernhardt, Allen Blakemore, Steve Bresnen, Chris Britton, Andy Brown, Kerry Cammack, Snapper Carr, William Chapman, Hector De Leon, Tom Duffy, David Dunn, Richard Dyer, Alan Erwin, Gay Erwin, John Esparza, Dominic Giarratani, Scott Gilmore, Kinnan Golemon, John Greytok, Michael Grimes, Clint Hackney, Wayne Hamilton, Bill Hammond, Albert Hawkins, Adam Haynes, Ken Hodges, Kathy Hutto, Shanna Igo, Deborah Ingersoll, Robert Jara , Mark Jones, Robert Kepple, Ramey Ko, Nick Lampson, Pete Laney, James LeBas, Donald Lee, Leslie Lemon, Richard Levy, Ruben Longoria, Vilma Luna, Bryan Mayes, Scott McCown, Ross Milloy, Bee Moorhead, Steve Murdock, Keir Murray, Sylvia Nugent, Nef Partida, Gardner Pate, Kraege Polan, Jay Propes, Celinda Provost, Carl Richie, Jeff Rotkoff, Stan Schlueter, Bradford Shields, Patricia Shipton, Dee Simpson, Terral Smith, Todd Smith, Bryan Sperry, Tom Spilman, Jason Stanford, Jeri Stone, Keith Strama, Colin Strother, Russ Tidwell, Ware Wendell, Ken Whalen, Darren Whitehurst, Woody Widrow, Michael Wilt, Peck Young and Angelo Zottarelli.
Texas Tribune donors or members may be quoted or mentioned in our stories, or may be the subject of them. For a complete list of contributors, click here.
---
Information about the authors
Quality journalism doesn't come free
Perhaps it goes without saying — but producing quality journalism isn't cheap. At a time when newsroom resources and revenue across the country are declining, The Texas Tribune remains committed to sustaining our mission: creating a more engaged and informed Texas with every story we cover, every event we convene and every newsletter we send. As a nonprofit newsroom, we rely on members to help keep our stories free and our events open to the public. Do you value our journalism? Show us with your support.
Yes, I'll donate today