Five Texas Legislative Primary Races to Watch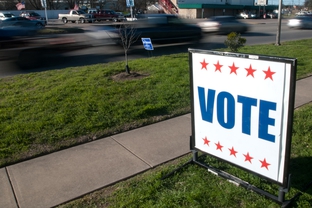 In honor of today's kickoff of early voting — a two-week period in which political junkies, committed activists and other go-to-the-head-of-the-class types will line up to cast ballots for their favorite candidates, unable to contain their enthusiasm or anger until March 2 — we present five different installments in our Primary Color series. (To see previous installments, go here and here.)
Brandi Grissom reports on the GOP face-off to take on state Rep. Joe Moody, D-El Paso, in House District 78.
The El Paso business community — opinion leaders in local Republican circles — seems split over the two candidates. In January, a group of influential businessmen — including Woody Hunt, the CEO of Hunt Companies and a former University of Texas regent, and Paul Foster, the CEO of Western Refining and a current UT regent — sent out a letter to other business leaders urging them to support Margo. "Before endorsing Dee, we did our due diligence and reviewed past election data to determine if the race is 'winnable,'" they wrote. "Our conclusion is, with Dee Margo on the ticket, this race is winnable."

Other Republican leaders are throwing in their lot with Kleberg, including investment adviser Ted Houghton, former beer distributor Robert Brown and mortgage company president Harold Hahn, all prominent current and former appointees of Gov. Perry — who endorsed Margo in 2008 but has stayed out of this race.
Elise Hu tackles the four-way scrum between Republicans in HD-20 hoping to succeed retiring state Rep. Dan Gattis, R-Georgetown.
The candidates mention many issues while campaigning.

Rister: "Balancing the budget."

Thomas: "Transportation."

Schwertner: "Health care and education."

Williams: "I'm pro-life."

Rister: "What's really important to me is redistricting."

Schwertner: "Illegal immigration and what that is doing."

Thomas: "Water."

Williams: "And property taxes."

But on the issues, they differ by only a few degrees.
Ross Ramsey asks why a perenially safe incumbent, state Rep. Vicki Truitt, R-Keller, has a fight on her hands this year in HD-98.
"There is a lot of growth here and a lot of turnover," Truitt says of the district. "You'd better be on the ball. ... People are angry about what's going on in Washington, and a lot of people aren't distinguishing between Washington and Texas."

This time, her support for a local option gasoline tax and other issues have inspired more competition, raising the specter of a runoff — never a great sign for an incumbent. The district stretches across northern Tarrant County and includes Southlake, Grapevine, Keller, Colleyville and parts of two major airports. It's littered with strip centers and chain coffee shops; everyone who sat for an interview had a favorite Starbucks in the district.
Abby Rapoport looks at the battle for conservative cred between incumbent Ken Mercer, R-San Antonio, and challenger Tim Tuggey in the race for the District 5 seat on the State Board of Education.
Tuggey's challenge to Mercer has energized big-brand mainstream Republicans in San Antonio. Auto magnate Red McCombs and H-E-B Chairman and CEO Charles Butt have each sent big checks to his campaign, which has $26,000 on hand — the most of any SBOE candidate — to Mercer's $3,500. But while Mercer's politics are fairly transparent, Tuggey's are more nuanced by necessity. He has to walk the fine line of being conservative enough to win the primary and moderate enough to win over independents in a general election.

Anyway, he mantains, ideology isn't the point. "We're arguing over the family heirlooms as the house burns down," he says of the SBOE, noting the various legislative attempts to remove the board's power. "My job is to represent the interests locally, not to dictate back to them."
And Morgan Smith picks apart the five-way race for the Republican nomination in Congressional District 23 — and the chance to topple U.S. Rep. Ciro Rodriguez, D-San Antonio.
None of the candidates have held statewide public office before, but all of them argue that's precisely what will appeal to voters in this anti-business-as-usual election cycle.

Of the five, Canseco, who has the backing of the conservative establishment, and Hurd, who Monday announced he had the endorsement of the San Antonio Express-News, are the clear frontrunners. Each is equally upbeat about his prospects. Canseco, who said his opponents have made his bid "a little bit more difficult," said he remains "very confident and strong" about his campaign despite the competition. Hurd said his career in the CIA taught him the value of being underestimated: "Our campaign is Hannibal, and we're coming over the Pyrenees and the Alps, and people don't know we have elephants with us."
Texas Tribune donors or members may be quoted or mentioned in our stories, or may be the subject of them. For a complete list of contributors, click here.