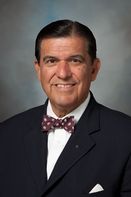 Industry

Consultant, Business Executive
Education

B.S., Pan American University
Spouse

Herminia
Committees

Veteran Affairs & Border Security
Subcommittee on Border Security
Education (Vice-Chair)
Intergovernmental Relations (Chair)
State Affairs
Financial Statements
Sources of Income
Lucio is the president of advertising and consulting at Rio Shelters Inc. in Brownsville.
Property
No properties listed
Analysis
In 2008, Lucio was indicted by the Willacy County district attorney — alongside then-Vice President Dick Cheney and former former U.S. Attorney General Alberto Gonzales — and accused of profiting from his public office by accepting honoraria from the private prison industry. The charges were dropped after a judge ruled the indictment failed to address whether Lucio, who had been accused of trying to steer construction of private detention facilities to the GEO Group, knew he was being hired as a consultant because he was a state senator. Lucio vowed he was innocent and had done nothing wrong.