Coronavirus in Texas
Coronavirus in Texas: Pence names Texas as a possible alternative GOP convention site
Live updates: Texas reports 55,971 cases and 1,527 deaths.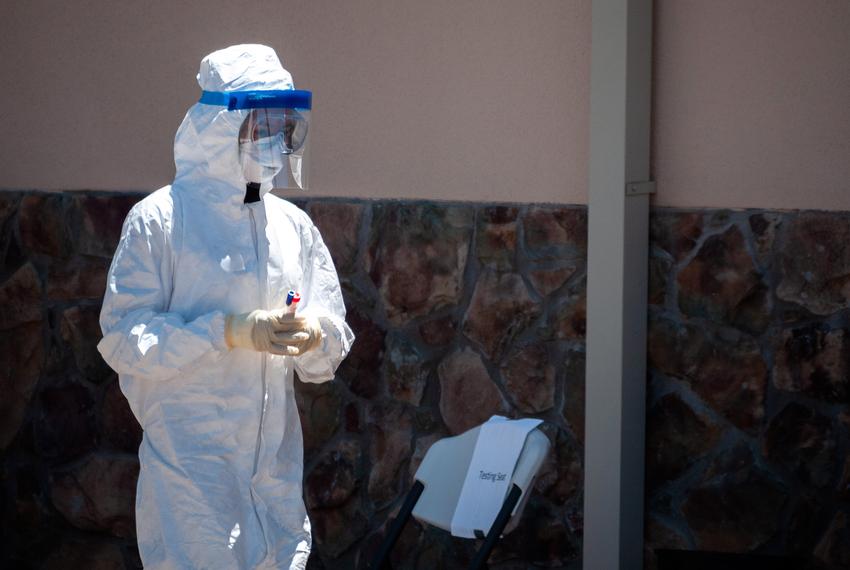 What you need to know this weekend:
Texas reports 55,971 cases and 1,527 deaths
Texas reported 623 more cases of the new coronavirus Monday, an increase of about 1% over the previous day, bringing the total number of known cases to 55,971. Presidio County reported its first case Monday; over 85% of the state's 254 counties have reported at least one case.
Harris County has reported the most cases, 10,921, followed by Dallas County, which has reported 8,827 cases. See maps of the latest case numbers for each county and case rates per 1,000 residents.
The state has reported eight additional deaths, bringing the statewide total to 1,527 — an increase of about 1% from Sunday. Harris County reported one additional death, bringing its total to 220 deaths, more than any other county.
As of Monday, 1,511 patients are known to be hospitalized in Texas. That's a decrease of 61 patients from Sunday. At least 906,074 tests have been conducted as of Monday. — Chris Essig
Pence says Texas could land GOP convention if North Carolina isn't open
Texas is being considered to host the Republican National Convention, Vice President Mike Pence said Monday in an interview with Fox News. Pence's comment comes after President Donald Trump threatened in a series of tweets Monday morning to pull the convention from North Carolina if the state refuses to guarantee it will be open come August.
"These national conventions literally take many months to organize and prepare," Pence said. "The president is absolutely intent on ensuring, as we see our nation continue to make steady progress on putting the coronavirus epidemic in the past, that come this August, we'll be able to come together in a safe and responsible venue."
Trump said that if North Carolina Gov. Roy Cooper can't guarantee that the Republican Party would be allowed to "fully occupy" the convention venue in Charlotte Aug. 24-27, the party will seek other states to host.
In the interview, Pence named Texas, Florida and Georgia as states that have made "tremendous progress" in reopening. Pence called on Cooper to provide a "swift response."
"Having a sense now is absolutely essential because of the immense preparations that are involved," Pence said. "If need be, [we'll move] the national convention to a state that is farther along on reopening and can say with confidence that we can gather there." — Clare Proctor
Houston mayor says city will enforce occupancy rules at reopened businesses after complaints pour in
Houston Mayor Sylvester Turner said Sunday the city now plans to enforce the state's occupancy rules that limit how many people can be in restaurants and bars to protect against the spread of COVID-19, after receiving reports of people flooding establishments over Memorial Day weekend.
Turner had previously said the city would ask residents and business owners to self-enforce Gov. Greg Abbott's rules that allow bars and restaurants to operate at 25% and 50% occupancy, respectively. On the whole, people are respecting that rule — but the city started to receive an avalanche about people crowding into spaces, not social distancing nor wearing masks.
"We have done so well in this city," Turner addressed reporters while wearing a light blue surgical mask. "This is not the time...for some people to engage in this blatant behavior that will have an adverse affect on everybody else, not just themselves, but everybody else."
Fire Chief Samuel Peña tweeted that the department had received about 300 complaints since Friday and that "admittance beyond approved capacity will cause events to be stopped" until conditions are corrected.
Turner also announced 115 new COVID-19 cases and one additional death in the city Sunday, bringing Houston's case total to 6,640 and the number of deaths to 126. This was the first weekend Texas bars were allowed to open at all since Abbott issued a blanket shelter in place order nearly two months ago. The state started to gradually open in phases May 1. Although Abbott has chastised some cities for what he considered aggressive enforcement, an investigation by ProPublica and the Texas Tribune found enforcement was highly sporadic across the state and, in many cases, cities chose to issue citations sparingly.
Videos and news reports from around the country, in states where reopening has begun, show people flooding nightclubs, restaurants and beaches. Turner referenced a pool party in Arkansas that was the source of a larger COVID-19 cluster in that state. He emphasized the city would not be heavy handed — "nobody's going to be jailed" — but said the city had no choice but to issue citations or, in extreme cases, shut businesses down if they do not comply.
"Your rights stop where my rights begin," he said, adding later, "Work with us, please." — Vianna Davila
Top Tribune stories you might have missed:
"It's incredibly insulting to see some people can't be bothered to do it for the 15 minutes they are in a store."

— Aaron Reed, an Austin restaurant employee
The politics of masks: Arguments about wearing masks in public are occurring everywhere from retail stores to the highest levels of government. And for some, forgoing masks in public during the coronavirus pandemic has become a political statement.
Patrick enters vote-by-mail debate: Texas Lt. Gov. Dan Patrick said in an interview Friday that efforts to expand mail-in voting during the coronavirus amount to a "scam by Democrats to steal the election."
Texans in Congress begin designating colleagues to vote in their place this week
In yet another COVID-19-induced first, some members of the U.S. House will designate colleagues to vote in their place this coming week as Congress takes up more legislation to address the pandemic.
As of Sunday morning, 18 members — all Democrats — submitted letters to the U.S. House clerk appointing a fellow Democratic member to vote in his or her place. Four Texans — U.S. Reps. Vicente Gonzalez of McAllen, Eddie Bernice Johnson of Dallas, Marc Veasey of Fort Worth and Filemon Vela of Brownsville — were included in that group.
Gonzalez designated a neighboring Texan, U.S. Rep. Henry Cuellar, D-Laredo, as his proxy. Johnson named U.S. Rep. Hakeem Jeffries of New York, Veasey appointed U.S. Rep. Don Beyer of Virginia and Vela empowered U.S. Rep. Ruben Gallego of Arizona. — Abby Livingston
Outbreak at immigrant detention center near Abilene infects more than 25% of residents
An outbreak at a recently opened immigrant detention center outside of Abilene has left more than one-quarter of its residents infected with COVID-19, the El Paso Times reported Saturday.
The outbreak at the Bluebonnet Detention Center in rural West Texas is the second-largest among the nation's 49 immigration detention centers that have seen positive cases.
The center, originally meant to be a state prison, opened just before Christmas and is run by Management and Training Corp., or MTC, and houses 417 men and women. Of those, 111 have tested positive, along with six of the center's 118 staff members, the newspaper reported.
Previous detention center outbreaks have led to strained relations between local leaders and private contractors in Texas. Earlier this month, Frio County commissioners demanded answers from officials with the GEO Group after the virus took hold at the South Texas ICE Processing Center in Pearsall, south of San Antonio. — Jeremy Schwartz
Houston Museum of Fine Arts first major U.S. art museum to reopen
Houston's Museum of Fine Arts reopened Saturday, becoming the nation's first major art museum to do so since the coronavirus pandemic began, Texas Monthly reported. Among the planned safety measures are required masks for visitors older than 2, temperature checks, and museum staff opening and closing all doors. The 300,000-square-foot building will be open to 900 visitors at a time, or 25% of its capacity, and 6 feet of social distancing will be enforced, according to Texas Monthly. — Emily Goldstein
Texans need truth. Help us report it.
Independent Texas reporting needs your support. The Texas Tribune delivers fact-based journalism for Texans, by Texans — and our community of members, the readers who donate, make our work possible. Help us bring you and millions of others in-depth news and information. Will you support our nonprofit newsroom with a donation of any amount?
Yes, I'll donate today
Explore related story topics