2017 Year in Review
The top 10 Texas Tribune reads of 2017
Looking to catch up on your reading this holiday season? You've come to the right place. Here, in no particular order, are our curated picks: the top Texas Tribune storytelling of 2017.
2017 Year in Review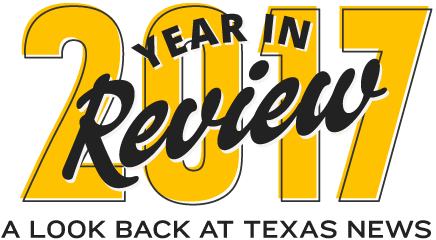 A lively legislative session — and a special session — that featured fights over bathrooms. Legal battles over abortion, immigration policy and political maps. A devastating hurricane. 2017 was filled with nonstop news in Texas. Here are the highlights.
More in this series
Looking to catch up on your reading this holiday season? You've come to the right place.
From prescient coverage of a devastating hurricane to a high-impact investigation into taxpayer-funded alcohol regulators to heartbreaking tales of teenagers sold for sex, The Texas Tribune's storytelling this year was simply extraordinary.
Here, in no particular order, are our curated picks: the top Texas Tribune reporting and writing of 2017.
In the aftermath of Hurricane Harvey's devastating flooding — a natural disaster The Texas Tribune and ProPublica had predicted in late 2016 — our reporters dove into action, telling crucial stories from the coast that held local, state and federal leaders accountable and followed the money in relief efforts.
Our investigation into the Texas Alcoholic Beverage Commission's overreach and mismanagement — including boozy junkets and a now-notorious illustration of top officials guzzling beer on a plane — unraveled nearly the entire executive layer of the taxpayer-funded agency.
3. Sold Out
Tribune reporters spent several months embedded with young Texas women who were sold for sex. In a series of powerful stories, they revealed how the state's crusade against sex trafficking has left child victims behind, and spurred state officials into action.
4. The Taking
In collaboration with ProPublica, our reporters revealed that the last time the federal government aggressively pursued a border fence — 2007 — the Department of Homeland Security cut unfair real estate deals, secretly waived legal safeguards for property owners and abused the government's extraordinary power to take land from private citizens.
A Texas Tribune partnership with NerdWallet exposed how Texas' rent-to-own industry turns disputes over love seats or big screen TVs into criminal offense reports, trips to jail and even felony theft charges. Lawmakers immediately pledged to change the law that allows it.
6. An unsuccessful bathroom bill
The fight over a bill regulating bathroom access for transgender Texans was the talk of the 2017 legislative session. Our reporters deftly humanized the issue for our readers, telling moving tales of kids coming to testify in the wee hours, using interactive tools to explain the specifics of legislation and letting affected people tell their own stories through photos and audio.
At the same time Texas public health officials were grappling with an opioid overdose epidemic, Gov. Greg Abbott's office was working to score an economic development deal with drug company McKesson — to the tune of a nearly $10 million grant. Now he's facing a big conundrum: the state is investigating that drug company and others, and could file suit.
No issue stirred more passion in the 2016 elections than border security and immigration. In Beyond The Wall, a Texas Tribune documentary that aired on TV stations and screened at film festivals, we looked past the heated rhetoric to explore why people — and drugs — keep pouring across the border.
Our data-heavy investigation into some of Texas' biggest industrial companies found few — if any — consequences when these polluters spewed noxious chemicals into the air, drastically exceeding the emissions limits in their state-issued permits.
The fracking boom has fueled a giant endowment at the University of Texas System. But our reporters revealed that it hasn't led to a windfall for students. Just a sliver of that money is going to student financial aid, while hugs sums are being spent on administration and a series of controversial projects.
Your New Year's resolution list isn't complete without …
… supporting the Tribune. This new year, resolve to do your part to sustain trusted journalism in Texas. Join thousands of readers who power The Texas Tribune's nonprofit newsroom.
Donate now