In Harvey's Wake
This is already Houston's "worst flood." It's only going to get worse.
As swamped officials struggled to respond to a deadly crisis Sunday, southeast Texans were bracing for their troubles to multiply over the coming week. Harvey is on track to produce even more devastating floods.
HOUSTON — As the sun set Sunday on a flood-ravaged Houston, a nagging uncertainty surrounding Tropical Storm Harvey's next move persisted.
Even 24 hours earlier, no one knew exactly how much rain the storm would bring to the sprawling metropolitan area. But meteorologists' worst case scenario ended up coming true: Harvey strengthened and dumped as much as 22 inches of rain in certain areas throughout the night and into Sunday evening, flooding countless homes, stranding families on rooftops and killing at least five people.
Scientists say the storm is likely to be the most devastating flood the Houston region has ever seen — even more so than Tropical Storm Allison in 2001, which was the worst rainstorm to ever befall an American city in modern history.
"The economic impact should be greater than any other flood event we've ever experienced," said Sam Brody, a scientist at a Texas A&M University at Galveston who specializes in natural hazards mitigation. "And it's going to take years for these residential communities to recover."
Late Sunday, the rainfall had let up in some areas, allowing floodwaters to drain. But it persisted in already waterlogged parts of northwest Houston and was expected to continue — if less doggedly — throughout the night and into Monday.
"It's a massive flood, and we're not out of the woods yet. This thing is going to sit here and potentially drop 10 to 15 more inches of rain," said Phil Bedient, a Rice University scientist who studies hydrology and flood prediction systems. "It is a very, very depressing situation that we find ourselves in."
A chaotic weekend
Some parts of Texas could receive up to 50 inches of rain in the coming days, an amount that would exceed state records. Two federally owned reservoirs west of Houston meant to protect the city from catastrophic flooding were already reaching historic levels as of Sunday evening. The situation will require the U.S. Army Corps of Engineers to release water down an already swollen Buffalo Bayou to protect the homes and businesses that surround the reservoirs that will certainly flood.
But just the flooding as of Sunday made for a chaotic weekend. As images posted to social media showed roads inundated with water – submerging cars and covering street signs – officials in Houston and Galveston asked residents with high-water vehicles or boats to assist in rescue efforts.
Galveston County Judge Mark Henry said in a press conference Sunday afternoon that 25 to 35 private boat owners had responded to the call and were helping transport people to safety.
In Houston, the 911 line received 56,000 calls between 10 p.m. Saturday and 1 p.m. Sunday, local authorities said, seven times the usual volume. Earlier Sunday, Houston Mayor Sylvester Turner tweeted that Houston 911 was being overwhelmed with calls but was still functional. "There are a number of stranded people on our streets calling 911 exhausting needed resources," he wrote. "You can help by staying off the streets."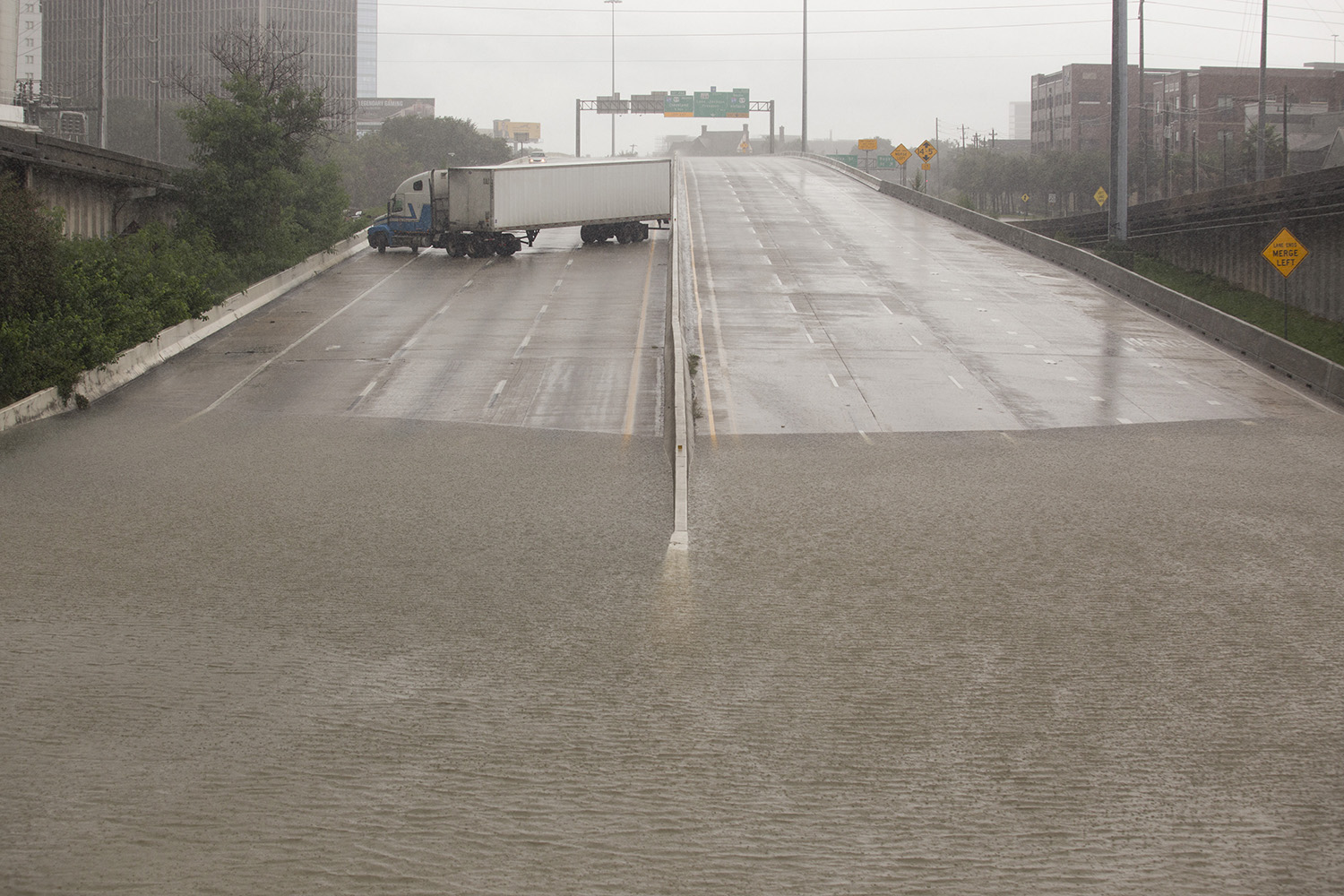 Harris County Judge Ed Emmett told the Chronicle 1,500 to 2,000 high-water rescues had been made by the county since Saturday night. And other county officials said 18 helicopters were rescuing those stranded on rooftops, after residents in flooding areas were urged to seek refuge there.
"Reports of people getting into attic to escape floodwater – do not do so unless you have an ax or means to break through onto your roof," Houston Police Chief Art Acevedo wrote on Twitter.
With emergency resources strapped, social media became a channel where pleas for rescue were issued for those trapped by flood waters that are expected to keep rising. The posts gave glimpses of the unfolding crisis and included exact addresses, names and pictures of southeast Texas' stranded residents.
One woman asked for help for a 70-year-old man trapped in a one-story house without an attic on S. Braeswood Boulevard in Houston. Another asked for help for a couple and their two cats in Dickinson, Texas.
"Please help if you can or get this information to authorities," claimed a post from twitter user Alicia Stepp. "The entire street of Colony Creek Drive needs rescue."
Yet another asked for help for 10 people, 3 dogs and two cats stuck on a roof in Dickinson. One post about a Houston family, which included a sick child, came with a picture of the people standing on their rain-soaked roof.
@houstonpolice this family is stranded on their roof, one of the babies are sick and he need medical attention.

11711 Woodshadow pic.twitter.com/cW9orjxLXd

— Gucci Mama (@sag5strong) August 27, 2017
Henry, the Galveston County judge, said in his press conference that Dickinson was the hardest-hit part of the county, and estimated 800 to 1,200 people in the area had been rescued so far. More than a dozen nursing home residents were rescued after a viral picture showed a group of elderly people in a Dickinson facility sitting in waist-high water, according to the Chronicle.
FEMA and Trump
Outside the flood zone, state and federal officials were monitoring the situation closely.
Gov. Greg Abbott said 500 officers from the Texas Department of Public Safety had been assigned to the Houston area, and another 3,000 state and national guard members were assisting with search-and-rescue missions in various areas affected by the storm.
In Washington, D.C., at the FEMA command room near Capitol Hill, nearly 200 federal government workers and military members gathered to strategize the delivery of supplies to the hurricane-wracked region.
Televisions stations in the center were mostly tuned to the Weather Channel, but there were several big-screen feeds of local Houston affiliate stations' coverage of the damage and flooding.
Officials there emphasized that FEMA is running back-end support and following the state government's lead, and that this likely will be a years-long federal effort.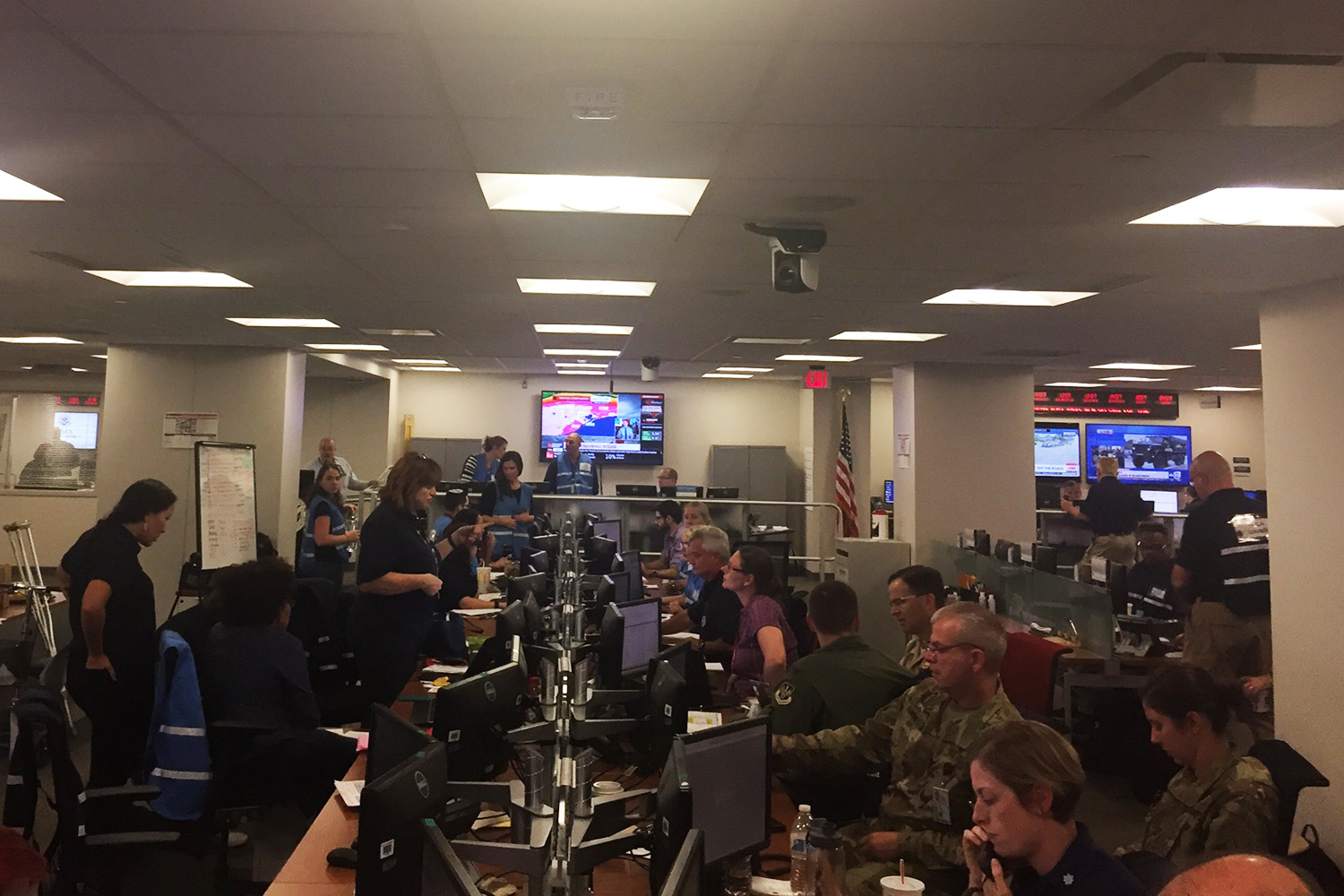 "The response is ongoing," said William Booher, the director of FEMA public affairs. "This is a dynamic situation ... we are coordinating very closely with our state and local partners."
A White House spokeswoman told reporters on Sunday that President Donald Trump would travel to Texas on Tuesday.
"I will be going to Texas as soon as that trip can be made without causing disruption. The focus must be life and safety," Trump tweeted Sunday morning.
"You shouldn't flood an entire city like this"
Amid days of uncertainty, many residents evacuated pre-emptively before floodwaters breached their homes. By late Sunday, about 1,000 evacuees had congregated at the George R. Brown Convention Center. City dump trucks unloaded rain-soaked evacuees in front of the center
Many were large families, carrying backpacks and rolling suitcases. Several were barefoot. Local officials expected the number of people staying there to grow to 5,000.
Christella Gomez said she packed up and left her downtown area home with her two children at the insistence of a neighbor; floodwaters from nearby Buffalo Bayou had encroached on their housing complex.
Across town, Virginia Hammond left her northwest Houston home as floodwaters began to enter — it's flooded three times in the past nine years. During another historic flood in the city last year, she found herself trapped inside with her two granddaughters as her home filled with nearly 3 feet of water.
"I kinda felt like it was gonna happen, so we left," she said in an interview Sunday afternoon. "The streets were flooding and the bayou was up to the top."
She said she's not sure when she'll be able to return — likely when the rain stops.
Houston's always had flooding problems. It's a low-lying, coastal city built partly on swampland. But scientists, other experts and federal officials say the city's explosive growth is largely to blame for how bad flooding is now.
As millions have flocked to the metropolitan area in recent decades, local officials have largely snubbed stricter building regulations, allowing developers to pave over crucial acres of prairie land that once absorbed huge amounts of rainwater. That has led to an excess of floodwater during storms that chokes the city's vast bayou network, drainage systems and two huge federally owned reservoirs, endangering many nearby homes — including Virginia Hammond's.
"They'll always have the excuse 'Well, oh, this was the really big one,' but you shouldn't flood an entire city like this, you shouldn't have water out of banks in every single bayou like this," Bedient said. "Something is amiss and they need to rethink the whole deal, and it's not going to be cheap."
Additional reporting by Abby Livingston and Brandon Formby.
Disclosure: Rice University have been a financial supporter of The Texas Tribune. A complete list of Tribune donors and sponsors is available here.
Quality journalism doesn't come free
Perhaps it goes without saying — but producing quality journalism isn't cheap. At a time when newsroom resources and revenue across the country are declining, The Texas Tribune remains committed to sustaining our mission: creating a more engaged and informed Texas with every story we cover, every event we convene and every newsletter we send. As a nonprofit newsroom, we rely on members to help keep our stories free and our events open to the public. Do you value our journalism? Show us with your support.
Yes, I'll donate today
---
Information about the authors