Why Houston isn't ready for Hurricane Harvey
Last year, The Texas Tribune and ProPublica investigated Houston's vulnerability to hurricanes and torrential rainstorms. The nation's fourth-largest city is sure to see the latter in the coming days. Here's what we know about what could happen.
The Texas Tribune thanks its sponsors.

The devastation was swift, and the recovery is far from over. Sign up for our ongoing coverage of Hurricane Harvey's aftermath. You can help by sharing your story here or sending a tip to harvey@texastribune.org.
More in this series
---
The brunt of Hurricane Harvey is projected to miss Houston, but the sprawling metropolis is likely to face massive flooding from its third crippling storm in the past three years.
It underscores a new reality for the nation's fourth-largest city: Climate change is making such storms more routine. Meanwhile, unchecked development in the Houston area is wiping out the pasture land that once soaked up floodwaters. Last year, we explored in detail how Houston's rapid expansion has greatly worsened the danger posed by flooding.
How bad things get in Houston depends on where and how quickly the rain falls. But many are already drawing comparisons to 2001's Tropical Storm Allison — the worst rainstorm to hit an American city in modern history. Allison dropped 40 inches of rain on the city in five days, killed nearly two dozen people and caused $5 billion in damage in the county that includes Houston. The map below shows how many homes, businesses, schools and other structures flooded. As you can see, a lot of flooded areas were outside the 100-year floodplain — the area the federal government says faces a 1 percent chance of flooding every year.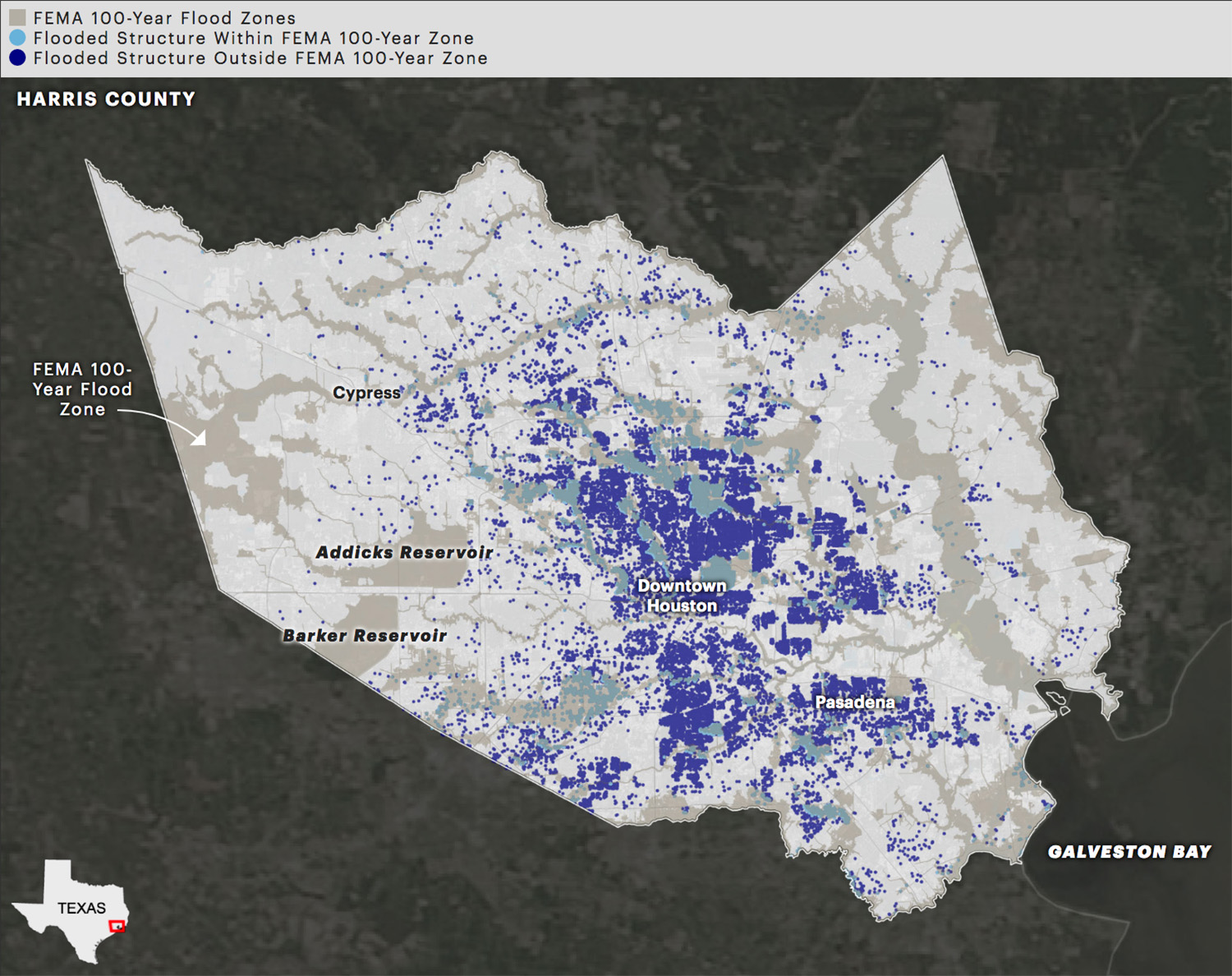 Tropical Storm Allison largely spared western parts of the Houston area. But that wasn't the case during a more recent storm that also crippled the sprawling metropolis. A flood in April 2016 — nicknamed the "Tax Day" flood because it fell on the deadline to file federal income taxes — paralyzed northwestern portions of the city and surrounding suburbs. Those areas have exploded in population in recent years.
The Texas Tribune thanks its sponsors. Become one.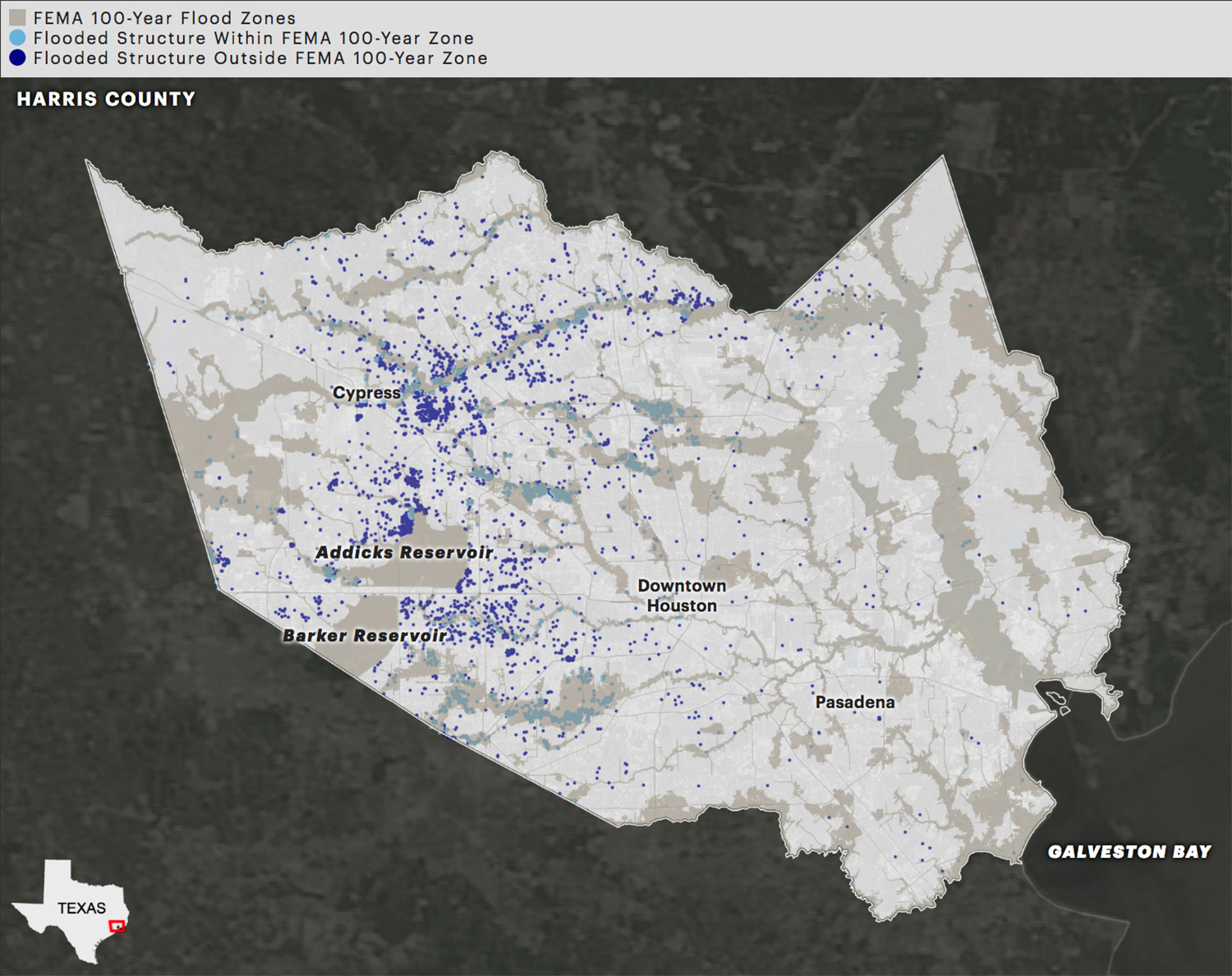 The Tax Day flood happened just 11 months after another devastating event — the "Memorial Day" flood in May 2015, which swept through areas north and west of downtown Houston. Again, many neighborhoods outside the known floodplain ended up underwater.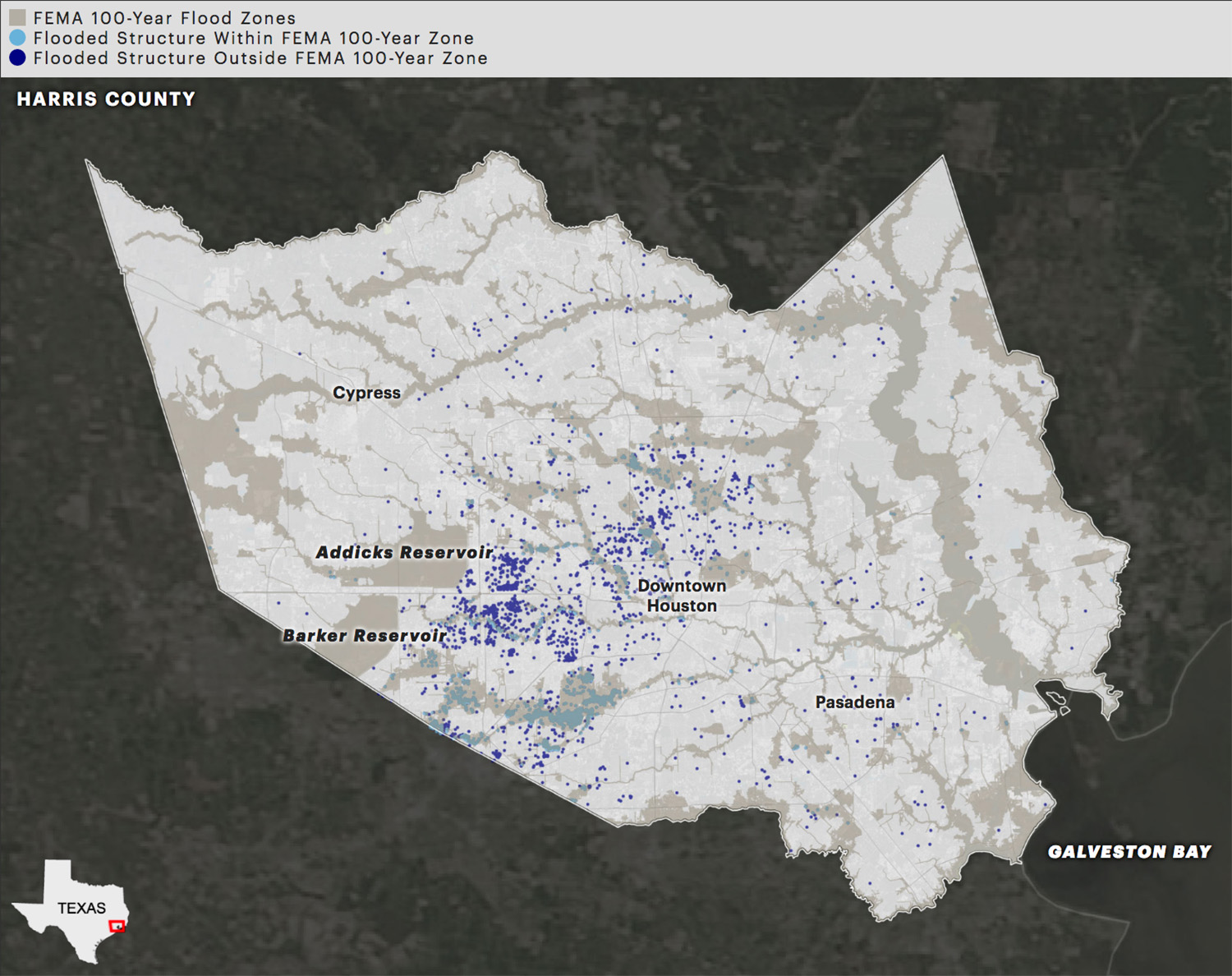 Together, the Memorial and Tax Day floods killed 16 people and caused well over $1 billion in property damage. Such torrential rains are supposed to be a rarity, but Houston's history is punctuated by major back-to-back storms. Many residents say they are becoming more frequent and severe, and scientists agree.
"More people die here than anywhere else from floods," Sam Brody, a Texas A&M University at Galveston researcher, told us last year. "More property per capita is lost here. And the problem's getting worse."
Why?
Many scientists, experts and federal officials say Houston's explosive growth is largely to blame, along with climate change. As millions have flocked to the metropolitan area in recent decades, local officials have largely rejected stricter building regulations, allowing developers to pave over acres of prairie land that once absorbed large amounts of rainwater. In the decade after Tropical Storm Allison, about 167,000 acres were developed in Harris County, home to Houston. The map below shows that a lot of the new development is in or near floodplains.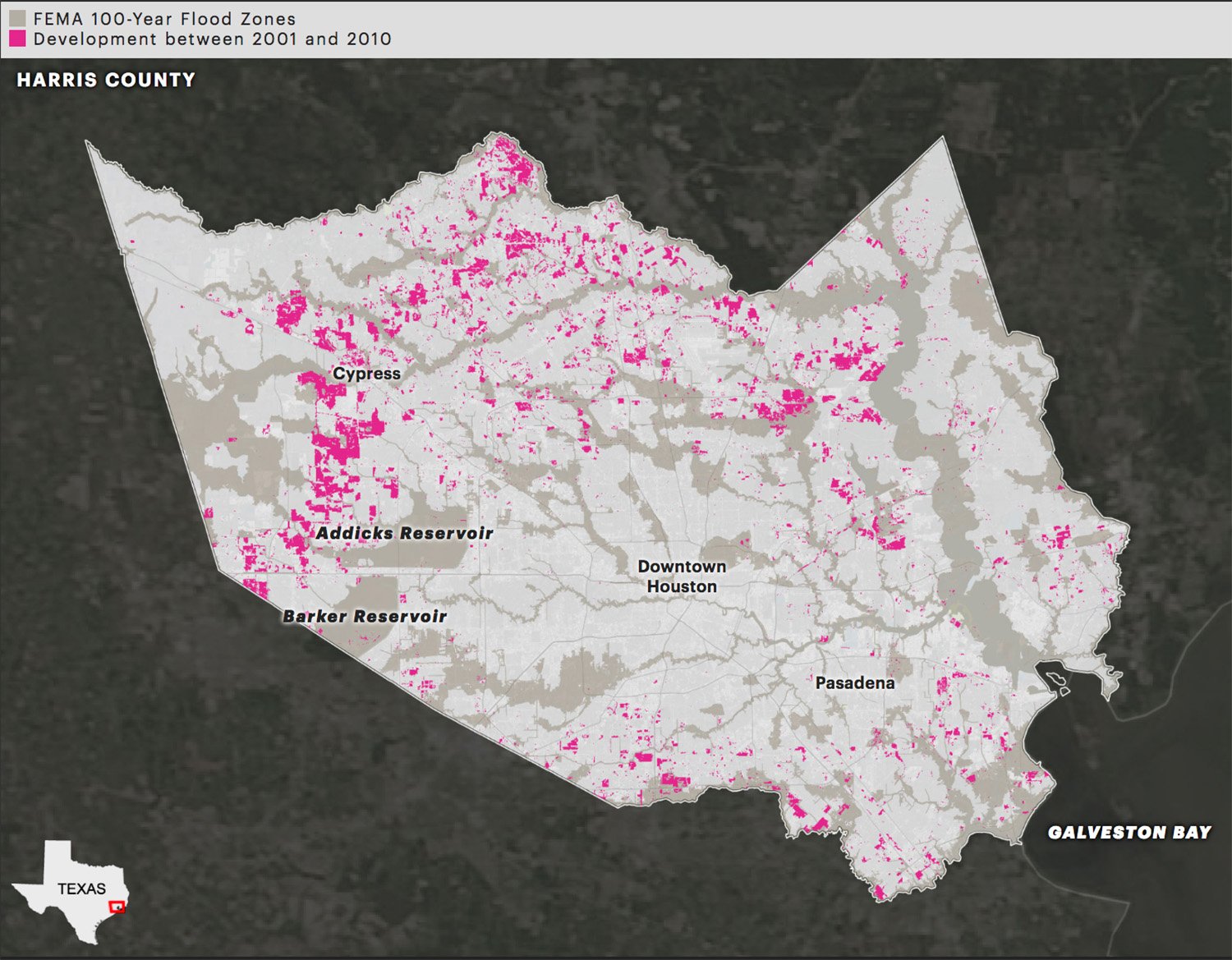 Some local officials flat-out disagree with the scientific evidence that shows development has worsened the effects of big storms. Mike Talbott, the former longtime head of the local flood control agency, told The Texas Tribune and ProPublica last year that large-scale public works projects — like drainage basins — are reversing all the effects of Houston's recent growth (His successor shares that view).
"You need to find some better experts," Talbott said. When asked for names, he would only say, "starting here, with me."
Read related Tribune coverage:
Houston is the nation's fourth-largest city and home to the largest refining and petrochemical complex in the United States. But many worry it's a sitting duck when the next big hurricane comes. This multimedia project, done in partnership with ProPublica, looks at the dangers for the region. [Full story]

Dozens of Texas politicians and business leaders are urging President Donald Trump to commit $15 billion toward protecting the Houston area from a devastating hurricane. [Full story]

Nearly two years after The Texas Tribune and ProPublica first started trying to understand how a massive hurricane could affect the city of Houston, a lot of uncertainty remains. [Full story]
Get The Brief
Never miss a moment in Texas politics with our daily newsletter.