The Brief: The #txlege is back for its special session
And they're back: State lawmakers return to the Capitol today to tackle business left unfinished during a divisive legislative session that ended in May. But a seven-week break doesn't appear to have mended their ill will.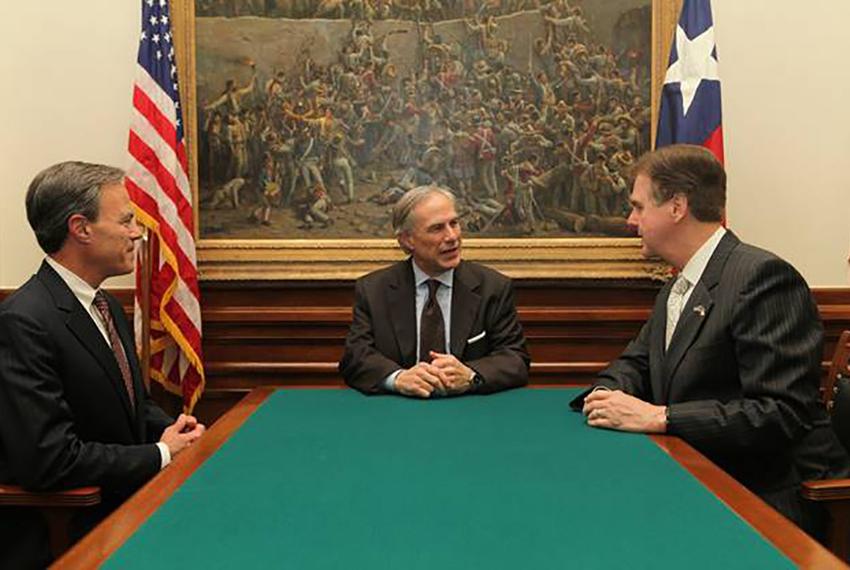 Good morning and happy Tuesday, folks. Thanks for reading The Brief, our daily newsletter informing you on politics, public policy and everything in between. Forward this email to friends who may want to join us. They can sign up here. — CP
What you need to know
And they're back: State lawmakers return to the Capitol today to tackle business left unfinished during a divisive legislative session that ended in May. But a seven-week break doesn't appear to have mended the ill will that plagued lawmakers during the regular session. So where are the battle lines drawn as the curtains raise at the Texas Capitol? Here's what you need to know:
• A quick refresher: Gov. Greg Abbott was forced to call the session after the House and Senate deadlocked on legislation to keep several key state agencies, such as the Texas Medical Board, in operation — amid episodes of bickering over property tax reform and legislation regulating which restrooms transgender Texans could use. While the governor was at it, he directed lawmakers to work on another 19 items — everything from boosting teacher pay to putting more restrictions on abortion. The Legislature has 30 days to first pass the legislation they jeopardized last session before they can turn to the other high-profile issues Abbott has said he wants on his desk. But it's unclear whether tensions between Lt. Gov. Dan Patrick, who presides over the Senate, and House Speaker Joe Straus will leave the Legislature once again at a standstill.
• "No one gets to hide," Abbott told the crowd at a Texas Public Policy Foundation event Monday, saying he planned to make a daily list keeping tabs on which lawmakers supported his 20 items — and which didn't. The governor, who appears to be laying the groundwork for a larger political footprint at the Capitol, made more news when he plucked property tax reform from the set of issues he wants the Legislature to pass and dubbed it the "No. 1 issue" of the special session. Patrick and others on the far right have vocalized their support for Abbott's agenda in recent weeks, pushing the "20 for 20" pass-them-all approach. But Abbott faces a challenge in the House, where Straus has made clear he's no fan of "bathroom bill"-esque proposals.
• Democrats — and teachers — aren't thrilled with what's coming down the pipe. Democrats have filed their own proposals for the special session, such as increasing the state's minimum wage and closing the gender wage gap, but they'll likely spend their time playing defense on measures like the "bathroom bill" — it's like déjà vu all over again. Slight chatter on the sidelines has left some wondering if Democrats could run a play from their 2003 book and flee the state; if one-third of either chamber is absent, the body can't meet to vote on legislation. Meanwhile, amid an education-heavy special session, Texas educators are saying "no thanks" to a handful of Abbott's agenda items — including the "bathroom bill" and yes, even a $1,000 pay raise for teachers.
• The show starts at 10 a.m. today. Follow Texas Tribune reporters Morgan Smith, Andy Duehren and Shannon Najmabadi, who will be at the Texas Capitol covering the ins and outs of both chambers as the special session kicks off. The Texas Tribune's Twitter account will be chock-full of tweetstorms, breaking news and more, and if things get especially frenzied, head over to our Facebook page for a livestream and play-by-play analysis. Round two of #txlege is just beginning, but we'll be here for it all — bringing you the latest news around the clock.
Give us your take
What do you think of the 20 items Gov. Greg Abbott has tasked the Legislature with passing during the special session? Tweet us with #MyTexasTake.
Tribune today
• Around $41 million sits in Gov. Greg Abbott's war chest as he heads into a re-election campaign — and looks to make a bigger political footprint during the special session, new satellite studio and all.
• It's about time, some said, as the Texas Military Department confirmed it was finally receiving aid — $2.3 million, to be exact — from the Trump administration for border security.
• Any guesses on how much the special legislative session will end up costing Texans? Try $1 million, which is just a sliver of the two-year, $217 billion budget lawmakers passed in May.
• Blue-collar workers have paid a heavy price since NAFTA was enacted in the 1990s, says a Central Texas-based advocacy group, and it's time something's done about it.
• In the deep-red state of Texas, four Republicans in Congress were outraised by Democratic challengers in the last quarter. Does that spell trouble for the GOP?
• Former Texas Congressman Pete Gallego thinks the third time could be the charm in reclaiming his seat from U.S. Rep. Will Hurd, and says he's "energized about 2018."
Pencil us in
Join us Tuesday morning for coffee and conversation previewing the 85th special legislative session with state Reps. Carol Alvarado, D-Houston, Drew Darby, R-San Angelo, and Matt Schaefer, R-Tyler.
Register for the 2017 Texas Tribune Festival! Join us for three days of the best conversations in politics and public policy, Sept. 22-24. Register here.
The best outside reads on the Texas Legislature
America's future is Texas — "[Texas] is as politically divided as the rest of the nation. One can drive across it and be in two different states at the same time: FM Texas and AM Texas. FM Texas is the silky voice of city dwellers, the kingdom of NPR. It is progressive, blue, reasonable, secular and smug — almost like California. AM Texas speaks to the suburbs and the rural areas: Trumpland. It's endless bluster and endless ads. Paranoia and piety are the main items on the menu." (The New Yorker, July 3, 2017)
Governor struggles to lead as Texas Republicans splinter into factions — "Pro-business Republicans clashed with social conservatives. The State House clashed with the State Senate. The Texas Association of Business clashed with the Tea Party. White Republican lawmakers clashed with Hispanic Democratic legislators in the Capitol's House chamber, cursing, shoving and threatening one another. And 28 months into his term, Mr. Abbott is facing a fundamental question: How conservative is conservative enough for the governor of a state that defines the right in America as much as California defines the left?" (The New York Times, June 5, 2017)
The power behind the throne — "Patrick is a different breed, though. He's not an establishment Republican but rather a product of the party's fervent grass roots. ... Patrick's veiled threat [on the "bathroom bill"] was about more than just a piece of conservative legislation, though. He was re-establishing the lieutenant governor as the most powerful politician in Texas and positioning himself as the state's culture warrior in chief." (Texas Monthly, February 2017)
Photo of the day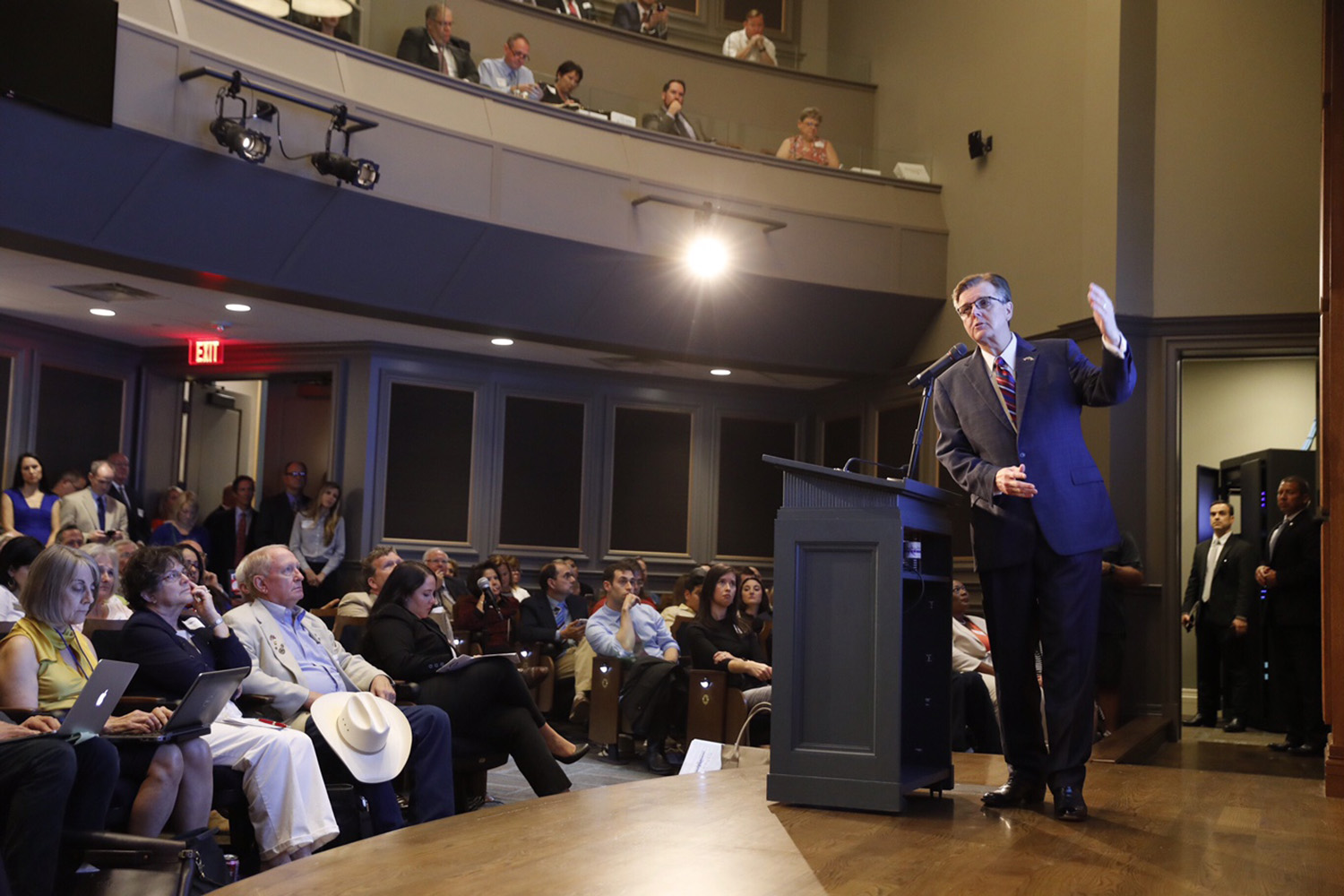 Lt. Gov. Dan Patrick spoke at a Texas Public Policy Foundation orientation event on July 17, the day before the special legislative session. Photo by Bob Daemmrich. See more photos on our Instagram account.
Quote to note
"We're going to be spending taxpayer dollars for 30 days. Let's spend our time on measures that actually matter to people, that move peoples' lives forward."
—State. Sen. José Rodríguez, a Democrat from El Paso and chairman of the Senate Democratic Caucus, on the special legislative session that starts today.
Feedback? Questions? Email us at thebrief@texastribune.org. As always, thanks for choosing The Brief — if you liked what you read today, become a member or make a donation here.
Texans need truth. Help us report it.
Independent Texas reporting needs your support. The Texas Tribune delivers fact-based journalism for Texans, by Texans — and our community of members, the readers who donate, make our work possible. Help us bring you and millions of others in-depth news and information. Will you support our nonprofit newsroom with a donation of any amount?
Yes, I'll donate today
---
Information about the authors
Explore related story topics