The Brief: The Texas Senate's new school finance plan and an anticipated re-election announcement
With the special session in sight, Lt. Gov. Dan Patrick used Thursday to underline the Senate's support for Gov. Greg Abbott's 20-item agenda — and to roll out a priority of his own: pump millions into bonuses and retirement for Texas teachers.
Good morning and happy Friday, folks. Thanks for reading The Brief, our daily newsletter informing you on politics, public policy and everything in between. Forward this email to friends who may want to join us. They can sign up here. — CP
What you need to know
With the special session in sight, Lt. Gov. Dan Patrick used Thursday to underline the Senate's support for Gov. Greg Abbott's 20-item agenda — and to roll out a priority of his own: pump millions into bonuses and retirement for Texas teachers. Here's what you need to know:
• "Teachers are the key," said Patrick as he kicked off his press conference at the Texas Capitol Thursday, unveiling a plan that involves giving current and retired teachers $600 to $1,000 bonuses and injecting $200 million into the Teacher Retirement System, using money from the Texas Lottery to pay for both over the long term. "It's encouraging to see [Patrick's] newfound focus on school finance reform," said House Speaker Joe Straus in a statement. Abbott patted the upper chamber and Patrick on the back in a statement afterward for "their intention to act swiftly and pass all of my special session agenda items." But, he added, "If these items do not get passed, it will be for lack of will, not for lack of time."
• A trip down memory lane: Education issues are still a touchy subject between the House and Senate. Recall that the two chambers clashed over multiple proposals during the regular session — for example, when the Senate tacked on a "private school choice" provision to the House's school finance reform package, which effectively killed both pieces of legislation. Last month, Straus and top education leaders in the House chastised the Senate for not passing key reforms to the school finance system and for refusing to compromise on other controversial proposals. On Thursday, Patrick referred to the House's plan for revamping the school funding system as a "Ponzi scheme."
• While things in Austin are beginning to churn, Abbott is spending the day in San Antonio, where he's expected to announce his re-election campaign. The governor returned to Facebook Live for a 7-minute broadcast last night, touting a few of the state's accomplishments under his tenure, signaling that more work remained and — most importantly — teasing today's event, which will also be broadcast live on the platform. For updates on Abbott in San Antonio today, follow Texas Tribune reporter Jay Root.
Other stories we're watching today:
• A federal panel of judges in San Antonio is on day five of the trial over Texas' state House and congressional districts. Our coverage from this week so far can be found here and here. Witnesses on behalf of the state are set to testify this morning — including state Reps. Drew Darby, R-San Angelo, and Todd Hunter, R-Corpus Christi — and the trial is expected to wrap up today or Saturday. Follow Texas Tribune reporter Jim Malewitz for updates.
Give us your take
• What do you think of Patrick's new school finance proposal? Tweet us with #MyTexasTake.
Tribune today
• Cha-ching: U.S. Rep. Beto O'Rourke outraised U.S. Sen. Ted Cruz by around half a million dollars in the first quarter of his underdog bid — but incumbent Cruz still has the big cash-on-hand advantage.
• From Ross Ramsey: Before you start thinking Democrats can pick up seats in the Texas House next year, keep an eye on the federal judges in San Antonio manning the state's redistricting case.
• The Senate GOP's health care overhaul has been revised and is Cruz-semi-approved — but can the edited bill make it out of the chamber?
• Gov. Abbott wants lawmakers to pass a bill regulating tree ordinances during the special session and others altering how municipalities manage growth and redevelopment. Critics say Abbott is just catering to donors.
• President Donald Trump's children probably shouldn't hold influential roles at the White House, Texas Republican congressman Bill Flores says.
Pencil us in
Live chat: Which bills didn't make it out of the regular session — and what's ahead in the special? Join us today at noon CST for a live discussion with our reporters. If you have a question, ask us or respond to this email.
Join us on July 19 for coffee and conversation previewing the 85th special legislative session with state Reps. Carol Alvarado, D-Houston, Drew Darby, R-San Angelo, and Matt Schaefer, R-Tyler.
Register for the 2017 Texas Tribune Festival! Join us for three days of the best conversations in politics and public policy, Sept. 22-24. Register here.
What we're reading
Links below lead to outside websites; we've noted paywall content with $.
House to vote on controversial study of Islam, Politico

$1.3 billion healthcare fraud sweep nets four men tied to North Texas, Fort Worth Star-Telegram

'Teacher voices' call on lawmakers to stop ignoring public education, Longview News-Journal

Suspect in West Dallas vote fraud arrested, after month on the run, The Dallas Morning News ($)

Dan Patrick's son 'selected' for consideration to U.S. Attorney post, according to email, The Houston Chronicle ($)

Study: Blacks stay in Travis County Jail twice as long as whites, The Austin American-Statesman ($)
Photo of the day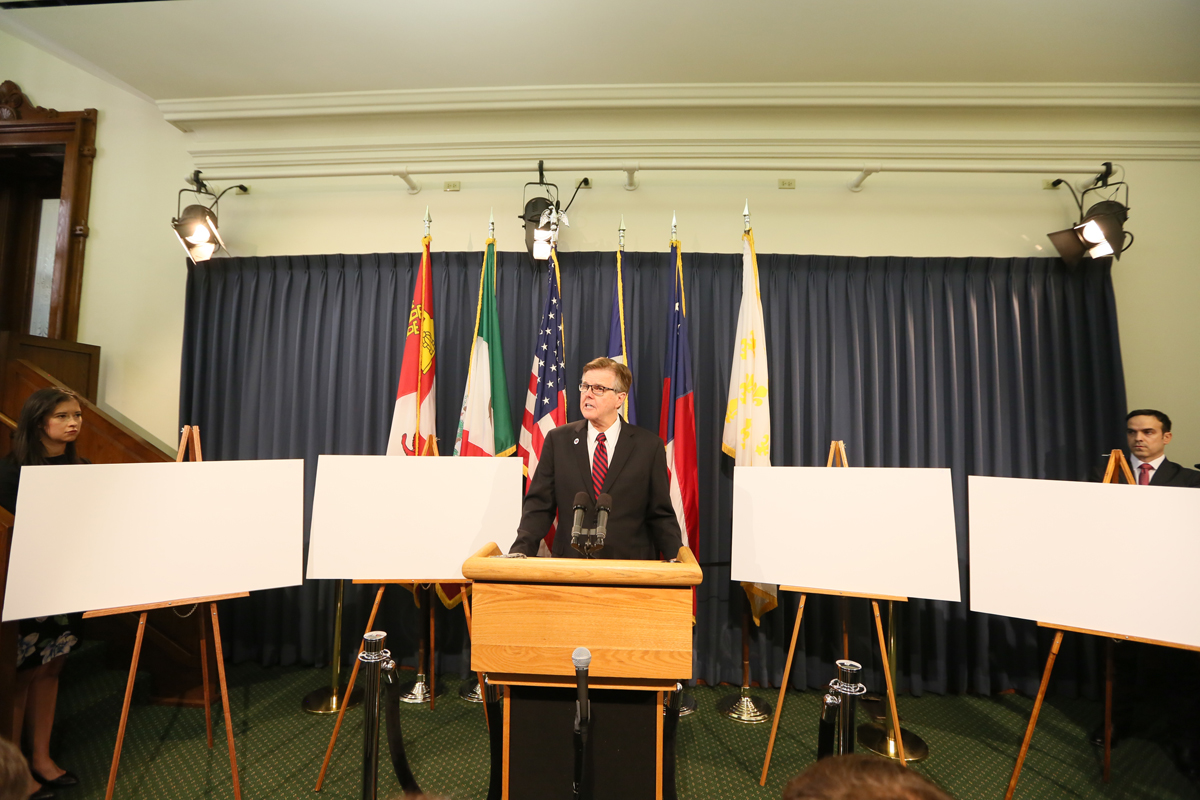 Lt. Gov. Dan Patrick addressed the media at the Texas Capitol on July 13, days before the special legislative session begins. Photo by Marjorie Kamys Cotera. See more photos on our Instagram account.
Quote to note
"This bill is not a total repeal, I would prefer a total repeal. We unfortunately don't have the votes. The conference is not united on that."
— U.S. Sen. Ted Cruz, R-Texas, on the revised Senate GOP health care bill.
Feedback? Questions? Email us at thebrief@texastribune.org. As always, thanks for choosing The Brief — if you liked what you read today, become a member or make a donation here.
Your New Year's resolution list isn't complete without …
… supporting the Tribune. This new year, resolve to do your part to sustain trusted journalism in Texas. Join thousands of readers who power The Texas Tribune's nonprofit newsroom.
Donate now