Revised Senate health care bill draws Cruz's support but still short votes
U.S. Sen. Ted Cruz on Thursday joined his fellow Texan in the chamber, John Cornyn, in supporting the latest attempt by Senate Republicans to rewrite the Affordable Care Act.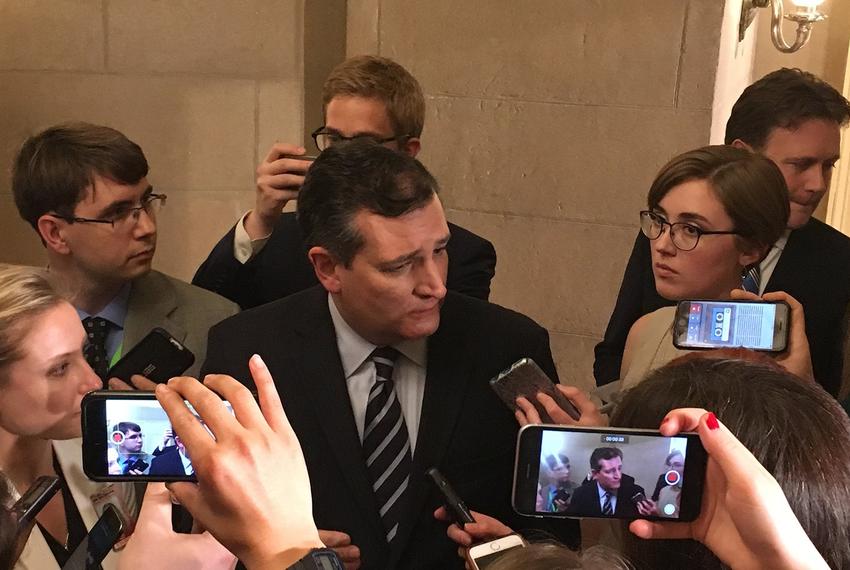 WASHINGTON – At first blush on Thursday, Senate Republicans were no closer to passing a new health care bill than they were two weeks ago when their first bill collapsed.
Republican senators met late in the morning to unveil a new overhaul of former President Obama's 2010 health care law that had much input from U.S. Sen. Ted Cruz, R-Texas.
So much so, that Cruz spent the day before in meetings and negotiations for the legislation rather than sitting in on the closely-watched Senate Judiciary Committee's hearings of FBI director nominee Christopher Wray.
Cruz had for weeks pushed for an amendment to the bill that would allow insurers to provide austere health care plans that are not compliant with the 2010 health care law. The bill unveiled Thursday included a re-calibrated version of that amendment that would allow people to purchase lower cost health insurance plans that cover three primary care visits a year and cap their out-of-pocket costs.
The revised healthcare bill also would allow people to use health savings accounts toward their monthly insurance payments – something not allowed under the current law. Republicans are also aiming to pump $70 billion into subsidies to help people pay for their premiums and another $45 billion to tackle the ongoing opioid crisis.
Cruz emerged from Thursday's meeting with his fellow Republican senators backing the bill.
"I think this new bill represents a substantial improvement over the previous version," Cruz said.
"This bill is not a total repeal, I would prefer a total repeal," he said. "We unfortunately don't have the votes. The conference is not united on that. And so my effort is to achieve the best outcome possible as measured by lowering premiums to make health insurance more affordable."
U.S. Rep. Gene Green of Houston is perhaps the most pivotal Texas Democrat on health care policy. On Thursday, he was quick to respond to Cruz's comments across the Capitol from the House floor.
"We know how this will play out: healthy people would pick the skimpier plan and sicker people would enroll in the more robust plan...separating the sick and healthy will drive up costs and essentially lead to a death spiral," he said.
U.S. Sen. John Cornyn, a Texas Republican and the second-ranking member of GOP leadership, issued a statement after the meeting backing the plan as well.
"These changes are the result of constructive discussions and additional input from our conference over the past two weeks," he said. "Members on both sides of the aisle will also have an opportunity to offer their ideas for reform once the Senate moves to debate the bill."
But the support of the two Texans in the U.S. Senate may not matter. Several senators emerged from the meeting expressing deep skepticism toward the new bill.
U.S. Sen. Rand Paul, a Kentucky Republican with fierce libertarian instincts, remained in firm opposition to the new version of the bill on Thursday. Additionally, U.S. Sen. Susan Collins of Maine, a moderate Republican, promptly tweeted that she would not support the bill and was ready to work with Senate Democrats to fix the 2010 Affordable Care Act instead. U.S. Sen. Rob Portman, an Ohio Republican, is also opposed to the latest version of the bill, according to the Washington Post.
Senate Republicans only have room for two defections. There are 52 Republicans in the Senate, and the bill could only pass with a minimum of 50 votes, plus the tie-breaking support of Vice President Mike Pence.
The latest version of the Better Care Reconciliation Act of 2017 would eliminate both Obamacare's individual mandate that requires individuals to show proof of health insurance when filing their taxes and its requirement that employers with 50 or or more employees have to provide insurance. The bill would also phase out certain health benefits that insurance plans are currently required to provide, such as preventive care screenings, emergency room visits, maternal and newborn care and lab tests.
Some Affordable Care Act provisions would still be in effect, including barring insurers from denying coverage based on pre-existing conditions and allowing people to stay on a parent's health insurance plan until age 26. It would also factor a person's age into how much money they are eligible to receive from the federal government to pay for health insurance.
Stacey Pogue, senior policy analyst for the liberal Center for Public Policy Priorities in Austin, said the changes advocated by Cruz "undoubtedly makes the bill far worse." She said it was likely sick people would pursue the more robust health insurance plans but be unable to afford them over time. Meanwhile, people who sign up for lower cost health plans would end up with less coverage and more out of pocket costs.
"When people find out they need coverage, when they need health care the most, it might be too expensive," Pogue said.
The bill's fate may rest with a key procedural vote early next week.
"Next week, the choice before the Senate will be clear," Cornyn said. "We can let Obamacare continue to harm millions of families and small businesses, or we can help deliver better care that's more affordable without government mandates."
Disclosure: The Center for Public Policy Priorities has been a financial supporter of The Texas Tribune. A complete list of Tribune donors and sponsors can be viewed here.
Texans need truth. Help us report it.
Independent Texas reporting needs your support. The Texas Tribune delivers fact-based journalism for Texans, by Texans — and our community of members, the readers who donate, make our work possible. Help us bring you and millions of others in-depth news and information. Will you support our nonprofit newsroom with a donation of any amount?
Yes, I'll donate today
---
Information about the authors
Explore related story topics