Analysis: A test of negotiating skills for the state's top three leaders
Texans will get a close look at the state's top leaders over the next three days — the end of the regular legislative session — as they try to unknot their differences over regulating restroom use and limiting local property tax increases.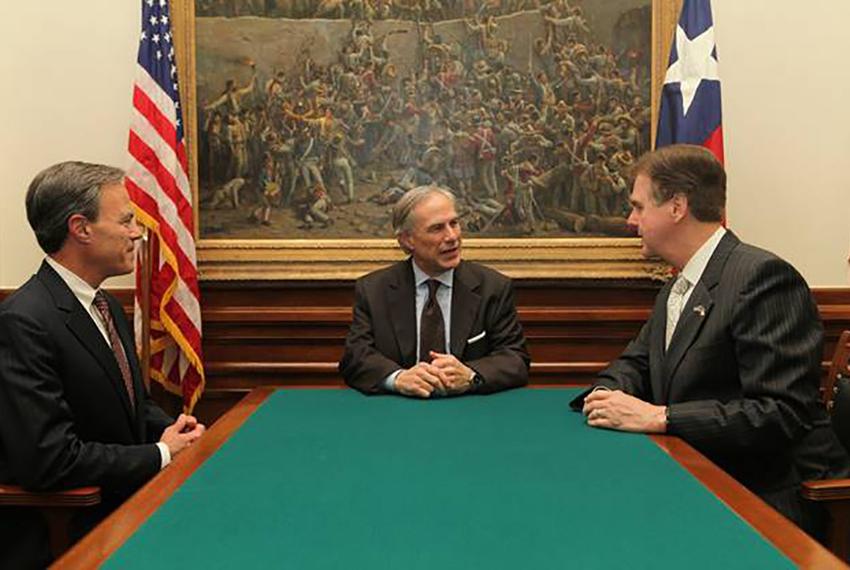 Editor's note: If you'd like an email notice whenever we publish Ross Ramsey's column, click here.
Texans are going to find out over the Memorial Day weekend whether there is much difference between the way government works in Austin and the way it works in Washington, D.C.
State lawmakers are on the verge of a stalemate over bathrooms and property taxes that could prevent them from finishing their work on time this month — and could push them into one or more special sessions on issues they've grappled over for five months.
Legislative gridlock is a natural condition in Congress, but state lawmakers in Texas are usually able to work through even the hardest fights. This one — which has stumped Gov. Greg Abbott, Lt. Gov. Dan Patrick and House Speaker Joe Straus — could prove the exception to that rule.
The next three days will tell the tale of whether they'll go into overtime and, more meaningfully, whether the state's three top officials can bring off a successful negotiation. It's more a question of will and ability than of time; deadlines inspire a lot of legislative progress.
It's normal for everyone to be short-tempered and somewhat intransigent on the last weekend of a 140-day legislative session. The work is hard. Everybody is a somebody, or thinks so. Political careers are at risk. Policy preferences are pitted against policy preferences.
Patrick entered the session with the most ambitious agenda — and, as it has turned out, the dominant agenda. He is doing his best impersonation of an irresistible force right now, threatening to force a special legislative session — overtime, basically — unless he gets his way on property tax and bathroom legislation.
Legislative gridlock is a natural condition in Congress, but state lawmakers in Texas are usually able to work through even the hardest fights. This one — which has stumped Gov. Greg Abbott, Lt. Gov. Dan Patrick and House Speaker Joe Straus — could prove the exception to that rule.
Straus — the immovable object in this drama — is on the other side, defending the House position on property taxes and bathrooms, which differ significantly from Patrick's wishes.
Though each leads a legislative chamber in the same government and hails from the same political party, Patrick and Straus have different jobs. Strong lieutenant governors like Patrick can, to a large extent, tell the Senate what to do. Patrick is good enough at it that the upper chamber's 31 members have seemed more like a Hallelujah Chorus this session than a debating society. Senators have only rarely — and never very loudly — questioned his authority or his positions.
The House is a different beast. Unlike Patrick, Straus is not elected statewide. The 150-member House elects its own speakers, and those speakers ignore their majorities at their peril. As often as not, when you can't get the House to vote on a particular issue, it's not because the speaker feels one way or another, but because the members of the House don't want to vote.
That has happened on property taxes. The Senate wants more transparency from local governments about current and proposed taxes — and the House does, too. In fact, they've more or less agreed on that. But the Senate wants to force automatic tax rollback elections in any local government where taxes are rising 5 percent or more. The House left that part of the law alone, allowing voters to petition for rollback elections — which is much harder to do — whenever taxes rise more than a certain amount. The rollback provisions kept the legislation stuck in a House committee until they were removed. They don't like it.
Straus is much more in front on the issue of state regulation of which public restrooms transgender Texans should use. The Senate passed a more restrictive version that would require people to use facilities that match their "biological sex" in publicly owned buildings and would void local ordinances on those facilities. The House's version sets restroom rules for elementary, secondary and public charter schools — a measure Patrick has said is an insignificant change in policy.
Abbott has been late to the game. He stayed out of the restroom fight until recently, and while he seems to agree with the Senate, he hasn't been a public hard-liner on the issue. "We must see, especially, students in schools having their privacy, security and safety maintained," he told reporters this week. "But also we want to do all we can to help women have privacy, safety and security to the fullest extent."
He agreed with the House and then nodded to the Senate. On property taxes, the governor has said he likes automatic rollback elections, and he said Thursday that he'd like to see "real constraints on the rise in property taxes on our fellow Texans."
It's late. A special session on these two subjects would probably benefit Patrick, who brought the two issues to the debate. Straus is far less known to most Texans than the other two, and thus less likely to play lightning rod. Abbott looks best if he pulls off a deal in the regular session than he would look following the lieutenant governor into overtime.
Besides, three days ought to be plenty.
Texans need truth. Help us report it.
Independent Texas reporting needs your support. The Texas Tribune delivers fact-based journalism for Texans, by Texans — and our community of members, the readers who donate, make our work possible. Help us bring you and millions of others in-depth news and information. Will you support our nonprofit newsroom with a donation of any amount?
Yes, I'll donate today
---
Information about the authors
Explore related story topics