The Brief: Sandra Bland's family disappointed with Texas Legislature
The Texas Legislature is in its final weeks and Sandra Bland's family says lawmakers have disappointed them with the act named in Bland's honor.
Happy Monday! Thanks for reading The Brief, The Texas Tribune's daily newsletter that prepares you for the day ahead. If you have friends who might want to join our list, please forward this email. They can click here to sign up. – BB
What you need to know
The Texas Legislature is in its final weeks and Sandra Bland's family says lawmakers have disappointed them with the bill named in Bland's honor. Here's what you need to know:
• The family of Sandra Bland called the bill named in her honor a "missed opportunity" and said it doesn't address the cause of her arrest. "It's a complete oversight of the root causes of why she was jailed in the first place," said Sharon Cooper, Bland's sister and family spokeswoman.
• The "Sandra Bland Act" now focuses primarily on mental health issues and county jail operations. The criminal justice components of the bill — which would have addressed Bland's arrest — were struck amid criticism from police groups that it would hamper law enforcement's work.
• Bland was pulled over in 2015 after failing to use her turn signal. The routine traffic stop escalated, and Bland was arrested. She died by suicide in a county jail several days later. The officer that arrested her was later fired.
Tribune today
• The House left an important bill in a dangerous spot, lost it, and might have created an advantage for the Senate.
• Thursday was a big deadline for the Texas House. Here is the long and frustrating day in pictures.
• Sen. John Cornyn could face resistance from his fellow senators if he's tapped by Donald Trump to lead the FBI.
• In a rare twist, Republicans and Democrats are jointly pushing an effort to crack down on voter fraud. The measure targets ballots cast at nursing homes, and it could make it easier for older Texans to vote.
• At least three members of the U.S. House are mulling a run for a possible U.S. Senate vacancy, should President Donald Trump appoint U.S. Sen. John Cornyn as the new FBI director.
• Texas Southern University on Friday canceled a commencement speech by Republican Sen. John Cornyn of Texas. There had been outcry among students at the historically black university.
• Ahead of Mother's Day weekend, the Texas House's self-labeled Freedom Caucus killed two bills aimed at helping the state curb its alarming rise in mothers dying less than a year after childbirth.
• A Fort Worth man who claims he did not intentionally kill an 89-year-old man had his looming execution halted Friday afternoon.
• A bill meant to regulate ride-hailing companies has now made its way to the Senate — and senators have revived controversial language that would define "sex" as "the physical condition of being male or female."
• Senators believe they have found a way to save $80 million on health care for state employees.
• Long-simmering tensions among House Republicans have boiled over.
News from home
Registration for the 2017 Texas Tribune Festival is now open! Join us for three days of the best conversations in politics and public policy, Sept. 22-24. Register here.
What we're reading
Links below lead to outside websites; we've noted paywall content with $.
Flyers issued about Zika, The Brownsville Herald
On Mother's Day, Hundreds Protest Senate Bill 4 at Governor's Mansion, Texas Observer
Mother's Day in an ICE Detention Center, The Intercept
Lindsey Graham says Cornyn would be too political a pick to head FBI, Austin American-Statesman
More kids could go to school online under Texas bills to expand virtual learning, The Dallas Morning News ($)

AG Sessions' push for longer prison terms complicates Cornyn's prospects for FBI post, The Dallas Morning News ($)
For your calendar
May 19: Join us in person or on our livestream as we wrap up the end of the session with state Reps. Rafael Anchia, Geanie Morrison and Matt Rinaldi to assess how the House did.
May 25: Join us in person or on our livestream as state Sens. Konni Burton, Bryan Hughes and Royce West tell us how they think the Senate fared in the 85th legislative session.
Photo of the day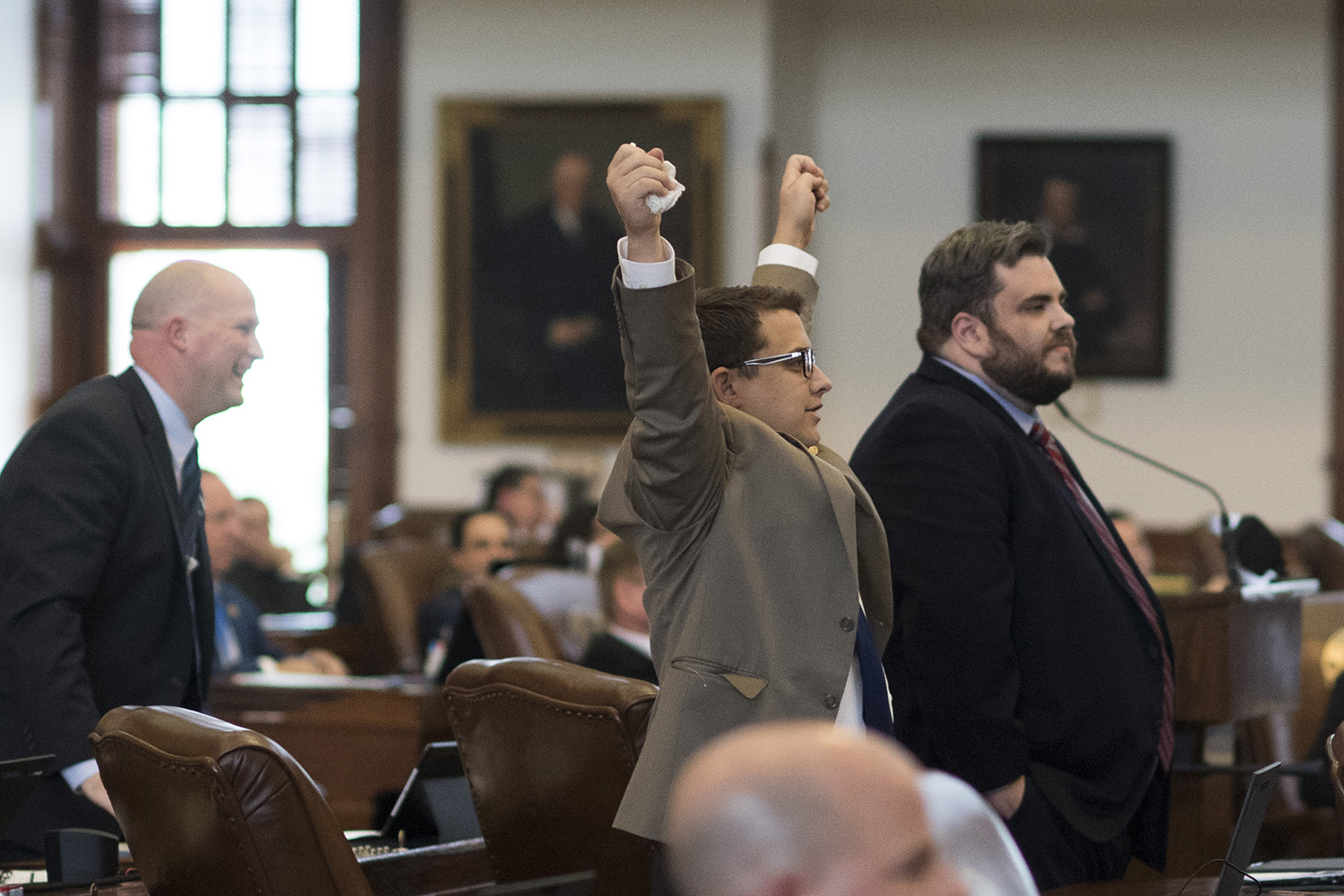 State Rep. Briscoe Cain, R-Deer Park, one of the members of the Texas Freedom Caucus, raises his arms in celebration. Photo by Bob Daemmrich for The Texas Tribune. See more photos on our Instagram account.
Quote to note
"When was the last time you heard about a voter fraud bill that actually made it easier to vote?"
— Rep. Tom Oliverson of Cypress, one of several Republicans championing an effort to crack down on voter fraud.
The Brief is written and compiled by your morning news barista, Bobby Blanchard. If you have feedback or questions, please email thebrief@texastribune.org.
As a nonprofit newsroom, we count on readers like you to help power newsletters like this. Did you like what you read today? Show your appreciation by becoming a member or making a donation today.
Your New Year's resolution list isn't complete without …
… supporting the Tribune. This new year, resolve to do your part to sustain trusted journalism in Texas. Join thousands of readers who power The Texas Tribune's nonprofit newsroom.
Donate now