University of Texas/Texas Tribune Polls
UT/TT Poll: Education is pretty good, but Texans have some suggestions
Texans don't like the standardized tests required of public education students, and they support a number of changes from higher spending to more pre-K classes, according to the new University of Texas/Texas Tribune Poll.
More Texans than not believe the quality of the state's public education system is pretty good, but it's not a majority point of view, according to the latest University of Texas/Texas Tribune Poll.
While 47 percent said schools are either excellent or good, 42 percent said they are either not very good or terrible. Excellent and terrible rankings were even, with each at 8 percent. Texans who have kids in schools have a higher regard for the quality of public education in the state: 56 percent rated the schools excellent or good, while 40 percent said they were not very good or terrible.
The most effective way to improve the schools, according to 21 percent of Texans, would be to cut the number of standardized tests students have to take. Increasing funding for public schools was the second-most-common answer, followed by creating a school voucher system and increasing the pay of public school teachers, which were tied.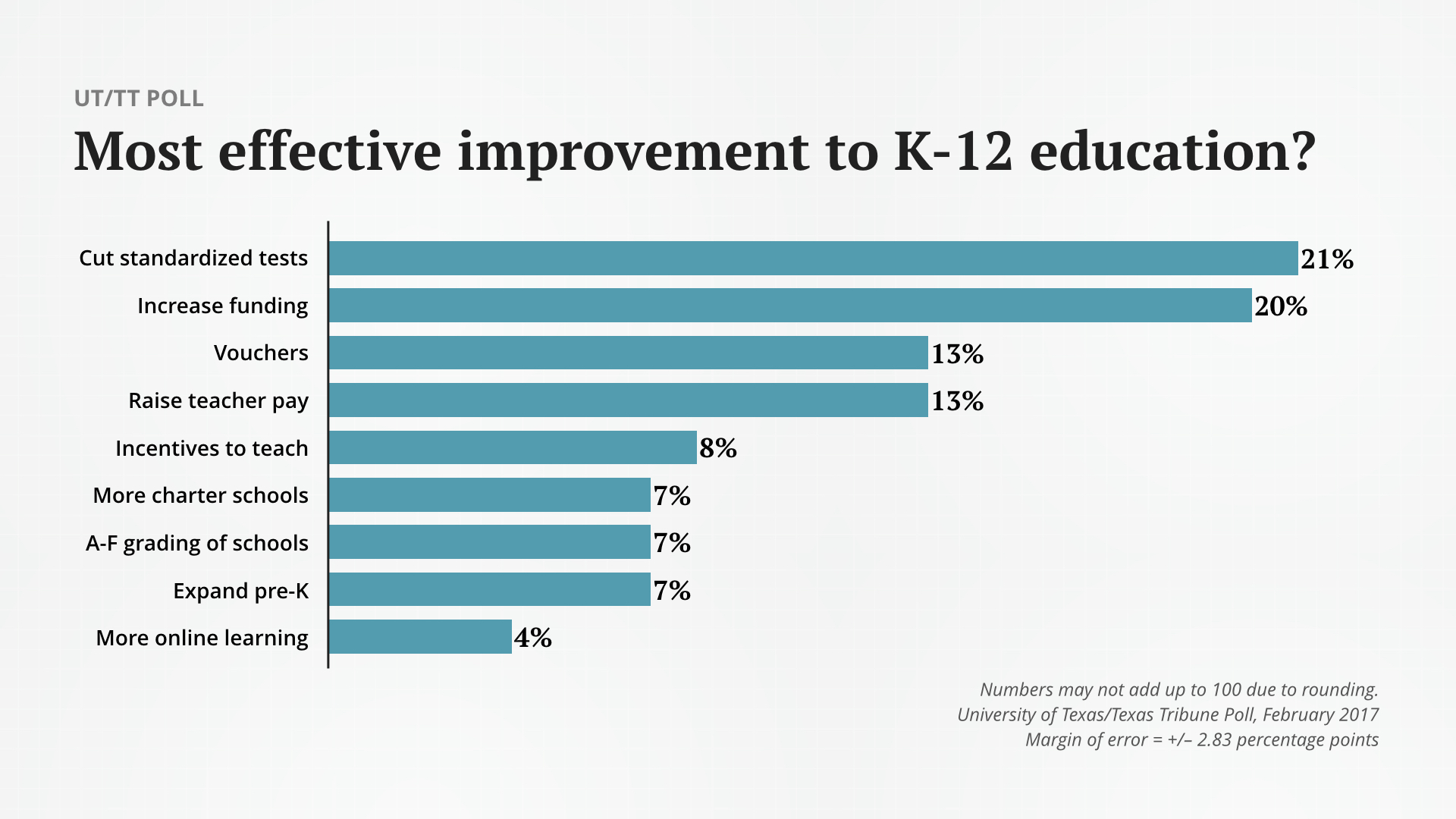 "Nobody likes standardized tests, and everybody wants to give them more money," said Daron Shaw, who teaches government at the University of Texas at Austin and co-directs the poll. That first option, he noted, would cost no money. "If you're a legislator and you want to make people happy, reduce the number of tests."
He said the answers also indicate the importance of education among voters. "These are markers for people's general belief that if you commit more money, it shows your seriousness for an issue," Shaw said. "These answers are manifestations of people's belief that education is a high priority."
Taken alone, Republicans' top choices for improvement were cutting tests and creating a voucher program, followed by increasing funding for schools and expanding the number of charter schools. Among Democrats, the priorities were increased funding, followed by cutting tests, raising teacher pay and creating more incentives for people to choose teaching as a profession.
Asked more generally about the benefit of improvements to public schools, the poll found at least 70 percent of Texans listed three things as either "extremely" or "somewhat" effective: providing incentives to attract people into teaching, increasing the pay of public school teachers and reducing the number of standardized tests.
"Democrats have a pretty clear view of what kinds of measures improve public ed: About half of them say spending more money overall or increasing teacher pay, which is just a more specific version of spending," said Jim Henson, director of the Texas Politics Project at UT-Austin and co-director of the poll. "That, and fewer tests, which remains one of the few areas of bipartisan agreement in the Texas political universe."
"The Republican responses convey much more tension, which is in turn evident in the Legislature. School vouchers, called exactly that, are tied with reducing the number of tests as the measures seen as most effective by Republicans," he said. "Yet the share of Republicans that think increasing spending, either in the system overall or targeted to teachers, actually slightly exceeds the share that favors vouchers.
"It's not surprising that a Senate prioritizing a voucher-by-another-name approach and a House searching for ways to re-approach school funding seem at loggerheads," Henson said. "There is a constituency for each in their party."
Overall, creating a voucher program (46 percent) and expanding the number of charter schools (44 percent) were rated as effective by fewer than half of the respondents.
Several other options were rated effective by more than half of the Texans polled: increasing public school funding (65 percent), increasing opportunities for online learning (63 percent), expanding state-funded pre-kindergarten programs (60 percent) and grading individual schools on an A-F scale (56 percent).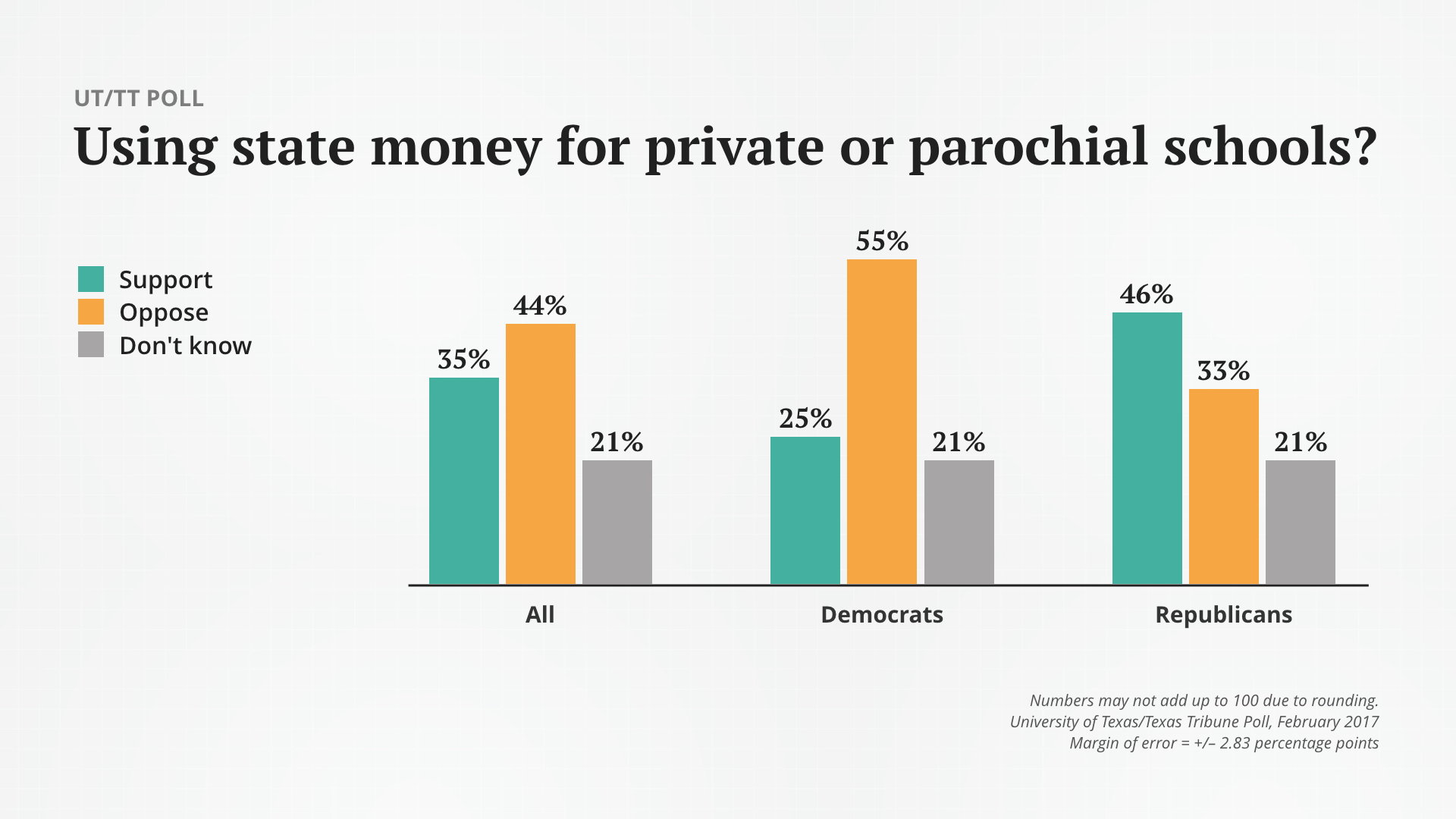 "Private school choice" did better when the word "vouchers" was attached to them than when they are simply described as "proposals that would redirect state tax revenue to help parents pay for some of the cost of sending their children to private or parochial schools."
When put that way, overall support was 35 percent, while 44 percent said they oppose that proposal. Democrats were strongly negative, with 25 percent supporting and 55 percent opposing. A plurality of Republicans — 46 percent — support the proposal, while 33 percent oppose it.
Location matters on this one: 39 percent of urban Texans support the proposal, while only 32 percent of suburban and 32 percent of rural Texans do. Opposition in the cities accounted for 40 percent and rose to 48 percent in the suburbs and 42 percent in rural Texas.
The University of Texas/Texas Tribune internet survey of 1,200 registered voters was conducted from Feb. 3 to Feb. 10 and has an overall margin of error of +/- 2.83 percentage points. Numbers in charts might not add up to 100 percent because of rounding.
This is one of several stories on the latest University of Texas/Texas Tribune Poll. Monday: What Texans think of the new president, and their views on the economy and the direction of the country and state. Yesterday: Texans on marijuana and other issues, on health care and on immigration. Coming Thursday: Texas voters on state leaders and legislative issues.
Disclosure: The University of Texas at Austin has been a financial supporter of The Texas Tribune. A complete list of Tribune donors and sponsors can be viewed here.
Texans need truth. Help us report it.
Independent Texas reporting needs your support. The Texas Tribune delivers fact-based journalism for Texans, by Texans — and our community of members, the readers who donate, make our work possible. Help us bring you and millions of others in-depth news and information. Will you support our nonprofit newsroom with a donation of any amount?
Yes, I'll donate today
---
Information about the authors
Explore related story topics