University of Texas/Texas Tribune Polls
UT/TT Poll: A change in party control prompts a change in Texans' moods
Texas voters' feelings about the direction of the country and the national economy flipped when Donald Trump's new administration came in — with a notable partisan difference of opinion.
The moods of voters in the red state of Texas brightened considerably after the election of President Donald Trump, according to the latest University of Texas/Texas Tribune Poll.
Asked about the course of the country, 39 percent said it's going in the right direction and 49 percent said it's on the wrong track. That's negative, but it's a considerable improvement over the answers to the same question in last October's UT/TT Poll, when 22 percent said the country was moving in the right direction and 67 percent said it was on the wrong track.
The underlying numbers reveal the partisan mechanics at work here: 68 percent of Republicans said the country is going in the right direction, while 82 percent of Democrats said it's on the wrong track. Last October, that was flipped: 47 percent of Democrats said the country was going in the right direction and 91 percent of Republicans said it was on the wrong track. Tea Party Republicans flipped especially hard: 98 percent said the county was on the wrong track in October, and 77 percent now say the U.S. is going in the right direction.
"Why have Republicans rallied, and is all of this stuff basically just partisan projection? Yeah, I think a huge chunk of it is," said Daron Shaw, who teaches government at the University of Texas at Austin and co-directs the poll.
"The question that'll be interesting is whether we are so closed off to each other," Shaw said. "At what point do people on the right actually think that, 'Nah, [Trump] really is a maniac and we need to get rid of him'? Or conversely, on the left, they begin to think, 'Well, he's just another Republican doing stuff'? On both those fronts, I'm not sure we're anywhere close to resolution."
Texas voters' feelings about the national economy also got a booster shot, with 40 percent saying the country is "a lot" or "some" better off than it was a year ago, 20 percent saying things are worse for the U.S. economy and 36 percent saying things are about the same. In the October survey, 28 percent said better, 40 percent said worse and 29 percent said the economy had remained in the same place for the last 12 months.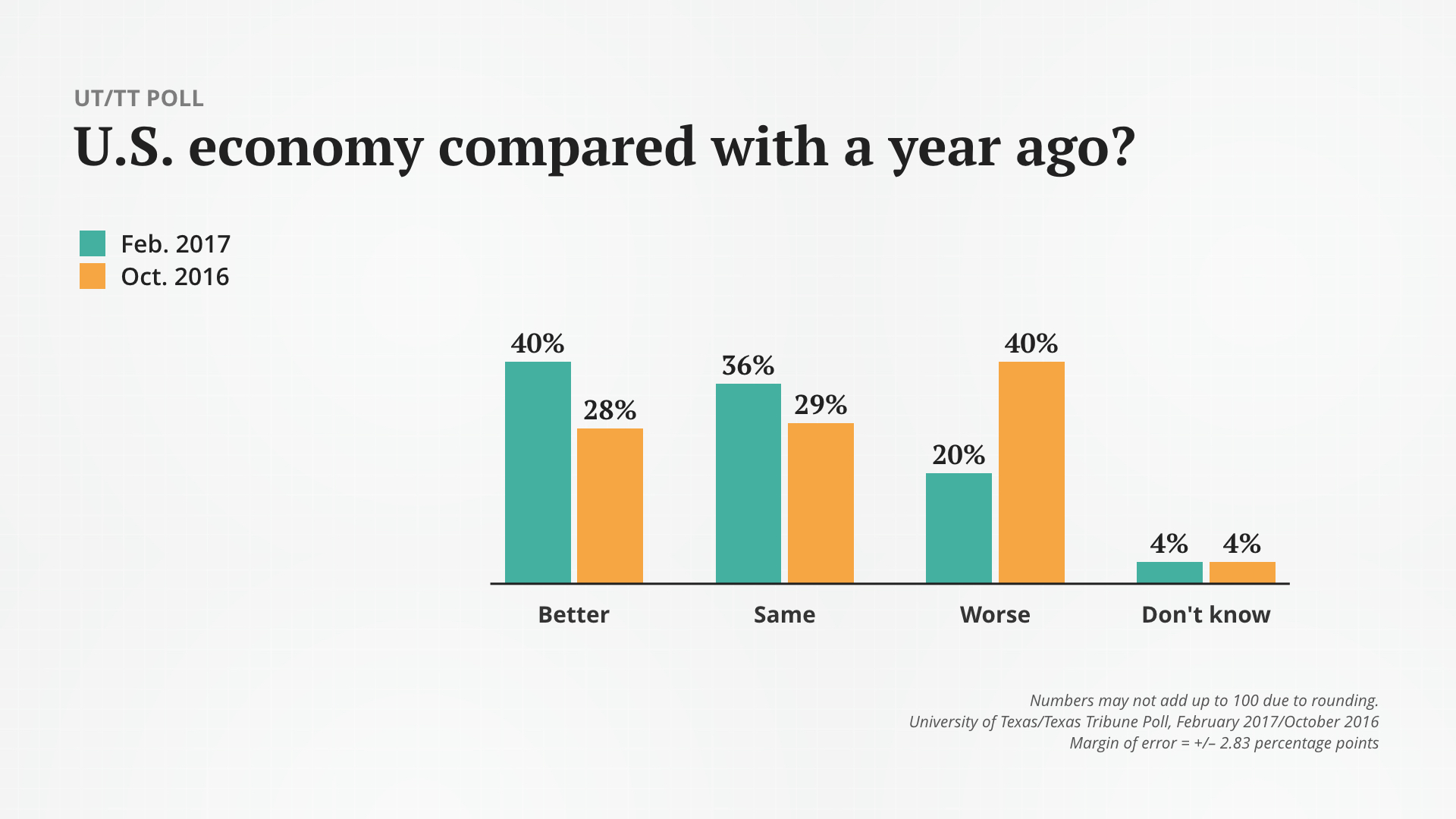 Those improved outlooks appear to be attributable to the change in regime in Washington, D.C. Texans' assessment of state and personal economics haven't changed much.
"We've always suspected that people's assessment of the country overall and of its economy was strongly inflected by partisanship, and this seems to be evidence of that," said Jim Henson, who co-directs the poll and runs the Texas Politics Project at UT-Austin. "People's overall assessment of the overall direction numbers and the state of the economy numbers reflect a more positive assessment, mainly by Republicans, and a more negative assessment among Democrats.
"Interestingly enough, they're not reflected in people's assessment of their own situations and whether they're better or worse off than they were a year ago," Henson said. "Those numbers remained comparatively stable."
Their assessment of the state's course also improved, but only slightly. In the new poll, 46 percent said the state is going in the right direction and 36 percent said it's on the wrong track, up from 42 percent right and 40 percent wrong in October. They were marginally more satisfied with the state economy, too, with 28 percent saying the Texas economy is better than a year ago, 16 percent saying it's worse and 49 percent saying it's about the same. Four months ago, 25 percent said the economy was better and 24 percent said it was worse.
A third of Texans said they feel left behind by changes in the economy, and those with less education were more likely to feel that way. Respondents with some high school and with only high school educations were most likely to say the economy has left them behind; those with college and post-graduate degrees were least likely to say so.
Asked about their own families' economic situation, 27 percent said things are better, 23 percent said worse and 50 percent said things are about the same as a year ago. The answers in October were similar: 27 percent better, 27 percent worse, and 44 percent about the same.
Texans said the most important problems facing the country today, in order, are political corruption/leadership, immigration, national security/terrorism, health care, the economy and moral decline. No other response attracted more than 6 percent of the respondents.
On the state side of things, only three problems topped that threshold: border security, immigration and political corruption/leadership.
Education ranked 11th on their list of national concerns, fourth on the state list.
The University of Texas/Texas Tribune internet survey of 1,200 registered voters was conducted from Feb. 3 to Feb. 10 and has an overall margin of error of +/- 2.83 percentage points. Numbers in charts might not add up to 100 percent because of rounding.
This is one of several stories on the latest University of Texas/Texas Tribune Poll. Also today: What Texans think of the new president. Coming Tuesday: Texans' views on immigration, cultural issues and health care.
Disclosure: The University of Texas at Austin has been a financial supporter of The Texas Tribune. A complete list of Tribune donors and sponsors can be viewed here.
Texans need truth. Help us report it.
Independent Texas reporting needs your support. The Texas Tribune delivers fact-based journalism for Texans, by Texans — and our community of members, the readers who donate, make our work possible. Help us bring you and millions of others in-depth news and information. Will you support our nonprofit newsroom with a donation of any amount?
Yes, I'll donate today
---
Information about the authors
Explore related story topics