University of Texas/Texas Tribune Polls
UT/TT Poll: Support for marijuana growing like a weed in Texas
Texans are more open to legalizing marijuana — and not just for medical use — according to the new University of Texas/Texas Tribune Poll.
Opposition to legal marijuana is dropping in Texas, with fewer than one in five respondents to the latest University of Texas/Texas Tribune Poll saying they are against legalization in any form.
Support for marijuana only for medical use has dropped over the last two years, but support for legalization for private use — both in small amounts or in amounts of any size — has grown since the pollsters asked in February 2015.
"We've seen this movie before on a couple of social issues," said Daron Shaw, a professor of government at the University of Texas at Austin and co-director of the poll. He thinks the changes in Texas have more to do with shifting attitudes than with news of legalization in other states. "There's a little bit of normalization. I don't think this is a states-as-laboratories issue. Voters don't care about that kind of stuff."
Overall, 83 percent of Texans support legalizing marijuana for some use; 53 percent would go beyond legal medical marijuana to allow possession for any use, the poll found. Two years ago, 24 percent of Texans said no amount of marijuana should be legal for any use and another 34 percent said it should be allowed only for medical use.
Legal pot is more popular with Democrats than Republicans, with men than with women, and with younger Texans more than older ones. All of those subgroups support legalization of marijuana for medical or nonmedical use. Among Democrats, 62 percent would legalize pot in some amount for nonmedical use, while only 41 percent of Republicans agreed. Sixty percent of men would support legalization of non-medical marijuana, compared with 48 percent of women. Among 18-44 year olds, 55 percent would approve of non-medical marijuana and 51 percent of 45 to 64-year-olds agreed. But only 38 percent of Texans 65 and older agreed.
"The number of people who want to keep marijuana completely illegal decreased by seven points," said poll co-director Jim Henson, who runs the Texas Politics Project at UT-Austin. "The commensurate shift is in Republicans saying small amounts should be legal, and those who said any amount should be legal increased by six points.
"The other thing that may be going on here is the possible disappearance of the medium ground," he said. "It reminds me of what happened with gay marriage, where people often chose the civil union option. A similar thing is happening with medical marijuana as a kind of way station."
Public restrooms and transgender Texans
Most poll respondents — 54 percent — said Texans should use the public restrooms based on their birth gender, while 31 percent said they should base their choice on their gender identities.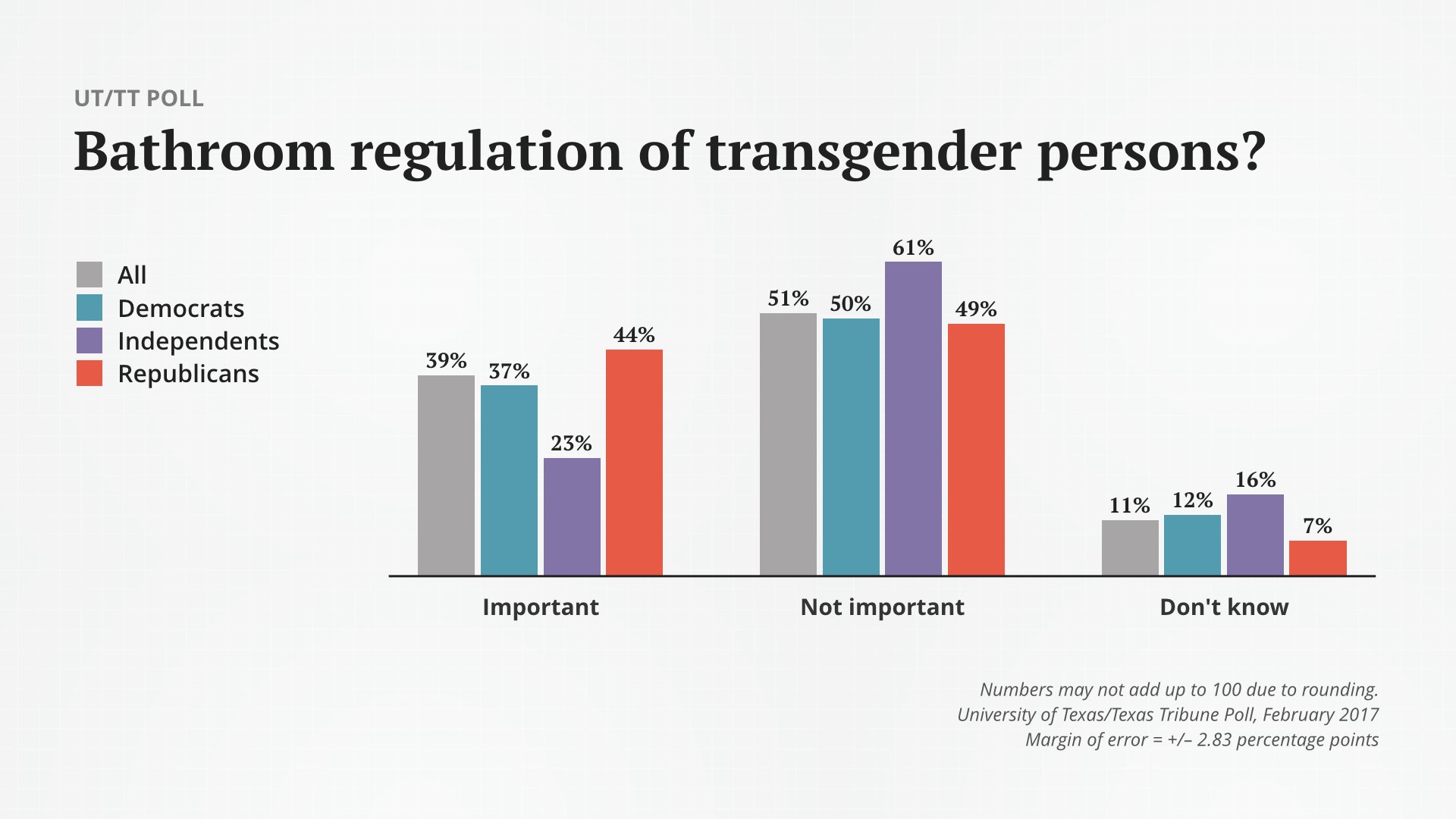 State lawmakers are considering legislation that would require people to use facilities in public buildings that match their "biological sex" but would not regulate which restrooms transgender and other people should use in privately owned buildings. Republicans are more likely to agree with that position than Democrats: 76 percent said transgender people should use restrooms that match their birth gender, while 51 percent of Democrats said gender identity should be the standard.
Neither group is convinced this is an important issue, however. Overall, 39 percent of Texans said it's important for the Legislature to pass a bathroom law, while 51 percent said it's not important. While 24 percent rated passing a law "very important," 38 percent said it is "not at all important."
"The proponents of [Senate Bill 6] are onto something in saying that the basic underlying impulse in a conservative state like Texas is to think that bathroom access should be determined by birth gender," Henson said.
"What seems to be a big part of the debate right now is whether the Legislature should be spending a lot of time on this issue," he said.
Again, there's a partisan split, but it's not enormous: 44 percent of Republicans and 37 percent of Democrats said the issue is important; 49 percent of Republicans and 50 percent of Democrats said it's not an important issue.
"On most social issues, when they come to live-and-let-live, when you talk about the government mandating something, conservatives get uncomfortable about that," Shaw said. "When it comes to letting people live, Republicans are fine with that."
The U.S. Constitution
Gov. Greg Abbott put amending the federal Constitution on his list of priorities for the Legislature. If Texas could get 33 other states to go along, they could hold a convention of states that could proposed constitutional amendments that would then have to be approved by 38 state legislatures to be written into the Constitution.
That's hard enough, but first he'll have to convince Texans it's a good idea.
"This is not on the radar of the average Texas Republican yet," Henson said.
One group of respondents was asked whether the Constitution has held up well and needs little change or whether "we should hold a new constitutional convention to update the Constitution." Most — 64 percent — said it has held up well, while 18 percent said there should be a constitutional convention.
The rest of the poll respondents were asked whether "we should hold a convention of the states to consider amendments to the U.S. Constitution." The second group was less negative than the first: 53 percent said the Constitution has held up well and 27 percent said the states should convene to amend it.
"It plays out as a decidedly unsexy issue," Shaw said. "It's really interesting — at least I think it is — but it's not sexy."
Abortion
Texans views on abortion have changed very little over the years of the UT/TT Poll.
More than twice as many Texans said "a woman should always be able to obtain an abortion as a matter of personal choice" than said "by law, abortion should never be permitted." The first group accounted for 38 percent of the respondents, the second for 17 percent.
The rest favor some restrictions: 26 percent said abortion should only be permitted in cases of rape, incest or when the life of the mother is in danger; 15 percent said abortions should also be allowed "after the need for the abortion has been clearly established."
The University of Texas/Texas Tribune internet survey of 1,200 registered voters was conducted from Feb. 3 to Feb. 10 and has an overall margin of error of +/- 2.83 percentage points. For the two constitutional questions, the respondents were split into two groups: 577 Texans were asked about a constitutional convention, for an MOE of +/- 4.08 percentage points; 621 were asked about a convention of states, for an MOE of +/- 3.93 percentage points. Numbers in charts might not add up to 100 percent because of rounding.
This is one of several stories on the latest University of Texas/Texas Tribune Poll. Yesterday: What Texans think of the new president, and their views on the economy and the direction of the country and state. Coming Wednesday: Texas voters on education.
Disclosure: The University of Texas at Austin has been a financial supporter of The Texas Tribune. A complete list of Tribune donors and sponsors can be viewed here.
Texans need truth. Help us report it.
Independent Texas reporting needs your support. The Texas Tribune delivers fact-based journalism for Texans, by Texans — and our community of members, the readers who donate, make our work possible. Help us bring you and millions of others in-depth news and information. Will you support our nonprofit newsroom with a donation of any amount?
Yes, I'll donate today
---
Information about the authors
Explore related story topics