Straus: A Cautious, Conservative Session
In a wide-ranging interview with the Tribune's Evan Smith, House Speaker Joe Straus touted the new state budget, franchise tax cuts and the Legislature's slow but steady pace this year.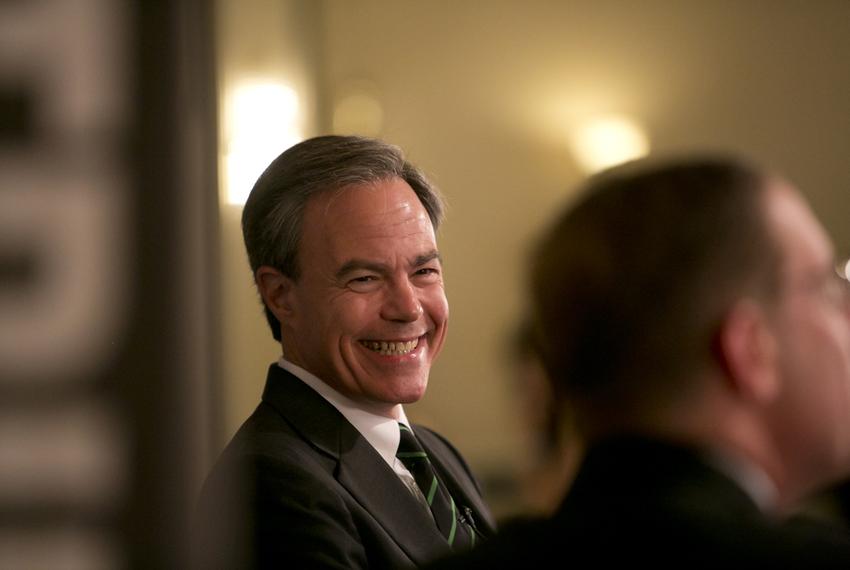 Texas House Speaker Joe Straus on Tuesday pronounced the just-ended legislative session a success — and said one indicator of that was dissatisfaction from some of the people on the liberal and conservative fringes.
In a wide-ranging interview with The Texas Tribune's Evan Smith, Straus touted the new state budget, franchise tax cuts and the Legislature's slow but steady pace this year.
"We were careful, cautious in policy-making," he said at one point. Later, he added, "I'm cautious by nature. We used to call that conservative."
Straus said he was not surprised lawmakers couldn't agree on an ethics reform bill. He was personally in favor of disclosing so-called "dark money" donations to and donors of political nonprofits, even though other state leaders — Gov. Greg Abbott and Lt. Gov. Dan Patrick among them — do not. And he admitted he was not familiar with a spousal loophole slipped into a House bill in the Senate, one that protects the spouses of officeholders from disclosing many of their assets and sources of income.
Straus also said legislation that would have barred state and local governments from allowing employees to have their union and non-union dues deducted from their paychecks failed because it arrived late and in bad shape from the Senate. He said that happens in both directions.
"We do that in the House, too — we send each other big flaming bags of junk," Straus said.
He said that legislation's biggest problem was its proponents. "That was the poorest job of lobbying that I've seen," he said. The first he heard about the bill was in a Wall Street Journal column scolding the House for inaction on the bill.
Asked about controversial legislation that allows students with licenses to carry concealed handguns on campus, Straus said he thinks colleges have enough discretion to make campus carry laws work in Texas. "I had a gun with me when I went to college out of state," he said.
Straus said he is happy with the state budget, though he noted the House wanted to spend more on public education. He said ending occupational license fees was an underappreciated part of the tax cut package that, for certain professionals, will be more significant than the 25 percent cut in business franchise taxes.
The speaker, who has filed papers indicating he wants a fifth term in that post, noted the tough political atmosphere in state politics, but added, "I'm excited about the climate of the Texas House and the environment that we've created there."
He said some members were disillusioned by the presence of activists — "unattractive people," he called them — with cameras digging for political dirt, a reference to the American Phoenix researchers who have been tracking lawmakers seeking to record misbehavior.
Among Straus' other comments on Tuesday:
He supports former Florida Gov. Jeb Bush in the race for the Republican nomination for president. "My family and his have been friends in Texas politics for well over 50 years."

The House will have "a major focus" on health care between now and the next regular session in November.

School choice in the form of charter schools is popular in the House, but vouchers still have serious opposition.

He and Patrick work together fine in spite of the normal tensions between the House and the Senate. "We get a little cranky early in the morning," he joked, referring to a mid-session blow-up at a regular weekly breakfast meeting of top state officials.

He will "of course" get involved in primary elections to defend Republicans who've been on his side in the House. He won't, however, intervene in Democratic primaries.

Contracting issues at the Health and Human Services Commission that cropped up before and during the session may be just the tip of the iceberg in state government.

Texans should be allowed to give as much as they want to political candidates, but should let the public know who's giving the money.

He has no interest in running for Congress. "I want to be someplace where you can get results."

Straus said the state's industries have had the job of "doing the dirty work" for the rest of the country, and environmental regulations reflect that. He added this: "Climate change happens. What causes it is subject to some debate, but we can't deny it."

Legalizing marijuana is not imminent in Texas. "I think it's going to be a long time before Texas moves very far in that direction."
Support public-service journalism that's always free to read.
It's been a busy year. Through it all, The Texas Tribune's journalists have not missed a beat. And with redistricting starting in earnest next week and the 2022 elections on the horizon, we know our journalism will continue to be fundamental for Texans everywhere. Support our work today so we can be there for you in 2022 and for whatever else 2021 might throw at us.
Yes, I'll donate today