Lawmaker's Bill Aims to Prevent Another Fertilizer Plant Blast
State Rep. Kyle Kacal has introduced legislation that he hopes would prevent another accident like the explosion of a West fertilizer plant in 2013 that killed 15 and injured more than 200.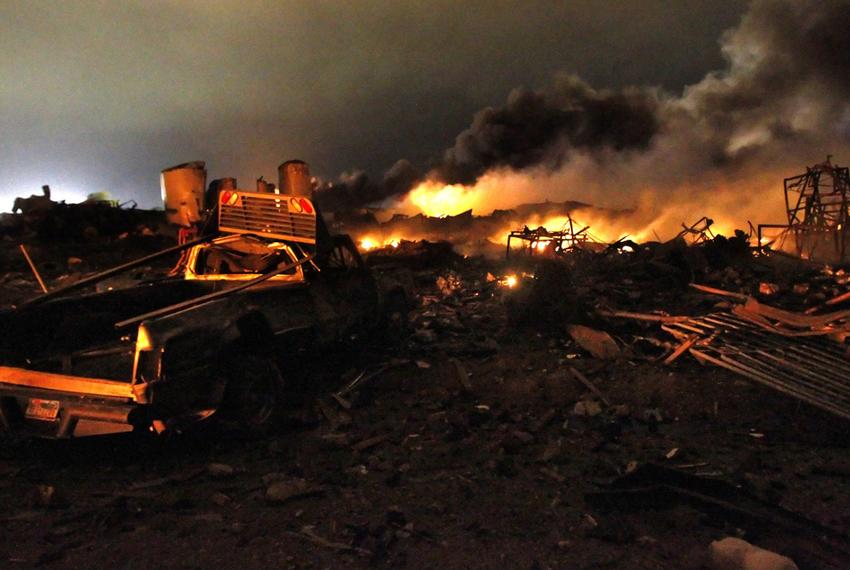 *Editor's note: This story has been updated throughout.
Looking to prevent another tragedy like the 2013 explosion at a West fertilizer blast that killed 15 people, a lawmaker on Tuesday promoted legislation that calls for increased facility inspections and tighter storage regulations to reduce accidents in the fertilizer industry.
House Bill 942, authored by state Rep. Kyle Kacal, R-College Station, would regulate the storage of ammonium nitrate and require the Texas Commission on Environmental Quality to collect hazardous chemical reports filed by facility operators, a task currently assigned to the Department of State Health Services. Last year, discussions of similar legislation were met with opposition by some Republicans who were hesitant to impose regulations on fertilizer storage facilities.
"Our state has gone through a great deal of work to study the issues thought to have contributed to the disaster," said Kacal, speaking to the House Committee on Environmental Regulation on Tuesday. The city of West lies in the northern part of his district. "HB 492 seeks to follow up on the actions taken by the state to regulate the fertilizer industry."
Specifically, the bill would establish strict guidelines for the storage of ammonium nitrate, which would need to be stored at least 30 feet from any combustible or flammable material. The legislation would require a state or local fire marshal to inspect storage facilities to identify potential fire hazards and allow local fire departments to tour facilities for "pre-fire planning." In addition, the bill would increase reporting requirements for facility operators storing ammonium nitrate.
Kacal's original bill had proposed increased penalties for violations related to the improper handling of hazardous chemicals at manufacturing plants and new penalties for violations at storage facilities. Kacal presented substitute legislation to the committee on Tuesday that did not include those penalties.
On April 17, 2013, a fertilizer plant in West caught fire and then exploded as firefighters attempted to douse the flames. In addition to the 15 people who were killed, more than 200 others were injured. While the cause of the original fire remains unknown, the explosion occurred when the flames reached a tank of ammonium nitrate, a common fertilizer stored at the facility.
"We have stored ammonium nitrate for at least 35 years," said Jim Farley, the owner of Farley Farm Supply in De Leon, who testified Tuesday in support of Kacal's bill. "Obviously, I was devastated when I heard the news from West. My heart went out to those folks and the first responders who were lost."
Others expressed support of HB 492, but urged lawmakers to include local authorities in the inspection process.
"The state fire marshal has no connection to the local fire department," said Brad Johnson, the general manager of the Northeast Texas Farmers Co-op, which represents more than 7,000 farmers across 10 counties. "Shouldn't the local fire chief know about a violation that the state fire marshal has found? I want our folks included."
Tom "Smitty" Smith, the state director of Public Citizen, a consumer protection group, also urged lawmakers to keep information about ammonium nitrate facilities available to the public. "That information is already out there," said Smith. "And I would urge you to make sure that information is available for those folks who might live next to a facility, and they see trucks going in and out, but don't know what's in that facility."
Other legislation, House Bill 417, filed by state Rep. Joe Pickett, D-El Paso, would impose penalties for improper storage of ammonium nitrate and create a rule-making authority on ammonium nitrate facilities that the lawmaker described as "a living, breathing forum."
"The rule-making authority is a way to make changes without the Legislature being in session," Pickett told the committee on Tuesday, explaining that the authority would work with state agencies. "If we don't do something, we will have another West explosion."
Farley raised concerns about HB 417. "The Legislature can pass laws, and that should be where we get the impetus for what we're doing, rather than the rule-making authority," he said. "It goes to trying to have less government regulation, instead of what I can see in HB 417, which looks like more government regulation."
While bills by Kacal and Pickett aim to improve the storage of ammonium nitrate, two additional bills heard by the committee aimed to address other issues related to the 2013 blast.
House Bill 2470, filed by Rep. Eddie Rodriguez, D-Austin, would require anyone who produces, stores, transfers, or blends ammonium nitrate to have public liability insurance, while House Bill 3810 by Rep. Armando Walle, D-Houston, would establish a statewide notification system in the case of a hazardous chemical leak from a manufacturing facility.
"Our brave men and women went straight to try to help," Walle told the committee, referring to the explosion in West. "And the majority of the casualties were our first responders."
Each bill was left pending in committee Tuesday.
Texans need truth. Help us report it.
Independent Texas reporting needs your support. The Texas Tribune delivers fact-based journalism for Texans, by Texans — and our community of members, the readers who donate, make our work possible. Help us bring you and millions of others in-depth news and information. Will you support our nonprofit newsroom with a donation of any amount?
Yes, I'll donate today
---
Information about the authors
Explore related story topics