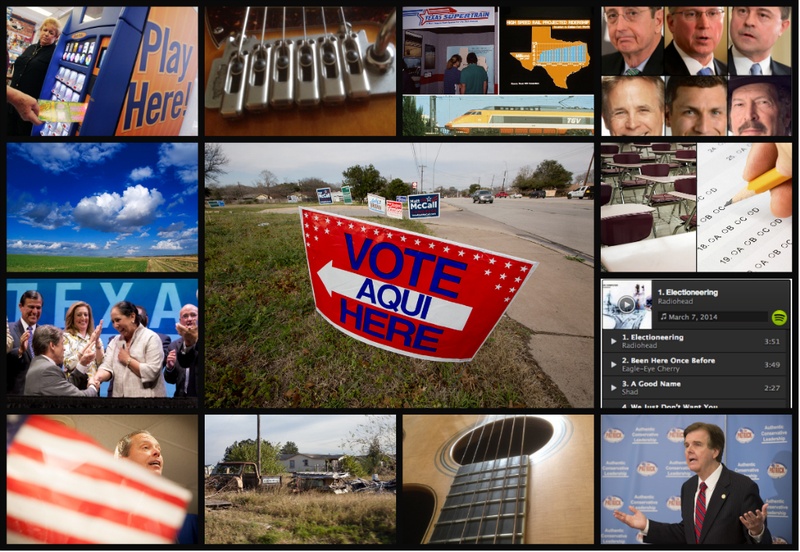 With the primary elections taking place this past Tuesday, it seemed fitting to begin our weekly playlist of songs inspired by Texas politics and policy news with Radiohead's "Electioneering."
The easiest way to enjoy the playlist is to download Spotify, which is a free program. But even without it, you can still follow along. Here are this week's other selections:
Many candidates found themselves facing a runoff election. Among them was David Dewhurst, the incumbent lieutenant governor, who is no stranger to runoffs — he famously lost one against now-U.S. Sen. Ted Cruz in 2012. For the Dew, we included "Been Here Once Before" by Eagle Eye Cherry.
Some unexpectedly successful candidates may have benefitted from simply having a name voters were comfortable with, so we have "A Good Name" by Shad. And some unsuccessful candidates just failed to catch on with the public, so we also added "We Just Don't Want You" by Grupo Fantasma.
The Texas Tribune thanks its sponsors. Become one.
In non-election news, at an event in Austin, the College Board announced major changes to the SAT, so we put "The Test" by The Academy Is on the playlist. That's followed by "Bullet Train" by Gardens & Villa, since leaders developing a high-speed rail line in Texas said they expect to avoid the pitfalls that killed a similar project more than 20 years ago.
Then we have "Older Guys" by The Flying Burrito Brothers, because a Texas A&M University professor and his team of "promotoras" are trying to find ways to help improve conditions for seniors along the border. Following Neena Satija's report about a push for more cloud seeding to address the drought, we added "From the Clouds" by Jack Johnson. And University of Texas at Brownsville President Juliet García told the Tribune she did not apply to be president of the new University of Texas-Rio Grande Valley, inspiring the addition of "I Don't Want to Be President" by Johnny "Guitar" Watson. And as a nod to Dawn Nettles, who keeps close watch on the Texas Lottery to ensure it operates fairly, we close with Billy Squier's "Eye On You."
Enjoy!