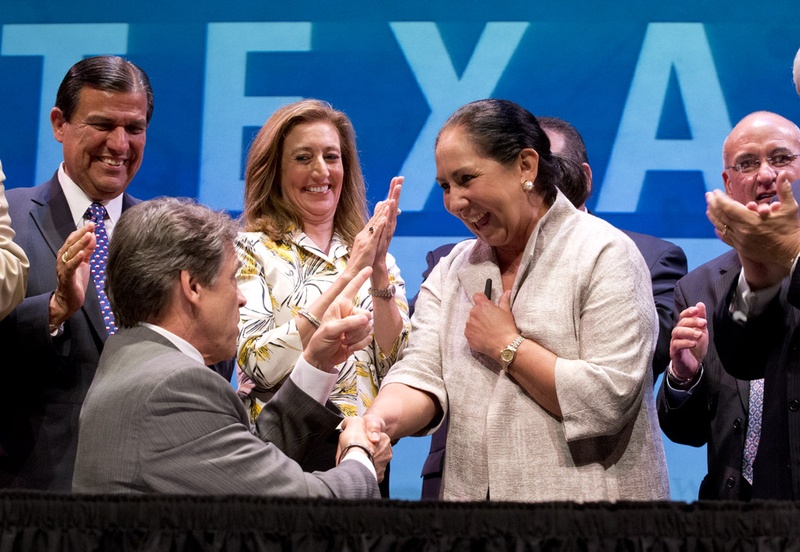 Editor's note: This story was updated to reflect that Robert Nelsen, the president of UT-Pan American, has applied for the UT-RGV presidency.
After more than two decades as the president of the University of Texas at Brownsville, Juliet García said on Friday that she has decided not to apply for the presidency of the school that will form from the merger of her institution and the University of Texas-Pan American.
The new university, which will span South Texas and include a medical school, will be called the University of Texas-Rio Grande Valley. At a meeting of the University of Texas System Board of Regents on Friday, the members approved a motion to interview five candidates — whose names were not released — for the UT-RGV presidency.
But García said she has known for nearly a year that her name would not be in consideration once the process reached this point. García said that in 2013, as the new university awaited approval from the Legislature, she told UT System Chancellor Francisco Cigarroa that if the lawmakers approved the plan — which they ultimately did — it was a "perfect time to have organizational leadership change."
The Texas Tribune thanks its sponsors. Become one.
"I've served for 22 years as president," García told The Texas Tribune, "and that's a good run. I've enjoyed every second of it."
Her counterpart at UTPA, Robert Nelsen, has served as president of that institution since 2010. He confirmed to the Tribune on Friday that he has applied for the UT-RGV presidency.
García said she has avoided discussions and activities related to the search for a president for the new university and did not have an opinion on whom the board should be considering.
Faculty members in South Texas have expressed a desire to meet with the candidates, but the system has indicated that only a select few will be a part of the search process, and those individuals will have to sign confidentiality agreements to keep the names of the candidates under wraps.
In a press release on Friday, system officials said: "Names of candidates are kept confidential to attract the absolute highest quality of candidates. Executive search firms advise that top candidates are reluctant to pursue a position without a promise of confidentiality, as it may jeopardize their current positions."
Just because she will not be president of UT-RGV, which is expected to open in 2015, does not mean García is taking her foot off the pedal at UT-Brownsville, which has been in a state of flux as it finishes unraveling a roughly 20-year partnership with Texas Southmost College and begins its transformation into the new institution.
The Texas Tribune thanks its sponsors. Become one.
"I intend to help in any way make this transition successful and help launch UT-RGV," Garcia said.