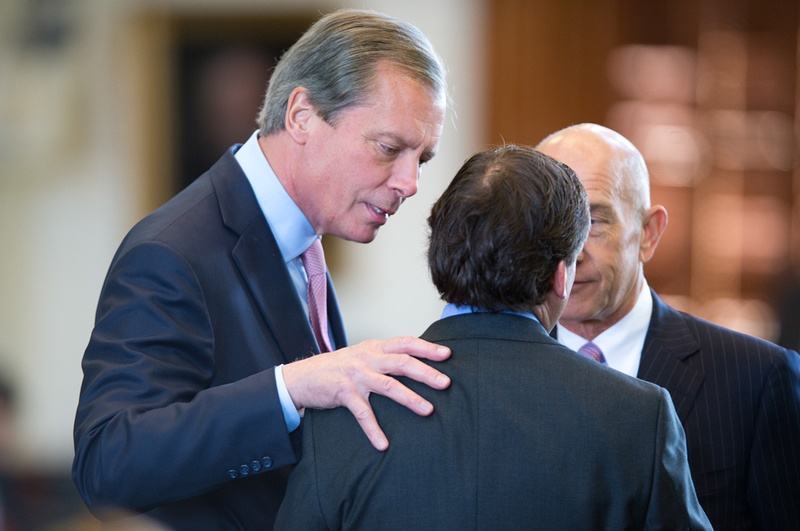 Lt. Gov. David Dewhurst on Tuesday called for a congressional investigation into whether the National Security Agency's domestic spying program has ever targeted gun owners, kept a list of firearms purchases or tracked gunshow visits.
"Under the Obama Administration, a number of our constitutional rights have been threatened, most notably our right to bear arms," Dewhurst said in a letter to John Cornyn and Ted Cruz, the state's U.S. senators, and U.S. Rep. Michael McCaul, the Austin Republican who chairs the House Homeland Security Committee.
Dewhurst said that information collected by the NSA, including call records, location data, purchase history and internet communications is "rife with the potential for abuse."
"I believe to be illegal any effort by the Obama administration to build dossiers on law-abiding Americans, including what magazines they read, what gun shops they visit, how often they purchase ammunitions, and with what groups they affiliate," Dewhurst said.
The Texas Tribune thanks its sponsors. Become one.
Since former NSA contractor Edward Snowden began releasing internal agency documents in June, NSA survellience both at home and abroad have come under scrutiny. Under fierce criticism from across the political spectrum, the White House has ordered a review of the agency's intelligence collection. The Obama administration and many lawmakers have defended NSA programs as necessary in protecting U.S. security interests — and said its activities are closely monitored by Congress and the courts.
In a recent Texas Tribune/University of Texas Poll, 81 percent of registered Texas voters said they believed the NSA was likely to violate people's privacy. It ranked ahead of all other federal government agencies, including the IRS, the CIA, and the FBI.
Dewhurst, who is seeking re-election, faces state Sen. Dan Patrick, R-Houston, Land Commissioner Jerry Patterson, and Agriculture Comissioner Todd Staples in the 2014 GOP primary.
Texas Tribune donors or members may be quoted or mentioned in our stories, or may be the subject of them. For a complete list of contributors, click here.