Campaign Roundup: The Week's Political News
Expect to see some heavy artillery in the state Senate race in Central Texas.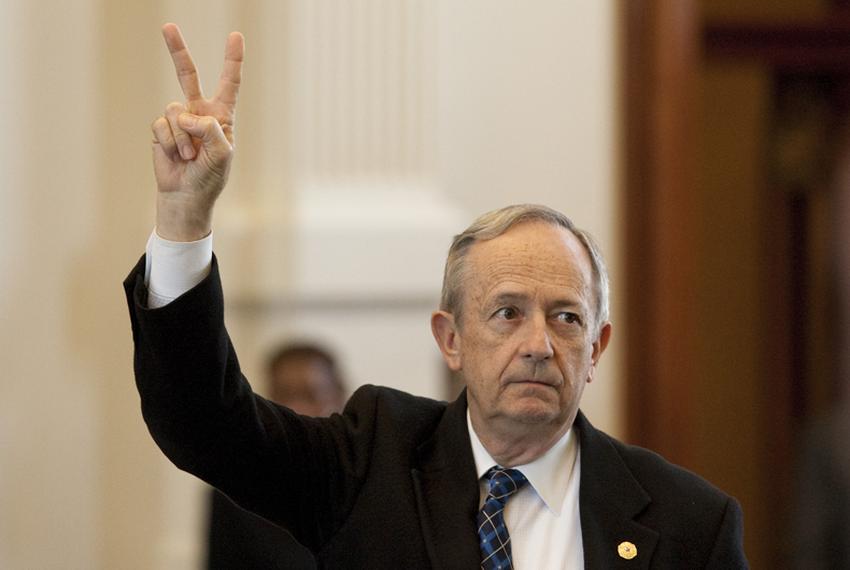 Texans for Lawsuit Reform hasn't officially picked a candidate in the race between state Sen. Jeff Wentworth, R-San Antonio, and Elizabeth Ames Jones, the Texas Railroad Commissioner who jumped out of the U.S. Senate race and into Wentworth's primary this week. It will be a surprise if they go with the incumbent, though. Wentworth has locked down a solid list of endorsements, including House Speaker Joe Straus (who succeeded Ames Jones in that House seat), U.S. Reps. Lamar Smith and Francisco "Quico" Canseco, and state Reps. Lyle Larson, Doug Miller and Paul Workman, whose districts overlap Wentworth's.
But the TLR folks won't be in that pack unless they change their minds. After listing a number of issues that divided the senator and the tort group, spokeswoman Sherry Sylvester adds this: "Texans for Lawsuit Reform has long believed that SD 25 should be represented by a senator who supports the lawsuit reforms that the people of his district and a wide majority of Texans support." The other Republican in that race, Donna Campbell of New Braunfels, picked up an endorsement from the Texas Right to Life PAC.
Former Dallas Mayor Tom Leppert bolstered his U.S. Senate run with endorsements from a list of mayors he says represent 1.1 million people. The list includes Robert Cluck of Arlington, Joe Adame of Corpus Christi, Mark Burroughs of Denton, Jimmy Thompson of Sugar Land, Brian Loughmiller of McKinney, Bill Glancy of Farmers Branch, John Terrell of Southlake and Joe Cordina of Parker. Ted Cruz, meanwhile, announced a grassroots campaign — he's asking people to join the Cruz Crew. And Lt. Gov. David Dewhurst picked up the endorsement of the Texas Farm Bureau's political action committee, AGFUND.
Bob Craig won't seek another term on the State Board of Education. The Lubbock Republican was first elected in 2002 and served on the Lubbock school board before that. Whoever runs will need gas money; the district includes 75 of the state's 254 counties.
Railroad Commissioner Barry Smitherman found at least 69 people who'll vote for him. His campaign says that many Republicans in the Texas House have endorsed his first bid for statewide election. Gov. Rick Perry appointed Smitherman to the post earlier this year, and he's seeking election in 2012.
Bracy Wilson, a McKinney Republican, will run for the Texas House in Ken Paxton's seat. Wilson is the founder of HelpCharters LLC, a charter school developer. Scott Sanford, a CPA and executive pastor of a Baptist church is in that same race. Paxton is running for the state Senate.
Jonathan Stickland announced plans to challenge Rep. Todd Smith, R-Euless, in HD-92. He says he's a small business owner, wants to increase the quality of education and won't be asking taxpayers for more money: "Raising taxes is not an option."
Waco businessman and former State Republican Executive Committee member Chris DeCluitt will challenge Rep. Charles "Doc" Anderson, R-Waco, in HD-56, prompting an unusual press release from Anderson. The incumbent announced that he's looking forward to "a lively Republican primary race."
The Texans for Lawsuit Reform PAC endorsed freshman state Rep. Marva Beck, R-Centerville. That PAC also likes Brent Busby in the race for a spot on the state's 14th Court of Appeals.
Running for re-election: State Rep. Diane Patrick, R-Arlington.
Texas Tribune donors or members may be quoted or mentioned in our stories, or may be the subject of them. For a complete list of contributors, click here.
Support public-service journalism that gets the context right
Your donations make our reporting possible and keep it free for all to access. Support our nonprofit newsroom by May 11, and your gift will help us unlock $25,000 in matching funds from our partners at Tito's Handmade Vodka, the Bernard & Audre Rapoport Foundation and the Suzanne Deal Booth Charitable Trust.
Yes, I'll donate today