University of Texas/Texas Tribune Polls
UT/TT Poll: Senate Race Wide Open as Voters Are Glum About Future
Most Texas voters haven't decided, but if they voted today, Lt. Gov. David Dewhurst would lead the field for the Republican nomination to replace U.S. Sen. Kay Bailey Hutchison, according to the latest University of Texas/Texas Tribune poll.
Most Texas voters haven't decided, but if they voted today, Lt. Gov. David Dewhurst would lead the field for the Republican nomination to replace U.S. Sen. Kay Bailey Hutchison, according to the latest University of Texas/Texas Tribune poll.
Voters are glum about the direction of the country, divided on the direction of the state and generally more negative than positive about the state of the nation's — and their families' — economic situation. They disapprove of the job President Barack Obama is doing and are split about evenly in their approval and disapproval of Rick Perry as governor. Those numbers line up with their views of Congress (not good) and the Texas Legislature (split).
Hutchison announced early this year that she won't seek re-election, triggering a stampede of real and speculative candidates to the race. The primary is a year away, and the general election is in November 2012, but several candidates have said they're interested, and a few are already trying to raise money for the contest.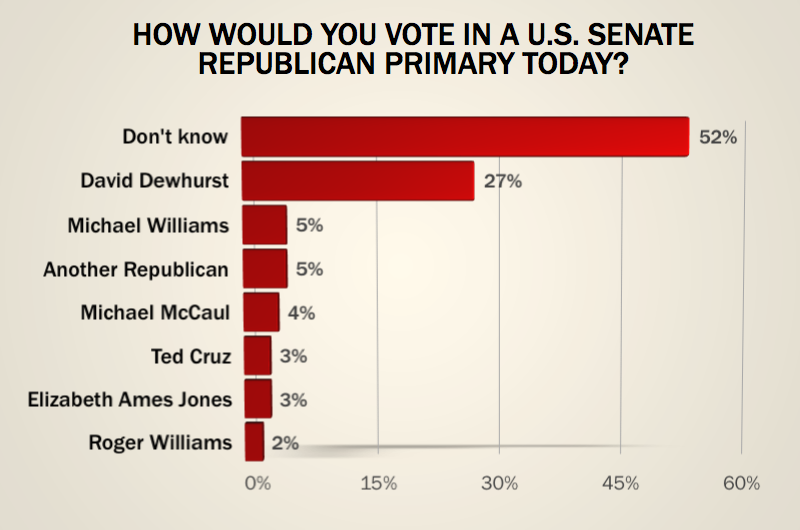 Dewhurst, who has not yet declared that he will run, has the support of 27 percent of those polled, and no other Republican broke into double digits. Five other named candidates — Railroad Commissioners Michael Williams (5 percent) and Elizabeth Ames Jones (3 percent), U.S. Rep. Michael McCaul (4 percent), former Texas Solicitor General Ted Cruz (3 percent) and former Texas Secretary of State Roger Williams (2 percent) — were clustered in low single digits. Undecided grabbed the biggest share of the Republican vote: 52 percent.
"It's good news for everybody," says pollster Daron Shaw, a government professor at UT. "If it's Dewhurst, he's ahead. For everybody else, the good news is that no one has become the clear alternative, and 52 percent of the voters are still undecided.
"Not any of these candidates has locked down the kind of support they need to win a Republican primary," he says.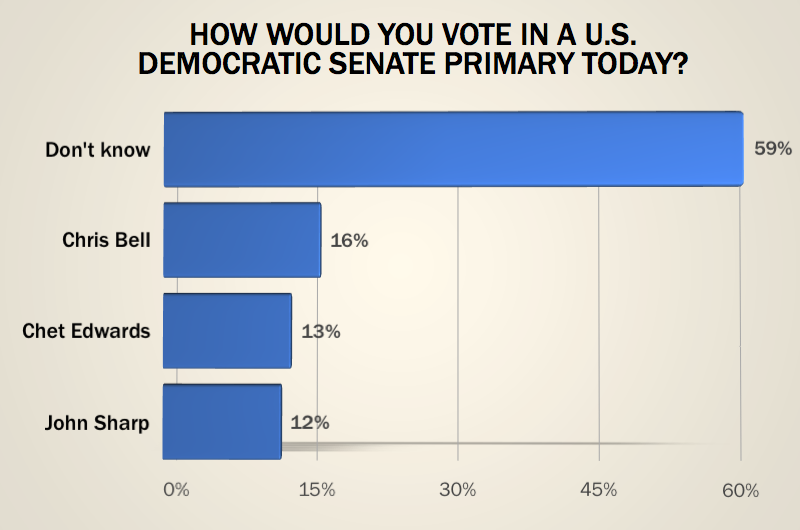 Democrats are in a wide-open race, with no clear frontrunner and a truckload of uncommitted voters. Three whose names have been mentioned — former U.S. Reps. Chris Bell, 16 percent, and Chet Edwards, 13 percent; and former Comptroller John Sharp, 12 percent — each had light support, but 59 percent of Democrats haven't chosen sides in that contest.
By a wide margin — 59 to 26 percent — Texans say the country is on the wrong track, but they're divided 41 to 41 percent when asked whether the state of Texas is moving in the right direction, the poll found.
The list of things they're worried about doesn't hold many surprises for anyone who's been watching since before last November's elections. The most important problems facing the country are the economy, 22 percent; federal spending and the national debt, 19 percent; unemployment and jobs, 16 percent; political corruption and leadership, 10 percent; and health care and education, at 5 percent each.
At the state level, the voters present a different ranking of problems: immigration, 16 percent; border security, 15 percent; unemployment and jobs, 12 percent; state budget shortfall, 11 percent; the economy, 9 percent; political corruption and leadership, 8 percent; education, 8 percent; and state government spending, 5 percent.
The immigration and border security concerns top the list but are losing ground to other issues — especially the budget shortfall, which wasn't on the radar in the previous UT/Tribune survey. "We've definitely turned from the election to governing," says pollster Jim Henson, who teaches government and runs the Texas Politics Project at UT. That shows up both in the issue questions and in the question about the U.S. Senate race, with its huge undecided factions.
"In the aftermath of a very wearying election season, people are not raring to make election choices right now," he says. Their attention is turning instead to legislative and policy matters.
The country is in better economic shape than it was a year ago, according to 27 percent of the voters, but 41 percent say it's worse off now, and 30 percent say it's about the same. Contrast that with their assessments of their personal economies: 20 percent say they're better off than they were a year back; 45 percent say things are about the same, and 35 percent say they're worse off than they were 12 months ago.
"In 1992, personal economics were clearly improving, but 85 percent said the nation was worse off, and George Bush got crushed," Shaw says. "The perception of where the country is, is what drives politics."
Texas voters disapprove of the job the president is doing, of Congress, and they give the governor and state legislators mixed reviews. More than half — 55 percent — disapprove of the job Obama is doing, including 46 percent who strongly disapprove. Only 36 percent approve of his work as president, 15 percent strongly so, and 8 percent are undecided.
Congress is even less popular: 59 percent disapprove of the job it's doing, 19 percent approve, and another 19 percent have no opinion one way or the other.
Perry gets good marks from 39 percent, bad marks from 40 percent (25 percent strongly disapproving) and neutral ratings from 17 percent. The state Legislature's numbers are milder, but similar: 32 percent approving, 35 percent disapproving (15 percent strongly), and 27 percent are neutral.
Asked which 2012 primary they'll vote in, 18 percent say they don't usually vote in primaries. The Republicans attracted 45 percent and the Democrats 37 percent. But ask how they'd vote in a congressional race if the parties were from the Democratic, Republican and Tea parties, and the Republicans lose some votes. The finish in that trial heat: Democrat, 34 percent; Tea, 22 percent; Republican, 16 percent; and don't know, 28 percent.
This University of Texas/Texas Tribune poll is an internet survey of 800 registered voters conducted Feb. 11-17 and has a margin of error of +/- 3.46 percent.
Coming tomorrow: A look at Texans views on a potpourri of issues, including abortion, sonograms, voter ID, the death penalty and redistricting.
Texas Tribune donors or members may be quoted or mentioned in our stories, or may be the subject of them. For a complete list of contributors, click here.
Texans need truth. Help us report it.
Independent Texas reporting needs your support. The Texas Tribune delivers fact-based journalism for Texans, by Texans — and our community of members, the readers who donate, make our work possible. Help us bring you and millions of others in-depth news and information. Will you support our nonprofit newsroom with a donation of any amount?
Yes, I'll donate today
---
Information about the authors
Explore related story topics