Secure the Texas Capitol, Make it Less Accessible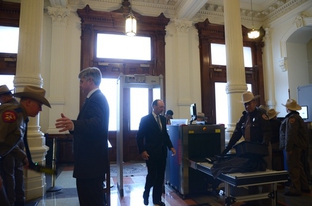 When Andrew Cuomo took office as governor of New York earlier this month, he ordered the removal of the barricades limiting access to his state's Capitol. "This Capitol has become a physical metaphor for the isolation and alienation of our people," he said in his inauguration speech. "In the name of heightened security, they have erected barriers and barricades all around this Capitol. To get into this Capitol is now like running an obstacle course, and it shouldn't be."
He could easily have been talking about Texas. The driveways around the Capitol either have bollards (stout mechanical posts that pop out of the ground to stop any oncoming vehicles) or live guards, or both, to prevent the public from getting too close, too fast. There are metal detectors and X-ray machines at each door. You can get the full airport experience without buying a ticket or packing.
Of course, this being Texas, if you present a concealed-handgun license, you can come into the Capitol with or without your weapon and skip security entirely. There are other checkpoints inside the Capitol if you want to enter the House and Senate galleries, where the public can sit and watch government in action. Firearms aren't allowed there.
Underground tunnels connect many of the government buildings, which is a terrific idea when it's 107 degrees outside, or if you're one of those people schlepping carts full of government paper from one place to another. But those aren't open to the public — only to people whose magnetic security cards open the right doors.
It's a public place, with its guard up.
And then, of course, came the shootings in Arizona, where a gunman apparently targeting a congresswoman shot her and 19 others. It didn't happen on government property or in a secure location, but it put everyone in those places on alert.
Two days later, Texas Republicans met in caucus to settle a challenge to House Speaker Joe Straus from two of his fellow Republicans who think he's too moderate. That contest has been simmering since the November elections, and the activists promised to come out in force. The weather thinned the herd and forced the demonstrators indoors, but state police provided a visible presence.
Lawmakers on their way to the meeting in the John H. Reagan Building — just north of the Capitol — could walk down a hallway through a gauntlet of noisy but well-behaved demonstrators, into the tunnel between the two buildings — no protesters there — and into a part of the Reagan Building where they could be seen through glass windows that separated them from the public they represent. Three or four state troopers stood at each door, making sure nobody entered without permission.
Straus, who kept his speakership, now has a full-time security detail. Gov. Rick Perry has long had one. Lt. Gov. David Dewhurst has one. So does Greg Abbott, the state's attorney general.
Jerry Patterson, the state's land commissioner, doesn't have a security detail but, when asked about it, he said he has one in his boot and another in his belt. He's the poster child for gun-toting officeholders in Texas. As a state senator, he was the author of the state's concealed carry law. He's a gun nut — just ask him.
Patterson doesn't think you can prevent what he calls "accidents with guns." You can't really be a public person — or a regular citizen in a public place — and keep the crazy people away. All the security, which was beefed up after a 24-year-old fired a pistol on the south steps of the Capitol last year, "moves the perimeter" from inside the building to outside, Patterson said.
You can't make it absolutely safe inside, but you can lower the risk, and he does think there's a risk. Still, it's frustrating when cranks with guns, wherever they are, force the rest of us into an expensive defensive crouch just because their crimes are exceptionally lurid or publicized.
"I don't think we've crossed the line here yet. As long as it works smoothly," Patterson said. Where's the line? "When it interferes with the public's right to express an opinion or to easily get to the Capitol," he said. "You know, parking on the grounds was never available to the public much anyway."
After you park, you stop at security, empty your pockets and turn over your bags. The lines aren't usually that bad. Some consolation.
Texas Tribune donors or members may be quoted or mentioned in our stories, or may be the subject of them. For a complete list of contributors, click here.