Cities Collect $100 Million From Red-Light Cameras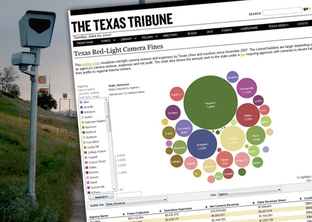 Revenue from Texas red-light cameras soared in 2009, with cities collecting more than $62 million from motorists, newly released state records show.
We've taken that revenue data to create an interactive visualization that shows how the traffic camera revenue, expenses and profits vary from city to city, along with the proportion of the money that goes to the state.
In all, cities with cameras have collected about $100 million in fines of $75 to $100 since September 2007, when a law requiring them to share profits with the state went into effect, according the Texas Comptroller of Public Accounts. They've issued more than 1.2 million citations.
That law, authored by state Sen. John Carona, R-Dallas, required the agencies to divert some of their profits to a fund for regional trauma hospitals, among other regulations. So far, they've sent about $25 million to the fund, which helps the hospitals recoup costs from treating indigent patients. The Legislature only approved spending about $13 million so far, according to the Department of State Health Services, which administers the money.
Use the chart to visualize how the cities' totals compare. The below example, for instance, compares the money that cities spent on their cameras. While Houston leads in revenue collected, for instance, the city actually spent $3 million less than Dallas — even though it operates more cameras: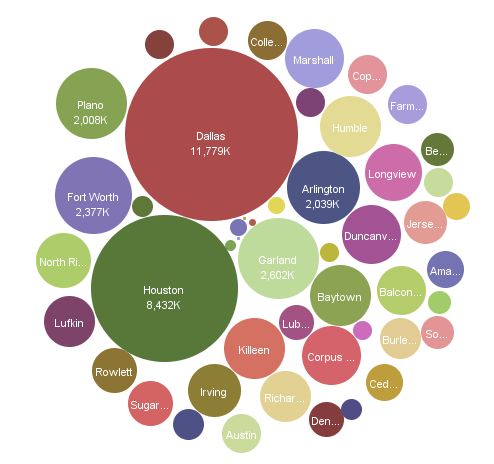 As expected, the data shows that Houston, which has more cameras than any other city, has collected more in fines than any of the 53 agencies that have had cameras since 2007. Some, such as Lubbock, have removed the cameras because city officials didn't see them as effective.

That's not the case in Houston, where city officials and police tout the camera program as a cost-effective way to raise awareness of the danger of intersections. Since 2007, Houston has collected $24 million in total fines, which — after spending $8.4 million to operate the cameras — left revenues of $15.7 million. Of that, $7.8 million was diverted to the trauma fund, and the rest was spent on traffic safety programs.
Fort Worth and Dallas also top the list, with $14 million and $3.9 million in fines, respectively. But several mid-size and suburban cities are among the leading cities in fine revenue, including Arlington ($6.8 million), Humble ($4.8 million), Plano ($4 million) and Duncanville ($3.5 million).
The chart is our second feature using state camera data. You can also use this application to explore camera locations — and the numbers of citations and crashes at each.
Texas Tribune donors or members may be quoted or mentioned in our stories, or may be the subject of them. For a complete list of contributors, click here.