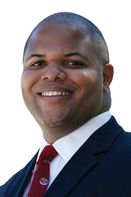 Industry

Lawyer
Education

B.A., Harvard University; J.D., University of Pennsylvania; M.P.A., Princeton University
Spouse

Nakita
Committees

Investments & Financial Services
Redistricting (Vice-Chair)
Ways & Means
Select Committee on State and Federal Power and Responsibility
Financial Statements
Sources of Income
Johnson is a self-employed attorney and is the president of the Si Se Puede PAC in Dallas.

Johnson receives fees for legal services rendered to a lobbyist; the client is Texas Instruments Inc. In 2010, he reported receiving more than $25,000 for the contract; in 2011 it was between $5,000 and $10,000.

In 2011, Johnson was on retainer for Broad Oak Advisors LLC, an investment banking services firm.

He owns stock in Apple.

He was formerly a legislative assistant to Rep. Yvonne Davis, D-Dallas.
Property
Rental residence in Dallas valued at $136,000

Residence in Dallas valued at $280,000
Analysis
In 2011, Johnson and his wife took a "fact-finding" trip to Taiwan provided by the Taipei Economic and Cultural Office.

One of Johnson's top campaign contributors is the Si Se Puede PAC, of which he is the president and which he largely funds himself.