Families Divided
No "zero tolerance" for migrant families released in McAllen
As confusion swirls about the president's executive order to end family separations, undocumented immigrants with children continue to be apprehended in the Rio Grande Valley. But instead of being detained, some are being released from federal custody with ankle monitors.
Families Divided

The Trump administration's "zero tolerance" immigration policy, which led to the separation of children from adults who crossed the border illegally, has fueled a national outcry. Sign up for our ongoing coverage. Send story ideas to tips@texastribune.org.
More in this series
MCALLEN — Maria del Carmen isn't sure how or why she got so lucky.
Waiting at the bus station in downtown McAllen, the Guatemalan mother cradled her 6-month-old son, Jose Antonio, as she quietly recalled watching officers take other children from their crying parents. When she began the 11-day trek to the Texas-Mexico border about two weeks ago, she had not heard about the new immigration policy that resulted in the separation of more than 2,300 children from their parents.
Like many others here, she didn't learn about it until she was taken into federal custody on Monday and the separations began at a U.S. Customs and Border Protection facility in the Rio Grande Valley. She had to say goodbye to her sister, who had fled their violence-ridden home country with them, but she wasn't separated from her baby.
Instead, officials strapped an ankle monitor to her left leg and put her on a bus to McAllen with about 25 other migrant mothers.
"I think it was because he's so young," she said in Spanish while she adjusted the laces on her son's tiny black shoes. "They were taking the kids that looked older."
As confusion continues to swirl over whether the Trump administration's "zero tolerance" immigration policy is still in effect, it appears that hundreds of families who crossed the border illegally between the ports of entry in the Rio Grande Valley have somehow managed to evade being detained. Mothers and fathers with young children in tow have been arriving at the McAllen bus station for weeks — well before President Donald Trump signed an executive order meant to halt the family separations that resulted from his administration's policy, according to Sister Norma Pimentel, who runs a Catholic Charities respite center just a few blocks away.
It's unclear why these families were allowed to stay together and were released as they await deportation proceedings. Under the "zero tolerance" policy, the federal government vowed to criminally prosecute all adults who crossed the border illegally — a promise that spurred the separation of families as parents were sent to jails and their children were shipped off to shelters across the country.
But inside the Catholic Charities respite center, dazed and weary migrant families have continued arriving — up to 100 on some days — and have been left to wonder why they were allowed to keep their children after watching as other parents lost theirs.
"They do it so we don't come anymore, but we're always going to take the risk because we trust in God," said Jasmira, a Honduran mother who asked that her last name not be used for fear it would endanger her 20-month-old son, Kerlin.
Jasmira said she fled her country in hopes of saving her son from the violence that's taken over virtually every street in Honduras. She said they were detained at the border on Monday after a 10-day trip through Mexico on a combination of buses and taxis.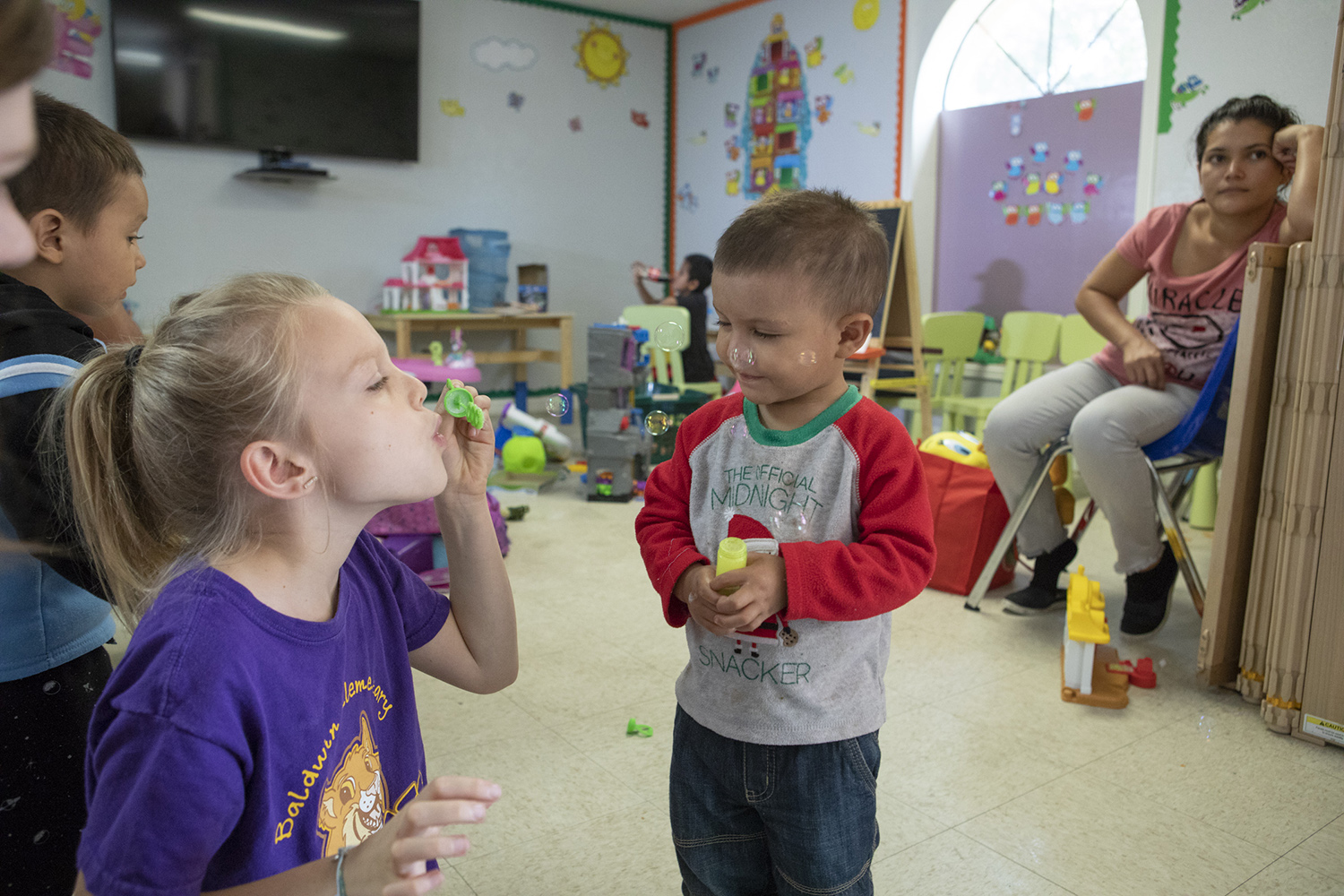 While in a processing facility, she watched as officers called up a mother and asked her to leave her daughter with someone who was sitting nearby. She said the mother never came back. Later that week, Jasmira came across the little girl again — but her mother was no longer with her.
"People are suffering," she said while her son pulled a plush Tweety bird out of a reusable H-E-B bag filled with supplies the center offered to her. "I'm so thankful to God they didn't separate us."
As volunteers blew bubbles for his 2-year-old nearby, Freddy — who also asked that his last name not be used — indicated he was among the few migrant travelers who knew they could have been criminally prosecuted and separated from their children.
The 41-year-old agriculture worker from Honduras said he learned about the policy when he and his son were halfway through Mexico, traveling on buses and on the backs of trucks. He said he faced death threats in his home country and decided to press forward. Even if he was detained and deported, he figured there was a chance that his son could live safely with one of his cousins who is a U.S. citizen.
When officers began separating families in the processing facility, Freddy said he told them, "I have a lawyer. His name is Jesus."
While she knows the majority of families are being separated and detained, Pimentel said the number of families that continue to arrive reflects the beleaguered immigration system and federal government's lack of resources to detain families despite promises of "zero tolerance."
"Since day one, we've always had families. Sometimes up to 100, sometimes less," Pimentel said.
Some of the families were separated while being processed, but they were reunited before they arrived at the bus station. That's where volunteers from Catholic Charities meet them and guide them back to the respite center for fresh clothes, a bath, a meal and guidance to get to their next destination.
At the center, volunteers take the parents' manila envelopes — containing documents and bus tickets — and staple a white sheet of paper to it that reads, "Please help me. I do not speak English. What bus do I need to take?" The other side is marked with a handwritten bus schedule to reach various cities — Nashville, Fort Lauderdale, Sacramento.
The respite center opened in 2014 during the Obama administration, when Central American families and unaccompanied children fleeing violence in their home countries were showing up at the Texas-Mexico border in droves.
There's no way of knowing if the number of individuals being released will increase to match the shelter's early days, when Pimentel and her team welcomed up to 400 people a day. In an executive order Wednesday ending the separation of families at the border, Trump declared that migrant families should be detained together while awaiting prosecution. But legal and logistical challenges will make that exceedingly difficult.
The two facilities the federal government operates in Texas to detain migrant families were nearing capacity weeks ago, according to The Washington Post. And federal officials are up against a 1997 legal settlement that effectively says children cannot be detained in immigration detention centers for more than 20 days, even if they are with their parents. Shuffling hundreds of migrants through criminal and civil deportation proceedings and the adjudication of asylum cases would almost certainly take longer than that.
In McAllen, the families that have been released are hardly staying long enough to question their good fortune.
Just hours after arriving at the respite center, they made their way back to the bus station, carrying bags filled to the brim with donated diapers, sandwiches and water. The children carried new toys — a Nascar car, a teddy bear, a plush monkey one child hugged tightly while fondly calling him "Mono."
Among them was Sintia, a young Honduran mother traveling with a rambunctious toddler named Ian. As the migrants lined up outside to wait for the bus — just minutes before the bus arrived — Sintia and a Catholic Charities volunteer came to a nerve-racking realization.
Her loved ones had only purchased one ticket to Louisiana for her. But because her son was 2 years old, she needed a second. Otherwise, the bus driver wouldn't let them on together.
Sintia hardly had a second to panic before the volunteer quietly whispered some instructions.
Just before the bus drove into the #10 slot at the bus station, Sintia lifted her toddler and cradled him, seemingly wanting him to appear much younger than he actually was. When an employee for the company that operates the bus line looked over and asked for his age, she quickly responded that he was about to be 2.
"His birthday is June 30," she hastily added when the employee remarked that he was very big for his age.
She held him in her arms as she handed the bus driver her ticket and disappeared toward the back of the bus. They were off to Baton Rouge — together.
---
Information about the authors
Quality journalism doesn't come free
Perhaps it goes without saying — but producing quality journalism isn't cheap. At a time when newsroom resources and revenue across the country are declining, The Texas Tribune remains committed to sustaining our mission: creating a more engaged and informed Texas with every story we cover, every event we convene and every newsletter we send. As a nonprofit newsroom, we rely on members to help keep our stories free and our events open to the public. Do you value our journalism? Show us with your support.
Yes, I'll donate today