Families Divided
With charges dropped against some parents who crossed the border with families, is "zero tolerance" still in effect?
The Trump administration says there is still "zero tolerance" for anyone who crosses the border illegally. But the top federal prosecutor in one of Texas' busiest border districts has dropped charges against immigrants who arrived with their families.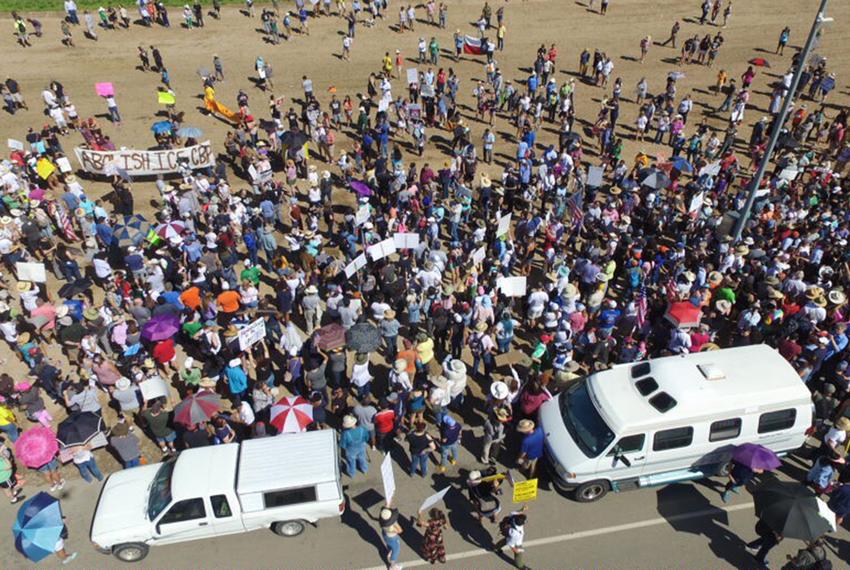 Families Divided

The Trump administration's "zero tolerance" immigration policy, which led to the separation of children from adults who crossed the border illegally, has fueled a national outcry. Sign up for our ongoing coverage. Send story ideas to tips@texastribune.org.
More in this series
The Trump administration insists it's still prosecuting everyone who crosses the border illegally. But in one of Texas' busiest border districts, federal prosecutors have dropped charges against some immigrants who entered the United States with their children — raising questions about whether President Donald Trump's "zero tolerance" policy effectively remains in place.
In an executive order Wednesday ending the separation of families at the border, Trump declared that migrant families should be detained together by the Department of Homeland Security while parents await prosecution, instead of parents being sent to jails and children sent to shelters. But doing that requires overcoming exceedingly difficult legal and logistical challenges — so "there is a necessary transition that will need to occur," said Daryl Fields, spokesman for the U.S. Attorney in the Western District of Texas, which covers hundreds of miles of the Texas-Mexico border, including El Paso and Del Rio.
"As part of that transition, the office today dismissed certain cases that were pending when the President issued the order," Fields said Thursday night.
In the chaos wrought by Trump's order, it's not clear exactly how many cases have been dismissed or who has ordered their dismissal — U.S. attorneys take their cues directly from the federal U.S. Department of Justice, which had ordered them to prosecute all illegal crossings "to the extent practicable." Many attorneys representing migrants say they don't know. And federal officials have given conflicting information.
Maureen Scott Franco, who heads the federal public defender's office in the Western District of Texas, wrote to her colleagues Thursday that charges have been or will be dropped against all immigrants who were separated from their children.
Franco said in an interview later Thursday she was told by the U.S. attorney in the district that there weren't suitable facilities to hold the migrant families, so some cases were being dismissed "if the case involved a family having to be separated." The federal government has three detention centers that hold families, and those were reportedly already near capacity weeks ago.
As federal prosecutors consider options for housing families legally, Franco said, "everything is on hold."
On Thursday, Fields seemed to confirm that, telling NBC News that charges would be dismissed against all immigrants who did not have serious criminal histories. But later, he retracted that statement, instead saying only that his office dismissed "certain cases."
Franco said she expects no further charges will be filed against immigrants crossing with their families until the government solves its facilities challenge.
That would be a sharp departure from the Trump administration's insistence that everyone who crosses the border illegally is still being prosecuted. U.S. Customs and Border Protection told The Washington Post Thursday it would stop sending families to federal prosecutors. The Department of Justice did not return a request for comment Friday morning.
Dropping charges puts a "major dent" in the administration's "zero tolerance" policy, said Carlos Spector, an immigration attorney in El Paso.
But even without criminal charges, Spector said, families are likely to be held for long stretches of time in immigration detention centers as they contend with the civil portion of their immigration cases.
Spector said he wasn't sure how far the policy had spread, but added, "I can't imagine it just being here. Ground zero for 'zero tolerance' is El Paso. So if they lifted it here it makes no sense to have it anywhere else."
It's not clear whether charges against migrant parents have been dropped in the Southern District of Texas, the state's other major border region, which includes ports of entry from Laredo down to Brownsville.
On Friday, 61 immigrants appeared in a McAllen courthouse to be arraigned on illegal entry charges, according to Marjorie Meyers, the top federal public defender in the region. None of them had crossed the border with children.
And on Thursday morning, 17 immigrants who were separated from their children had been brought to the same McAllen courthouse on allegations of illegal entry. But minutes before the judge arrived, their cases were removed from the docket and they were not charged, according to the Texas Civil Rights Project, whose lawyers were on hand for the proceedings.
Meyers confirmed that the 17 immigrants who were taken off the judge's schedule had been deemed "heads of household," suggesting their prosecution was stalled because they had children in the United States.
Other immigrants in the courtroom Thursday were criminally charged, the Texas Civil Rights Project said.
Angela Dodge, spokeswoman for the federal prosecutor in the Southern District, said Thursday that "we prosecuted all the cases that were presented in court today." Cases removed from the docket would not have been presented in court.
"No cases were dismissed in the Southern District of Texas due to the family unit issue," Dodge insisted.
But Carlos García, a defense attorney who works with immigrants in South Texas, said based on what he's seen in the McAllen courthouse, federal prosecutors seem to be retreating from the "zero tolerance" policy.
"Based on the last two days… it is my belief that they are not prosecuting parents whose kids were taken away," Garcia said.
Meyers said since Trump's order on Wednesday, it's been unclear how prosecutors and immigration officers will handle immigrants who crossed the border with their children.
Julián Aguilar and Paul Cobler contributed reporting.
Texans need truth. Help us report it.
Independent Texas reporting needs your support. The Texas Tribune delivers fact-based journalism for Texans, by Texans — and our community of members, the readers who donate, make our work possible. Help us bring you and millions of others in-depth news and information. Will you support our nonprofit newsroom with a donation of any amount?
Yes, I'll donate today
---
Information about the authors
Explore related story topics