Texas Elections 2018
Rep. René Oliveira's DWI arrest front and center in House District 37 Democratic runoff
Democratic state Rep. René Oliveira almost avoided a runoff in the primary for House District 37, but his recent arrest on a charge of driving while intoxicated has given renewed momentum to challenger Alex Dominguez.
Cameron County Commissioner Alex Dominguez said he wanted to run for the Texas House this year because the timing was right: He would have had to leave office in the middle of a second term had he waited until 2020 and been re-elected to the local post.
If he had any doubts about his decision after coming in second to long-time incumbent state Rep. René Oliveira, D-Brownsville, during the March primary election, those likely melted away last month after Oliveira, who was first elected to office in 1981, was arrested and charged with driving while intoxicated.
"People have been calling and volunteering, and people are tired," Dominguez said earlier this week about Oliveira's arrest. "That pushed people over the top. If they were ever on the fence, they have fully come to our side. People want a change at this point."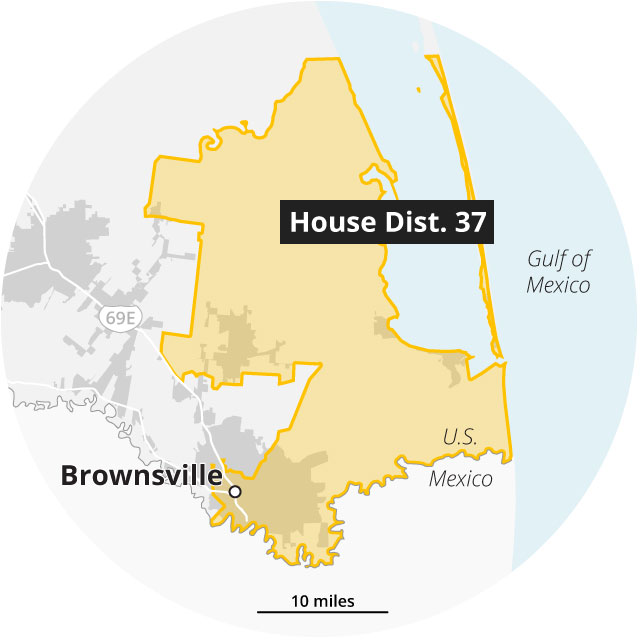 Dominguez, 47, came in second in the three-candidate primary in House District 37, which includes Brownsville and a large swath of Cameron County. Oliveira came just fewer than 2 percentage points from avoiding a runoff after earning 48.4 percent of the vote total compared to Dominguez's 36.4. A third challenger, Arturo Alonzo, nabbed 966 votes, which likely helped make HD-37 one of only two House races to feature an incumbent in a runoff. (The other race is HD-54, which features one-term incumbent Scott Cosper, R-Killeen.)
Oliveira didn't respond to requests for comment from The Texas Tribune.
Dominguez said that since Oliveira's arrest, he's been hopeful that Alonzo's supporters will throw their support to his campaign. But even before the DWI charge, Dominguez said voters in the county had grown tired of what he called a representative too comfortable with the system in Austin and unwilling to fight for them. He added that at 63, Oliveira was rumored to have been contemplating retiring from the Texas House or running for state Senate, which means HD-37's constituents would have been left with a lame-duck representative in Austin.
"There's no reason to help the constituency because they're retiring anyway," he said. "The district should not have a piece of furniture."
In a statement to the Brownsville Herald after his arrest, Oliveira took responsibility for his actions and said he didn't expect special treatment.
"Last night I made a mistake in judgment, and thankfully, no one was injured. I sincerely apologize to my family, friends, colleagues, and most especially to my supporters. I am embarrassed, but grateful no one was hurt," he said.
"I accept those consequences," he said. "I know that my error in judgment has consequences and I will accept those consequences. I know that I will not be treated any differently than anyone else."
Voters will ultimately decide if Oliveira's mea culpa will be enough. But despite his legal problems, the veteran lawmaker's still has name recognition on his side. Aside from being in office for nearly 40 years, Oliveira has also been a member of Republican House Speaker Joe Straus' leadership team. He's the chairman of the House Committee on Business and Industry and a member of the powerful State Affairs Committee. He's also served as chairman of the Ways and Means, Economic Development and Land and Resource Management committees.
But Dominguez said that's not relevant anymore in the wake of Straus' announcement that he was retiring from the House.
"We don't know who the speaker is going to be," he said. "So [Oliveira] can't rely on his goodwill or past friendships for any committee assignments."
Your New Year's resolution list isn't complete without …
… supporting the Tribune. This new year, resolve to do your part to sustain trusted journalism in Texas. Join thousands of readers who power The Texas Tribune's nonprofit newsroom.
Donate now