2017 Year in Review
Heat and a hurricane had a big impact on Texas criminal justice in 2017
Weather-related prison evacuations, legal battles over execution drugs and death sentences, and reform efforts at the Texas Legislature led the state's criminal justice headlines in 2017.
2017 Year in Review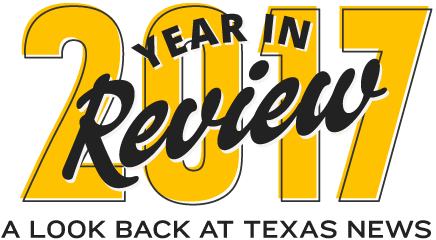 A lively legislative session — and a special session — that featured fights over bathrooms. Legal battles over abortion, immigration policy and political maps. A devastating hurricane. 2017 was filled with nonstop news in Texas. Here are the highlights.
More in this series
Focusing largely on policing, this year's legislative reforms surrounding Texas' justice system aimed to keep law enforcement safe and accountable. Outside of the Capitol, the big headlines of the year centered on prison safety and fairness in criminal courts.
Here's a look at some of 2017's top criminal justice stories.
Weather woes
Hurricane Harvey has touched almost every aspect of state policy, and the criminal justice system is no exception.
After the hurricane crashed into the Texas coast late this summer, sending floodwaters soaring, five prisons were evacuated and nearly 6,000 inmates were shipped off to drier units. This already difficult relocation process was further complicated when hundreds of evacuated inmates ended up at a notoriously hot prison, one that was already at the center of an ongoing lawsuit.
In July, a federal judge ruled that the lack of air conditioning at the Pack Unit — a prison southeast of College Station where temperatures regularly exceed 100 degrees — constituted cruel and unusual punishment. Nearly two dozen inmates have died from heat stroke in Texas prisons in the last two decades. Almost 75 percent of those prisons don't have air conditioning in the areas where inmates live.
The judge ordered that all medically sensitive inmates at the Pack Unit be moved somewhere with air conditioning, sparking a major inmate shuffle in August. But with Harvey approaching, prison officials had to evacuate some coastal prisons and looked to the nearly empty Pack Unit for temporary housing.

That decision roped the evacuees sent there into the existing lawsuit — meaning the department had to move hundreds of medically sensitive inmates again.
Legal battles
As states across the nation struggle with shortages of execution drugs — the result of fewer manufacturers willing to make them — Texas has been fighting with the federal government to obtain lethal doses from India.
In March, the U.S. Food and Drug Administration officially ruled that the drugs were barred from entry into the country. Texas quickly asked the courts to intervene, calling the ruling unlawful. In a filing last month, the FDA said it was discussing possible resolutions with Texas.
In the meantime, The Texas Tribune is regularly tracking the supply of lethal drugs in the state that accounted for the most executions in 2017.
Texas' death penalty practices also led to legal challenges this year. In March, the U.S. Supreme Court made a major ruling against Texas, invalidating its method of determining whether a death-sentenced inmate was intellectually disabled — and therefore ineligible for execution. Bobby Moore's case was sent back through the lower courts to Harris County after the justices said Texas' method, which relied on nonclinical factors and outdated medical standards, was unconstitutional.
After the ruling, multiple cases of inmates sentenced to death were suddenly open for new litigation, and at least two men had their sentences changed to life in prison. Last month, Harris County District Attorney Kim Ogg asked the Texas Court of Criminal Appeals to reduce Moore's sentence to life in prison, and also sent her own proposal on how the state should determine intellectual disabilities in the future.
Harris County has also been at the center of a federal lawsuit on cash bail and its use among poor misdemeanor defendants. In April, a federal judge ruled that the county's pretrial practices unconstitutionally detained poor people who couldn't afford their bonds while releasing similar defendants who had enough cash.
That ruling called for the release of all misdemeanor defendants within 24 hours of arrest regardless of their ability to pay bond. It went into effect in June, and counties across the state are monitoring as the lawsuit winds through appeals. Any final ruling could affect bail practices throughout the state and nation.
At the Capitol
At the Texas Legislature, statewide bail reform efforts failed. A bill by state Sen. John Whitmire, D-Houston, would have sped up the process of releasing jailed defendants who are deemed less likely to skip court or commit new crimes.
Some other criminal justice reform efforts failed despite bipartisan support, including measures to raise the age at which a young offender is considered an adult and clamp down on civil asset forfeiture.
The bills that did make it out of the Legislature generally focused on policing. One new law will require high schoolers to undergo training on how to interact with police, and another enforced an existing statute requiring departments to report police shootings to the state by creating penalties for failing to do so. Police also became eligible for about $25 million in grant funding to equip local departments with bulletproof vests, and attacks on law enforcement or judges are now classified as hate crimes.
But the criminal justice bill that got the most attention also had the most recognizable name: the Sandra Bland Act. The bill focused on mental health treatment in county jails, requiring independent agencies to investigate jail deaths and making it easier for mentally ill defendants to be released from jail.
It was named after a black woman who is believed to have committed suicide in her jail cell three days after a controversial traffic stop led to her arrest. Originally, the legislation also addressed racial profiling by police, but most of that language was stripped out because of opposition from law enforcement groups.
Texans need truth. Help us report it.
Independent Texas reporting needs your support. The Texas Tribune delivers fact-based journalism for Texans, by Texans — and our community of members, the readers who donate, make our work possible. Help us bring you and millions of others in-depth news and information. Will you support our nonprofit newsroom with a donation of any amount?
Yes, I'll donate today
---
Information about the authors
Explore related story topics