As a result of Hurricane Harvey, 600 more Texas prisoners getting AC
As Hurricane Harvey approached Texas, state prison officials moved thousands of inmates to higher ground. But now that the storm has passed, about 600 of the evacuees gained protection from hot conditions in their cells thanks to an ongoing federal lawsuit.
The Texas Tribune thanks its sponsors.

The devastation was swift, and the recovery is far from over. Sign up for our ongoing coverage of Hurricane Harvey's aftermath. You can help by sharing your story here or sending a tip to harvey@texastribune.org.
More in this series
---
Thanks to Hurricane Harvey, about 600 more Texas prisoners are set to get a break from the sweltering Texas heat.
The inmates had been evacuated from the flood-prone Stringfellow Unit ahead of the storm. But Texas prison officials, scrambling to get the inmates to safety, sent them to the notoriously hot (though dry) Wallace Pack Unit in Navasota.
Once there, a judge ruled, the prisoners were made eligible to join a special class of heat-sensitive inmates subject to a federal lawsuit over hot conditions that have been blamed for nearly two dozen deaths over the last two decades. The Texas Department of Criminal Justice will now have to find cooler beds for them.
"The risk of harm to these individuals when they are housed in dangerously hot areas has not changed," federal Judge Keith Ellison wrote in his order, which was made public Friday.
The Texas Tribune thanks its sponsors. Become one.
Department of Criminal Justice lawyers had requested that the temporary order be lifted for these prisoners because they were evacuated to the Pack Unit in an emergency situation. Ellison denied the request. Department spokesman Jason Clark said sending them to the Pack Unit was appropriate given the other options as Harvey was bearing down on the Houston area.
The non-air-conditioned prison in Navasota had largely been emptied because of the federal court's July order to move any medically vulnerable inmates at the prison into temperatures that remain below 88 degrees.
"The alternative was for buses to pass the near empty facility and continue on dangerous roadways and place those offenders in another facility's gymnasium," Clark said in an emailed statement. "We stand by our decision to keep offenders out of harm's way."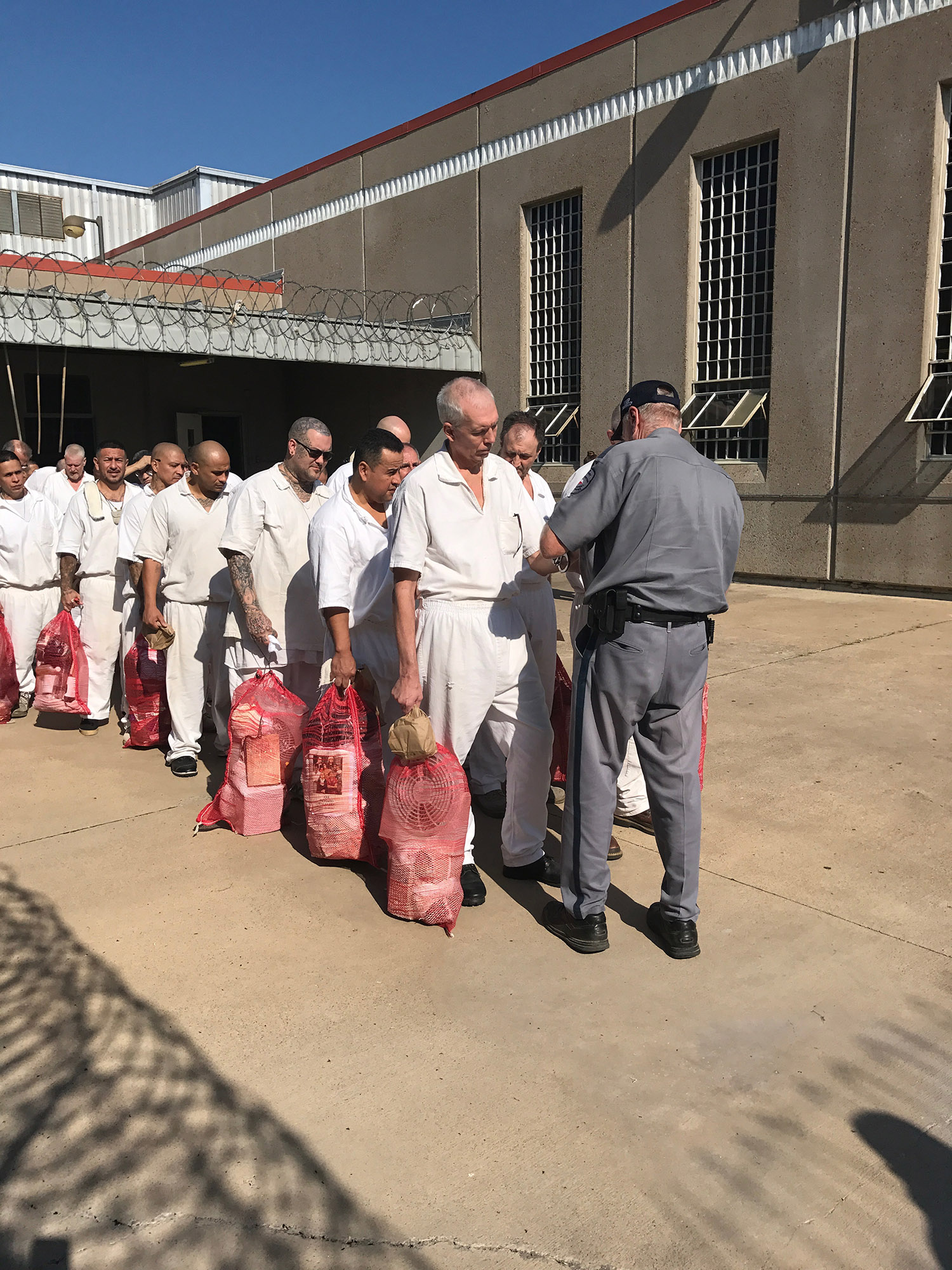 Jeff Edwards, lead attorney for the plaintiffs, said the department moved the inmates into the Pack Unit "without regard to their medical conditions or their heat vulnerability."
"The consequence of TDCJ violating the court's order is that another 600 heat vulnerable inmates will no longer be endangered by the high temperatures," Edwards said. "They did it with full knowledge that they were violating the court order."
The judge's ruling came just as most of the Texas inmates who were evacuated from flooded prison grounds are being sent back to their original units this weekend. All told, about 6,000 prisoners were evacuated to escape Harvey's wrath. About 1,400 were already sent back to the Vance and Jester 3 units last Monday.
The Texas Tribune thanks its sponsors. Become one.
The 600 heat-sensitive inmates sent to the Pack Unit — including the elderly, obese and diabetic — were among more than 1,000 evacuees from the Stringfellow unit in Brazoria. Ironically, Stringfellow isn't air-conditioned, either, but it doesn't have the cursed status of the Pack Unit.
Not yet, anyway.
Almost 75 percent of Texas prisons and state jails have no air conditioning in the inmates' living areas, and at some prisons, like the Pack Unit, temperatures regularly get above 100 degrees, according to the judge's July ruling. The lawsuit filed by prisoners at the Pack Unit cites at least 23 heat-related deaths in Texas prisons since 1998 and argues that housing should be kept at a maximum of 88 degrees. The lawsuit covers all Pack unit inmates, regardless of their length of stay.
In a scathing July order, Ellison said TDCJ was "deliberately indifferent" to the risk of harm the inmates at the sweltering prison face. Because of the ruling, more than 1,000 inmates housed at the prison were moved in August to 11 other prisons with air conditioning.
TDCJ has appealed the court's July order and says the department does enough to combat the heat without providing air-conditioning in housing areas, such as unlimited ice water, personal fans and air-conditioned "respite" areas in the prisons where inmates can go to escape the heat.
Read related Tribune coverage:
U.S. Rep. Lloyd Doggett, an Austin Democrat, is asking about prisoner safety in Beaumont after Hurricane Harvey. Inmates stayed put at state and federal prisons while the city lost its water supply for about a week. [Full story]

A federal judge signed off on Texas' proposal to temporarily move more than 1,000 inmates from one hot prison to 11 different facilities around the state. [Full story]

"We know that this is not going to be a normal legislative interim," Texas House Speaker Joe Straus said Thursday as he directed House committees to research policy issues related to Hurricane Harvey. [Full story]
Get The Brief
Never miss a moment in Texas politics with our daily newsletter.