2017 Year in Review
Child welfare, health insurance and abortion dominate Texas news in 2017
Texas tackled a child welfare crisis, sought to address the opioid epidemic and looked at how to help more people in the state access mental health care. Here's a look at this year's top Texas health and human services stories.
2017 Year in Review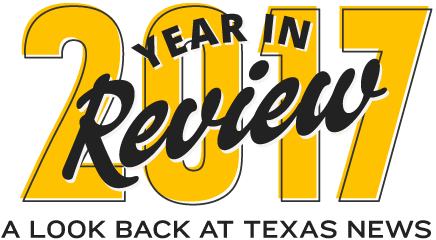 A lively legislative session — and a special session — that featured fights over bathrooms. Legal battles over abortion, immigration policy and political maps. A devastating hurricane. 2017 was filled with nonstop news in Texas. Here are the highlights.
More in this series
Texas leaders tackled a child welfare crisis, sought to address the opioid epidemic and moved to help more people in the state access mental health care. The Republican-led Legislature pushed for abortion restrictions, facing obstacles in the federal courts. Here's a look at this year's top Texas health and human services stories.
1. Texas lawmakers passed sweeping child welfare legislation
Legislators came to the state Capitol this year with child welfare on the agenda after a grim 2016, when Texas children were sleeping in state offices, caseworkers were overworked and some endangered children were going unseen by workers. Gov. Greg Abbott named the state's child welfare crisis one of four emergency items during his State of the State address in January and warned legislators that the issue would "haunt" them if they did not make changes. The 2018-2019 state budget gives the Department of Family and Protective Services $4 billion, up from $3.5 billion for the previous two-year cycle, and includes money for hiring staff, giving caseworkers pay raises and boosting payments to foster parents.
Abbott signed into law bills that increase payments for families caring for abused and neglected children who are related to them, make the Department of Family and Protective Services a stand-alone agency, streamline how courts work with DFPS and parents accused of abuse and allow the state to contract with nonprofits to oversee children in foster care, adoptive homes and relatives' homes. There was controversy over the passage of a law allowing child welfare providers to deny adoptions and other services to children and parents based on "sincerely held religious beliefs." Critics say it allows for groups to discriminate against LGBT Texans.

2. Legislators partially restored cuts to a therapy program for children with disabilities
After the Texas Legislature approved a $350 million cut to funding for speech, physical and occupational therapists in 2015, some clinics were forced to shut their doors, and families and advocates have testified repeatedly about how devastating the loss of care was. This spring, legislators restored about 25 percent of those cut funds. Advocates also found a silver lining when legislators provided additional money for the Early Childhood Intervention program, which which serves 50,000 children under 3 with developmental issues including autism, speech delays and Down syndrome.

However, in 2017, Early Childhood Intervention program providers in the Brazos Valley, Hill Country and Galveston areas stopped offering services due to financial troubles stemming from the legislative cuts. Advocates fear more providers may end services.
3. Texas kids may lose coverage under the Children's Health Insurance Program
Texas health officials are working to protect roughly 394,000 children covered under the Children's Health Insurance Program after Congress failed to renew the program's authorization before it expired on Sept. 30. Without federal funding, Texas has enough money for CHIP to last until February 2018, according to estimates by the Texas Health and Human Services Commission. In November the commission asked the federal government for an extra $90 million to support CHIP in Texas until February. The program is for children whose families make too much for them to qualify for Medicaid, but who are less likely to have coverage through a parent's job. CHIP provides low-cost health insurance for children from low- and middle-income families, including check-ups for kids and prenatal care for pregnant women.
4. Texas has the highest uninsured rate in the U.S. amid uncertainty about the Affordable Care Act's future

Members of Congress went back and forth on whether to repeal and replace the Affordable Care Act throughout 2017. But despite multiple efforts, federal lawmakers in the House and Senate could not agree on versions of bills that would have done away with the individual mandate and the employer mandate and phased out preventive screenings, emergency room visits, maternal and newborn care and lab tests. The 2010 health law remains intact, but Congress may come back to it in 2018.
Meanwhile, Texans saw changes during the first open enrollment period under President Donald Trump. They had a shorter period of time to buy health insurance, subsidies to help purchase coverage was slashed and funding for outreach and advertising was cut, too. The state still had the highest uninsured rate of all 50 states — and almost double the national uninsured rate of 8.8 percent, according to the United States Census Bureau. A silver lining: the agency found the percentage of uninsured Texans dropped from 22.1 percent in 2013 to 16.6 percent in 2016.
5. Texas ramped up efforts to combat the opioid crisis
Texas Attorney General Ken Paxton and a coalition of 40 other state attorneys general served investigative subpoenas this fall to companies manufacturing or distributing opioids in order to determine their role in the national epidemic. Upshur County also got in on the legal action this fall when it sued drug companies for financial damages for allegedly downplaying the addiction risks of opioids. More county-led lawsuits may come in 2018.
The lawsuits come as families, lawmakers and advocates nationwide work to curb the number of people becoming addicted to or dying from opioids. Texas saw 1,186 opioid-related deaths in 2015 while the nation as a whole had 33,000 such deaths that year, according to the Texas Health and Human Services Commission. The state received $27.4 million in federal funding in 2017 to help with prevention, outreach and treatment for Texans living with opioid addictions.

6. Texas continued to fight abortion rights advocates over laws
Abortion rights groups scored three wins in 2017 when federal judges blocked Texas' efforts to require fetal remains to be buried, ban the most common second-trimester abortion procedure, and kick Planned Parenthood out of Medicaid.
But the Republican-led Texas Legislature rallied with a series of anti-abortion bills signed into law by Abbott. Those included bills requiring health facilities to report more extensively on abortion complications, forcing women to pay a separate health insurance premium to get coverage for non-emergency abortions and banning dilation and evacuation abortions, considered the safest second-trimester abortion procedure for women. The fetal remains burial bill was also signed by Abbott despite being tied up in court. Under the law, health providers would have been required to bury or cremate fetal remains from abortions. A federal judge ruled in January that Texas could not proceed with the rule, citing its vagueness and potential to harm patients.

7. Texas patients gained protections against surprise medical bills
Legislators passed a law requiring freestanding emergency rooms to post notice of which insurance networks they're in. In 2009, Texas became the first state to permit the operation of freestanding ERs, facilities independent of hospitals that provide acute care around the clock. But they're frequently not in insurance networks, and their service prices have blindsided unsuspecting consumers who realize too late that they were treated by an out-of-network provider, leaving them to pay bills totaling in the thousands of dollars. Supporters of the new law have said there will be more clarity for consumers.

8. Texans in need of mental health coverage won't have to fight their health insurer alone
Health insurance companies offering coverage in Texas won't be allowed to cover mental health benefits differently from medical benefits, thanks to a new state law. The law also offers more help for consumers who believe their insurance is wrongly denying them coverage.
The Texas House Select Committee on Mental Health released a 109-page report days before the start of this year's legislative session, outlining challenges and opportunities for the state to change how people access care and warned that if legislators did not make improvements, "we do so at our own peril." They specifically cited increasing the number of beds available in state hospitals, early intervention for schoolchildren with behavioral health issues, investing in jail diversion programs and beefing up the state's mental health workforce.
Your New Year's resolution list isn't complete without …
… supporting the Tribune. This new year, resolve to do your part to sustain trusted journalism in Texas. Join thousands of readers who power The Texas Tribune's nonprofit newsroom.
Donate now