In Harvey's Wake
For low-income Texans, a tougher road to recovery after Hurricane Harvey
There's no doubt the lives of tens of thousands of Texans have been upended by Hurricane Harvey, but it's low-income Texans who will face a tougher road to recovery.
Brandon Olivarez and Tesa Rutherford had barely lived in Rockport for a week before they rushed to abandon their new community.
The couple had just moved into a mobile home in the small beachside town, dreaming of working on a fixer-upper home and a beach wedding in March. But their bliss was abruptly interrupted by the weather forecast, which they watched for a day before accepting it was time to leave.
By the time Hurricane Harvey's violent winds and storm surge ravaged their home last week, Olivarez and Rutherford were settling into two cots they had pushed together at an emergency shelter in North Austin and searching for updates on social media and the news. Rockport, they would find out, faced some of the worst destruction from the storm's initial landfall as a Category 4 hurricane.
On a quick trip back home Sunday, they realized that all they had left was their car, their clothes and a newly rescued German shepherd puppy — discovered near the debris of what's left of their home — who they named Harvey.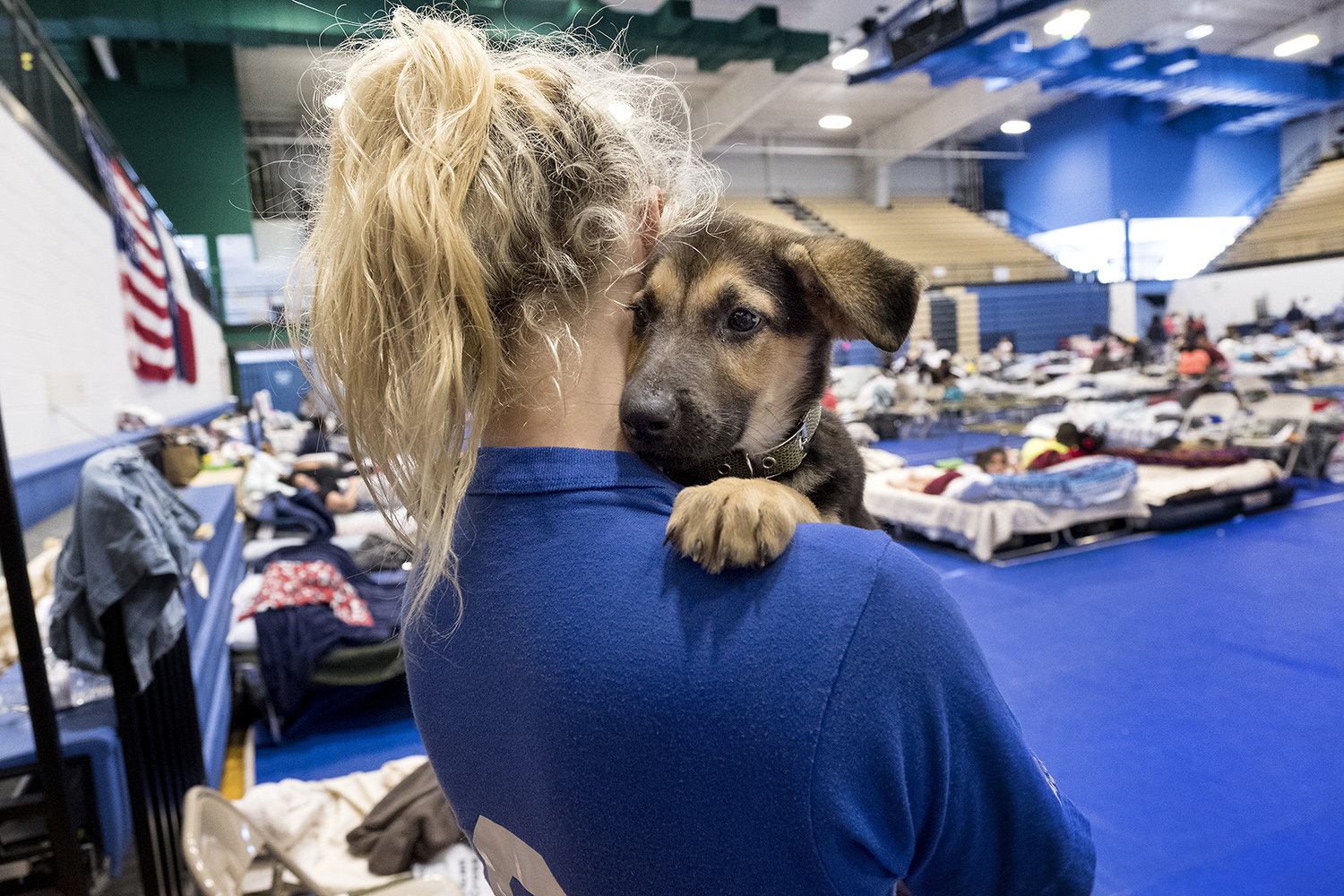 "It was kind of an in-the-moment thing at the wrong time," Olivarez, a concrete construction worker but who's out of work for now, said this week from the Austin shelter. You can't lay out concrete while it's wet, Rutherford added with a small smile.

With the flood waters and rivers still swelling in some communities dotting Harvey's devastating path, it's difficult to determine the exact extent of the destruction, which includes damaged homes, impassable roads, downed trees and power outages. There's no doubt the lives of tens of thousands of Texans have been upended.
But as rescue efforts slowly turn to recovery — which is expected to last several years — those assisting with long-term relief expect that the process will be particularly challenging for low-income Texans like Olivarez and Rutherford. While it won't be easy for anyone to bounce back from the unprecedented destruction Harvey caused, the challenge for those with little to no savings will be even more grueling.
"As hard as it is for everyone to deal with this — disasters can be an equalizer — it's just much harder for individuals who had less to work with in the beginning to recover," said Tracy Figueroa, a lawyer and disaster assistance team manager with Texas RioGrande Legal Aid, which is assisting low-income Texans affected by Harvey.
Massive recovery efforts compounded by inequalities
The number of Texans affected by Harvey is massive. As of Thursday morning, 325,000 people had registered with the Federal Emergency Management Agency as disaster victims, and more than 32,000 people had sought refuge in Texas shelters, federal and local officials said this week. The destruction has been so widespread that Gov. Greg Abbott repeatedly expanded his state disaster proclamation — a list that now covers about 42 percent of the state's population.
Those numbers alone would make for massive recovery efforts, but they'll be further compounded by the fact that Harvey was particularly devastating in many areas that were already grappling with racial and socioeconomic inequality and where the share of residents living in poverty surpassed the state average.
"This flood did not discriminate — that's for sure," Anna Babin, president and CEO of United Way of Greater Houston, said of the widespread floodwaters that engulfed vast areas of Houston and its surroundings. But it's the low-income Texans who were already in financially vulnerable situations that could face longer recovery timelines.
They may have had savings to cover the costs of flat tires, but they won't have enough savings "to address loss of clothing, household goods and potentially loss of jobs," Babin added.
Others are likely to get behind on rent or house payments and face mounting bills on top of costs related to their displacements. "If they're working paycheck to paycheck, how do you absorb these sudden costs?" said Figueroa, who is working with clients along the Texas coastline.
Looking at previous natural disasters, 80 percent of those affected get to a "new normal" within six months and about 20 percent can wait up to 24 months, said Rene Solis, senior vice president at BakerRipley, a Houston-area nonprofit that will work on long-term relief for Harvey.
But it's hard to tell whether those figures will apply to the Harvey recovery, which will be much bigger in scale, he added.
In Houston, which has seen a high number of affected households, more than a fifth of the population — about 480,500 people — lives below the poverty line. Disaster assistance workers are concerned about the massive loss of vehicles, some of which were submerged for days throughout the city, because they often represent a "lifeline" for folks who need to stay employed.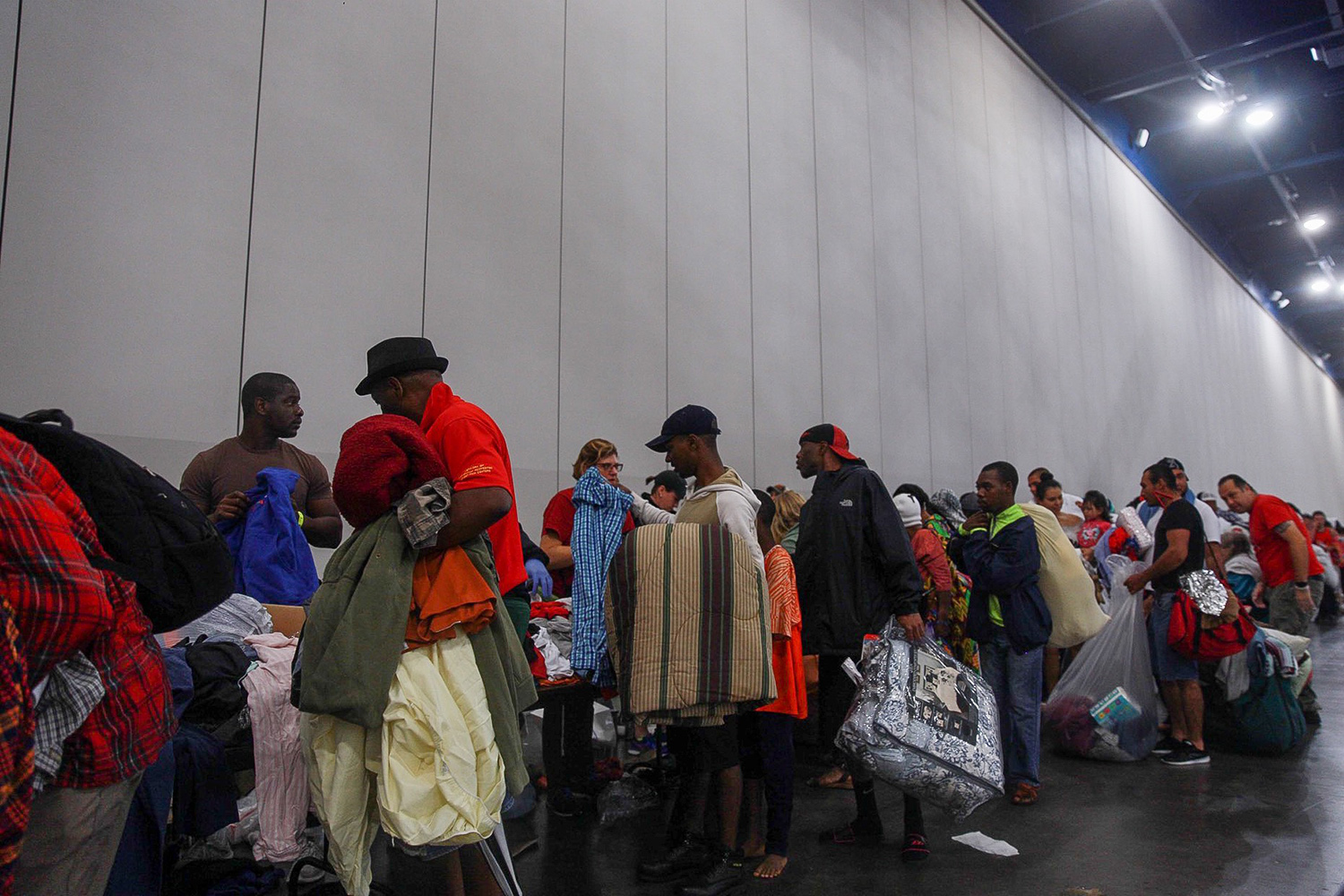 Others displaced by Harvey could also face dire challenges as they begin to seek housing beyond emergency shelters.
Among them are Natascha Morgan, her two children and her husband, who lived in a dilapidated Houston duplex that suffered extensive water damage.
"There was water coming through the roof and light fixtures," Morgan said from the George R. Brown Convention Center in Houston, which was turned into a shelter for Harvey evacuees. Looking to make repairs, their landlord gave them a week to leave the property, Morgan said, but the family has been spending time at the shelter because there's mold inside what's left of their home.
Disaster assistance workers are still far off from fully assessing the number of displaced residents, but Solis is already worried about affordable housing resources.
Ahead of the storm, almost 60 percent of occupied housing units in Houston were home to renters. But with up to 30 percent of Harris County, home to Houston, underwater at some point during the storm, many existing rental properties that could serve as temporary housing are uninhabitable.
Uncertainty ahead
With their eyes set on long-term relief, disaster relief providers are rushing to get those affected by Harvey through the application process for FEMA disaster assistance, which ranges from unemployment benefits to temporary housing to funding for permanent housing repairs.
At some of the emergency shelters, FEMA representatives are on the ground to help those displaced begin that process. Others have been directed to call into the disaster assistance helpline, but those lines have been jammed, according to Olivarez and Rutherford in Austin. They had tried calling twice, but an automated message said that no representatives were available.
"We don't have very many resources to get a hotel or anything like that," Rutherford said. "While we're rebuilding, we won't have anywhere to go so hopefully FEMA will be able to help us with that."
The couple is eager to get back to Rockport to help with cleanup and start rebuilding their lives. Though it's unclear how they'll find a steady income in the meantime, Olivarez thinks he'll eventually find work again because new buildings and new houses, including the one they'll eventually call home, will need new foundations.
But even short bouts of displacement could ultimately affect the lives of those forced to evacuate their homes because of Harvey, including Juan Mora and his wife, Avelina Mares. A day before the storm, the elderly couple fled Port Lavaca, which had little reported damage but no power.
That's left them in the dark about whether the little income they receive — aside from Mora's modest disability checks — will be gone when they return. Mares is a caregiver at a local nursing home whose residents were evacuated and are unlikely to return if there's no electricity.
Even before the storm, her schedule had already been reduced to part-time work, and the couple was pinching pennies, recently selling off some of their belongings in an effort to cobble together as much money as they could.
"Luckily, we put on a garage sale last week to gather some money," a resigned Mora said in Spanish while sitting outside a shuttered school building in San Antonio whose classrooms have been turned into temporary homes. "We're just uncertain about everything right now."
Neena Satija and Kiah Collier contributed reporting from Houston.
Texans need truth. Help us report it.
Independent Texas reporting needs your support. The Texas Tribune delivers fact-based journalism for Texans, by Texans — and our community of members, the readers who donate, make our work possible. Help us bring you and millions of others in-depth news and information. Will you support our nonprofit newsroom with a donation of any amount?
Yes, I'll donate today
---
Information about the authors
Explore related story topics