In Harvey's Wake
This Houston suburb is a magnet for growth and flooding. That's not a coincidence.
Northwest Houston suburbs like Cypress have exploded in population in recent years. Scientists say that's a big reason some neighborhoods here saw devastating floods last year and now from Hurricane Harvey.
CYPRESS — Now that the waters have receded, the peaceful scene at the Stable Gate Subdivision is a deceiving one. Upon driving in after days of rain from Hurricane Harvey, the mostly brick single-family houses seem intact, the streets appear free of water, and cars roam freely.
But look a little closer, and signs of the devastation come into focus. Wet carpet is strewn out onto nearly every front yard. Some yards are piled with plastic bags, drywall, and even doors. And just a short drive away, the streets suddenly turn into rivers.
"I don't have time to talk," said Stacey Summers, a Stable Gate resident the Texas Tribune and ProPublica first spoke to last year — after her home had taken in more than a foot of water in the devastating "Tax Day" floods of April 2016.
During those floods, Summers and almost everyone in her neighborhood saw their homes take in water, and many had to evacuate by boat. Most had never seen their homes flood in the area's 15-year history, prompting local media to proclaim, "Subdivision never flooded, until it did, and residents want answers."
But scientists say residents of Stable Gate, and those neighborhoods surrounding them, have long been sitting ducks for this type of event. And just a year and a half after the Tax Day floods ripped through these communities, Hurricane Harvey has dumped even more rain on the area. Summers' home once again flooded; piles of drywall, a Shop-Vac and what appeared to be brand new doors removed from their hinges sat in her front yard.
The Texas Tribune and ProPublica profiled this northwest Houston suburb of Cypress last year to highlight how development in the region is contributing to more severe flooding.
Danny Gabriel, who also owns a home in Stable Gate, has seen that firsthand. He bought the house in 2003, and it's now flooded two years in a row, during Tax Day last year and then Harvey — even though it is not officially in a floodplain. (Luckily, Gabriel bought flood insurance anyway. "I'm from Louisiana, so I know about flooding," he said.)
The first time there was any kind of "water event" after he moved, Gabriel remembered, water "came up to the sidewalk. The next time, it came up to my yard. Then the next time it came up to the walkway, and then, with the Tax Day flood it came in. And it was just getting worse and worse and worse." Harvey's rain sent about 7 inches of water into his house.
Because all the water in this area drains into Cypress Creek, it's called the Cypress Creek watershed. And scientists say the increased frequency and severity of floods that residents are experiencing is in part because of explosive growth here. That growth has paved over much of the pasture and prairie land there that once absorbed floodwaters. It's also occurred in and near known floodplains — which experts say is dangerous and irresponsible.
In the 1990s, as the population started to climb, two major floods hit the area — both considered "500-year" events, which should have just a 1 in 500 chance of occurring in any given year. The Tax Day floods of April 2016 once again caused portions of the area to reach 500-year flood levels. And during Harvey, official readings showed that some parts of Cypress Creek got high enough to surpass all of those previous records.
Growth accelerated after Tropical Storm Allison in 2001, which had been the worst rainstorm to befall Houston until Harvey dethroned it. (Stable Gate, for instance, was built post-Allison.) Between 2000 and 2010, the Cypress Creek watershed's population grew by nearly 70 percent to a population of 587,142 — equivalent to that of Milwaukee. But some neighborhoods existed long before that and had also never flooded until now. They are not officially in floodplains, and so many residents didn't buy flood insurance — like Matt Turner and his wife, Laura.
When the couple bought their decades-old house in Cypress five years ago, "the house technically wasn't in the floodplain at the time," Turner explained. Then, after water came into their yard during the Tax Day flood last year, they discussed buying insurance but never got around to it. Now it's too late; 8-10 inches of water seeped into their home earlier this week and it will likely cost them tens of thousands of dollars to repair.
"As soon as we can, we're getting flood insurance," Turner said, as friends wielding hammers and other heavy-duty tools helped him and his wife tear out the entire first floor of the home. Over the past few days, Turner said he's started to learn more about a local group called the Cypress Creek Flood Control Coalition, which has advocated for smarter growth in the area since the 1990s.
"We keep on tearing up the ground and putting concrete on it," Turner said. "My fear is that six months from now, everybody kind of forgets ... politicians forget, citizens forget."
Dick Smith, the founder of the coalition, told the Texas Tribune and ProPublica last year that he couldn't even convince county officials to at least plan for the impacts of explosive growth in the region.
Smith, who also lives in Cypress, could not be reached on Wednesday. His home was under several feet of water and neighbors said they believe he evacuated.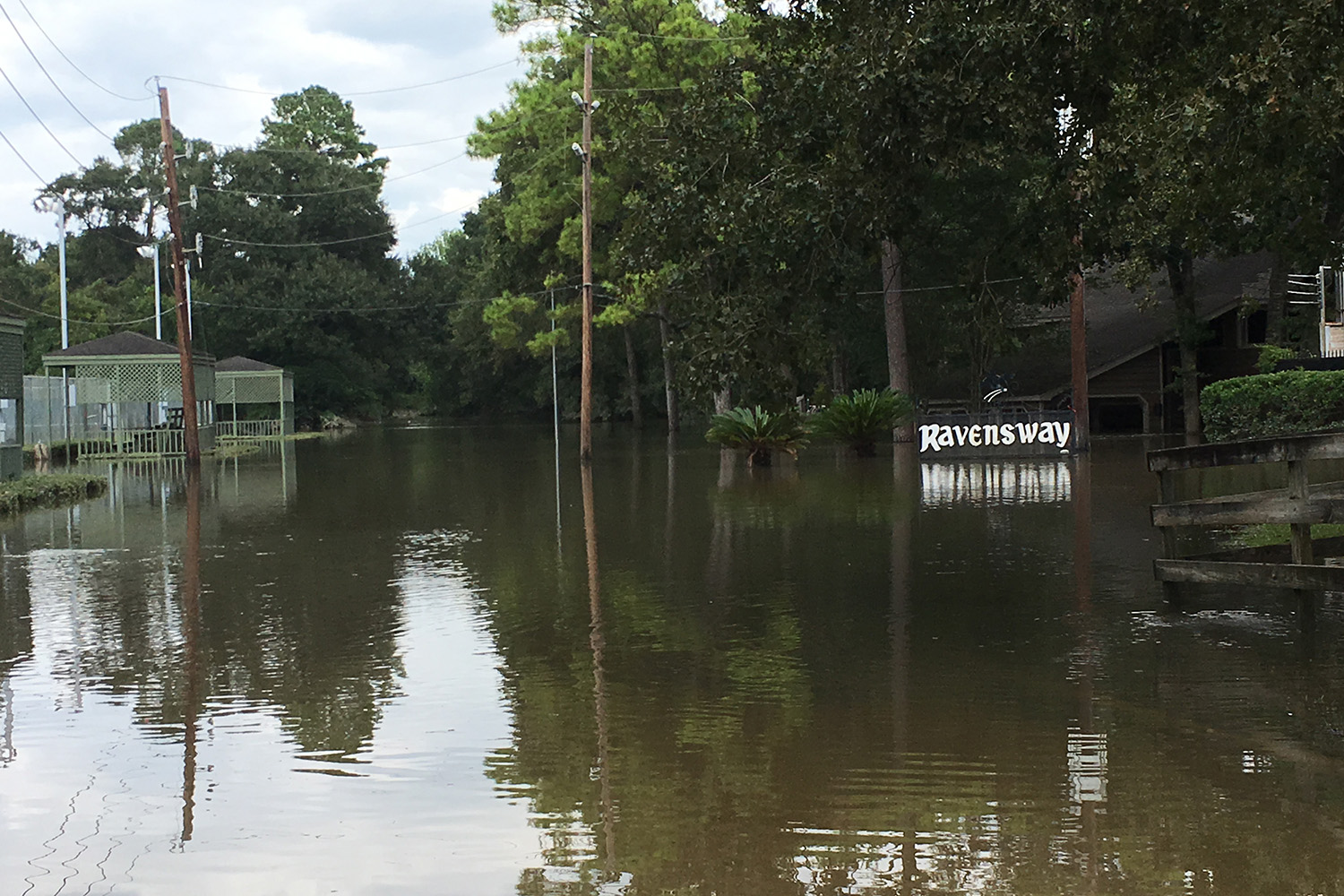 The U.S. Army Corps of Engineers and county officials have been talking for years about managing growth in the Cypress Creek watershed. Both agencies have research to show that development there may have made flooding worse for the region. That includes research into a phenomenon that forces some excess rainfall in the area into Addicks and Barker Reservoirs — massive basins that were built in the 1940s to protect central and west Houston.
But a push for growth in northwest Harris County — which has some of the last remaining undeveloped land in the Houston region — has made serious discussions about the issue difficult. Officials would like to change development regulations there and even build another reservoir to hold excess floodwaters, but they've made little progress despite years of talks.
For now, Danny Gabriel says he thinks there have been some improvements to the Stable Gate subdivision since the Tax Day floods. He believes that small projects to improve nearby drainage are one reason his home actually took in less water in it than during the Tax Day flood — even though Harvey dumped far more rain onto his neighborhood.
Still — he's ready to get out. He's already bought a new house in a neighborhood west of Stable Gate, on ground that's 15 feet higher. "We're high and dry back there," he said, although the new home is trapped between two impassable waterways right now.
The next challenge will be selling his old house. But he's hopeful. Gabriel said he and his wife just met a real estate agent in the neighborhood who recently sold her own house after it flooded during Tax Day, and has sold 4-6 more homes in the area.
"She told us, get [our house] fixed up," Gabriel recalled. "I'll be able to sell it."
Editor's note: Neena Satija is a reporter for The Texas Tribune and Reveal, a public radio show and podcast from the Center for Investigative Reporting and PRX.
Kiah Collier contributed reporting.
Texans need truth. Help us report it.
Independent Texas reporting needs your support. The Texas Tribune delivers fact-based journalism for Texans, by Texans — and our community of members, the readers who donate, make our work possible. Help us bring you and millions of others in-depth news and information. Will you support our nonprofit newsroom with a donation of any amount?
Yes, I'll donate today
---
Information about the authors
Explore related story topics