Hey, Texplainer: Will Texans ever get a remedy for the state's alleged illegal redistricting?
If judges ultimately agree that Texas' current political boundaries discriminate against minority voters, we could see new maps ahead of the 2018 elections. Judges could also impose a more consequential penalty.
Texplainer

Welcome to The Texas Tribune's "Texplainer" series, where we answer questions from readers like you.
More in this series
Today's Texplainer is inspired by a question from Texas Tribune reader Sylvia Harrington.
Hey, Texplainer: The courts have scolded the state for intentional discrimination against minority voters — is there a way to remedy this?
A three-judge panel in San Antonio this spring delivered a pair of rulings that, at first glance, would seem to shake up some political races across Texas.
The first ruling was that the state Legislature intentionally discriminated against minority voters in redrawing the state's congressional boundaries in 2011. The second was that lawmakers did the same in drawing their state House map and violated either the U.S. Constitution or the federal Voting Rights Act by intentionally diluting the strength of minority voters statewide and in a host of individual House districts.

In both cases, the court ruled, Republican leaders sought to draw districts to weaken the voting strength of Latino and black Texans — a soaring population that's more likely to choose Democrats.
But those rulings didn't immediately change the maps or otherwise penalize Texas lawmakers. That's because the maps drawn in 2011 never took effect. Judges tweaked the maps ahead of the 2012 elections — a move meant to be temporary. Lawmakers permanently adopted the judge-approved districts in 2013, seeking to halt the lawsuit.
Those are the maps the state has used for the past three election cycles — and defended during a weeklong trial last week before the same federal judges in San Antonio. The main argument against the maps, according to minority rights groups, is that they fell far short of fixing the problems the judges identified.
Texas Attorney General Ken Paxton's office denies that lawmakers illegally used race to draw the boundaries, saying they were motivated only by partisanship. Paxton's lawyers also argue that adopting the court-tweaked map should insulate the state from allegations of discrimination.

This is an incredibly complicated legal battle. "I don't think there's ever been a more exhaustive attempt to redraw a map, than the one here in Texas," John Alford, a political science professor at Rice University, testified at last week's trial. To learn about the specifics, go here, here and here.
Of course, there's no way to look back and alter the results of elections already conducted using the disputed maps. But a ruling on the current maps could yield new boundaries that more closely reflect the size of the state's minority electorate. This could potentially lead to a more consequential long-term remedy: federal supervision of elections.
What might new maps look like?
There's no sure-fire way to know what new congressional and House maps would look like.
When a state is found to have violated either the U.S. Constitution or the Voting Rights Act, the courts typically give the state Legislature a chance to redraw its maps. However, because the 2018 election cycle is right around the corner, it's also possible the federal judges would draw new maps themselves.
During last week's trial in San Antonio, several plaintiffs, including Margarita Quesada of San Antonio, offered congressional and House district maps they argued could fix alleged voting rights violations while meeting legal standards, including this one: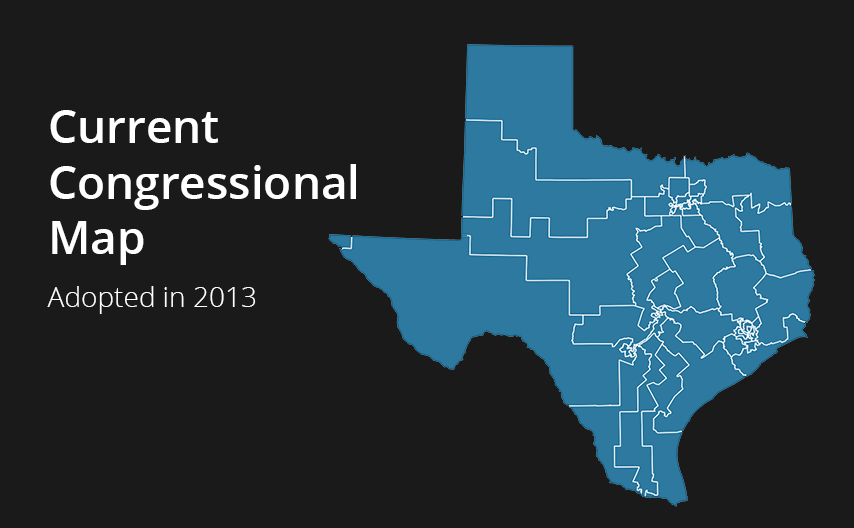 What's this about federal supervision?
Republicans have feared the federal government could come in (again) and place Texas back on the list of state governments required to seek federal approval — a process known as preclearance — before drawing their political maps or making new election laws.
In 2013, a Supreme Court ruling — Shelby v. Holder — wiped the list clean, however, freeing Texas and other jurisdictions to change election and voting laws without federal permission.
But this didn't get Texas off scot-free.
If the three-judge panel that heard the case last week finds that the state intentionally discriminated against minority voters when it adopted those court-drawn 2013 maps — and that they didn't consider options that would give minorities more of a say in elections — Texas could be in hot water.
Mark Gaber, an attorney representing Quesada in the redistricting case, said he thinks it's likely Texas will get slapped with preclearance again because all the recent court rulings have gone against the state and the judges in last weeks hearing seemed skeptical of the state's arguments.
"The Legislature has certainly had the opportunity to redraw the maps, and they declined to do that," Gaber said. "Texas has not been without the opportunity to fix these problems."
Disclosure: Rice University has been a financial supporter of The Texas Tribune. A complete list of Tribune donors and sponsors is available here.
Texans need truth. Help us report it.
Independent Texas reporting needs your support. The Texas Tribune delivers fact-based journalism for Texans, by Texans — and our community of members, the readers who donate, make our work possible. Help us bring you and millions of others in-depth news and information. Will you support our nonprofit newsroom with a donation of any amount?
Yes, I'll donate today
---
Information about the authors
Explore related story topics