"Bathroom bill" testimony runs late into Tuesday evening
The legislation, Senate Bill 6, would require transgender individuals to use the multi-stall bathrooms and locker rooms in schools and other government buildings that match their "biological sex," as well as nix some local anti-discrimination laws.
Editor's note: This story has been updated throughout.
"I mean, all we gotta do is tinkle and get out."
That's how 8-year-old Marilyn Morrison, a transgender girl from Grapevine, matter-of-factly explained her take on the issue to members of the Senate State Affairs Committee on Tuesday as they convened the first public hearing on the so-called "bathroom bill," a polarizing piece of legislation that has sparked intense debates in Texas on discrimination, sexual predators and potential economic fallout.
As the committee hearing got underway early Tuesday morning at the Texas Capitol, hundreds of people gathered in nearby overflow rooms, with more than 400 signed up to testify on the bill at last count.
The legislation, Senate Bill 6, would require transgender individuals to use the multi-stall bathrooms and locker rooms in schools and other government buildings that match their "biological sex," and it would nix local anti-discrimination laws meant to allow transgender residents to use bathrooms that match their gender identity.
First unveiled in January, the committee finally took up the bill on Tuesday with much of the discussion echoing the disputes and arguments that have been brewing for months over the legislation. And as expected, state Sen. Lois Kolkhorst of Brenham, the bill's author, submitted a revised version of the bill, removing a section that would have increased penalties for certain crimes committed in a bathroom or changing facility and adding a new "legislative findings" section that would write into statute the reasoning behind the legislation.
But the regulations in the bill related to bathroom use and gender remained largely unchanged in Kolhorst's committee substitute.
"I'm proud to offer this bill to try to strike a balance — to protect, defend and give a dignified way as [to] how we move forward," Kolkhorst said at the start of the hearing.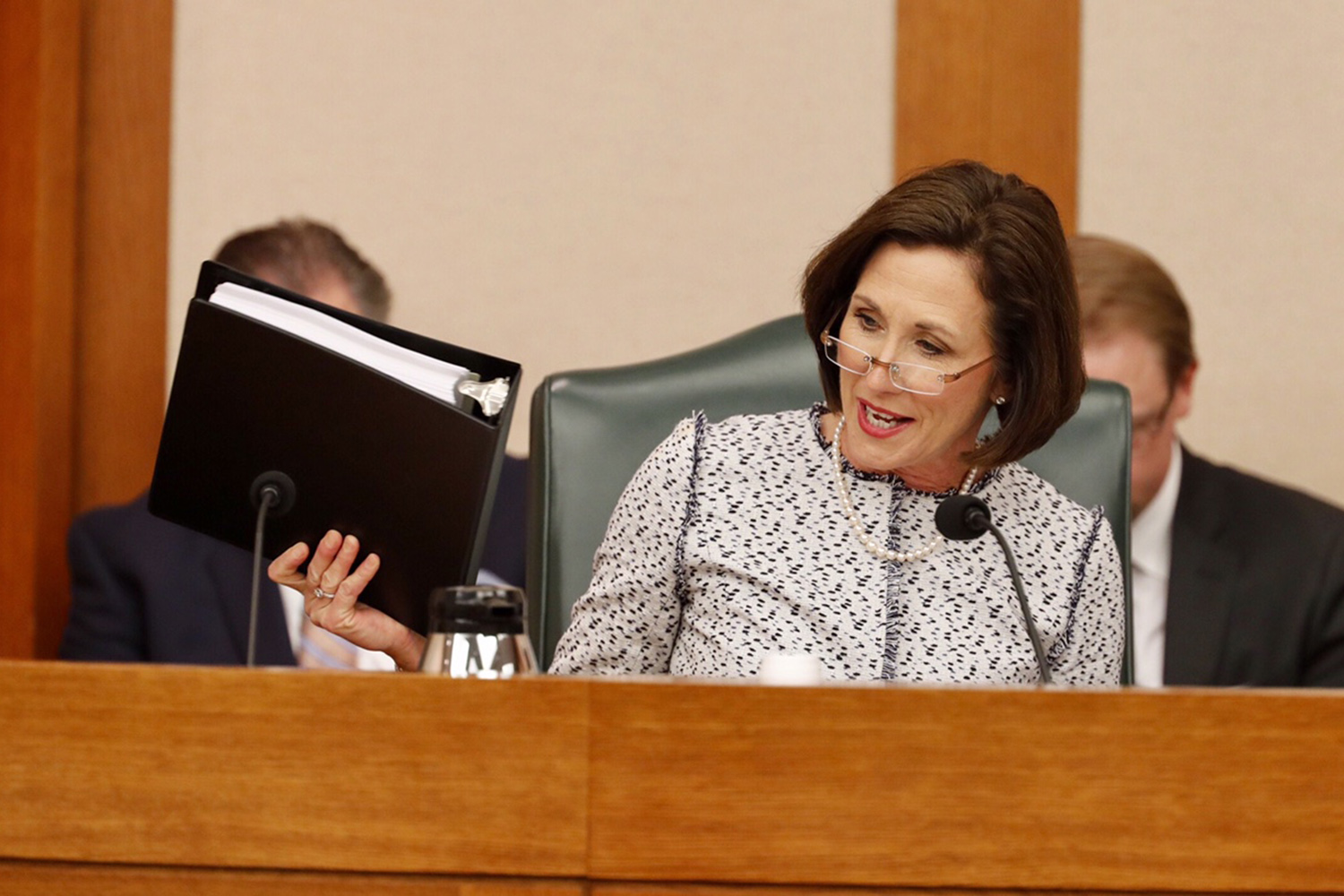 In explaining the need for the legislation, Kolkhorst cited a now-defunct nondiscrimination ordinance in Houston, better known as HERO, and the since-rescinded guidelines by the Obama administration on accommodating transgender students. The legislation, Kolkhorst said, was a necessary balance of "privacy, decency and respect to protect women, children and all people, for that matter."
And the discussion among the Republican senators on the committee largely focused on what's become their go-to defense of the bill: keeping men out of women's bathrooms.
"I have to say that while many have made this about a transgender bill, it's more about someone that will use this bill as an excuse to go into the most intimate places we find ourselves in," Kolkhorst said.
But Democratic senators at the hearing sought to quickly turn the discourse to questions about constitutionality, illegal discrimination and a fundamental misunderstanding of transgender individuals.
"If the intent is to try to [keep] people of the opposite sex [from] entering a bathroom of the opposite sex, why doesn't the bill just say that and not reference biological birth certificates and all the things that it does?" state Sen. Sylvia Garcia, D-Houston, asked Kolkhorst, citing a local ordinance in Houston that already makes it illegal for men to enter women's restrooms. "That's what leads to the concerns that many of the people in my district have that this is discriminatory and this is targeting transgender children."
Pointing to the federal Civil Rights Act, state Sen. José Rodríguez of El Paso focused on whether the legislation would violate portions of the law that could prohibit discrimination on the basis of gender.
Kolkhorst responded that there is an ongoing debate about what protections are included in the law in certain situations.
Pressed by Rodríguez as to whether she was aware of any crimes that have occurred in bathrooms that were carried out by a transgender person, Kolkhorst said none of the perpetrators had identified as transgender. She repeated that the legislation was meant to keep people from taking advantage of trans-inclusive bathroom policies for nefarious reasons.
Rodríguez continued to question Kolkhorst on the matter, pointedly asking at one point whether she believed that a transgender woman was really a man.
"It sounds to me like you feel that that's a man actually going into the women's bathroom — not a woman," Rodríguez quipped. "Is that correct?"
Kolkhorst demurred and said that she believed it wasn't fair that someone can "internally decide that they are male and compete against females."
The bill is expected to make it out of the Republican-controlled committee and into the full chamber. Most of the Republicans in the Senate have already publicly endorsed the legislation, and two of the holdouts — state Sens. Joan Huffman of Houston and Jane Nelson of Flower Mound — seemed to be in favor of the bill during the committee hearing.
Nelson told committee members that she was "surprised this isn't a bipartisan issue" considering that the right to privacy is one of the "most basic rights." And while she explained that she respects the rights of transgender students, she added: "I sure do expect my right to privacy."
Meanwhile, Huffman indicated that her constituents were concerned about bathroom regulations in schools and wanted to ensure that the committee considered both transgender kids — who, she said, were "perhaps confused" — and other children in schools who haven't been exposed to "a lot of sex talk."
"One class should not get super-protection over another," Kolkhorst said in agreement.
Pearland ISD superintendent John Kelly — who was invited to testify before the committee by lawmakers — agreed with that sentiment, calling it inappropriate for someone with "male body parts" to undress in a girls' locker room. The legislation is necessary because it "prevents the attempt by a few to enforce their will on everyone else," Kelly told the committee.
The tone of the hearing shifted slightly when Rev. S. David Wynn, the lead pastor of the Agape Metropolitan Community Church in Fort Worth, sat down to testify before the committee.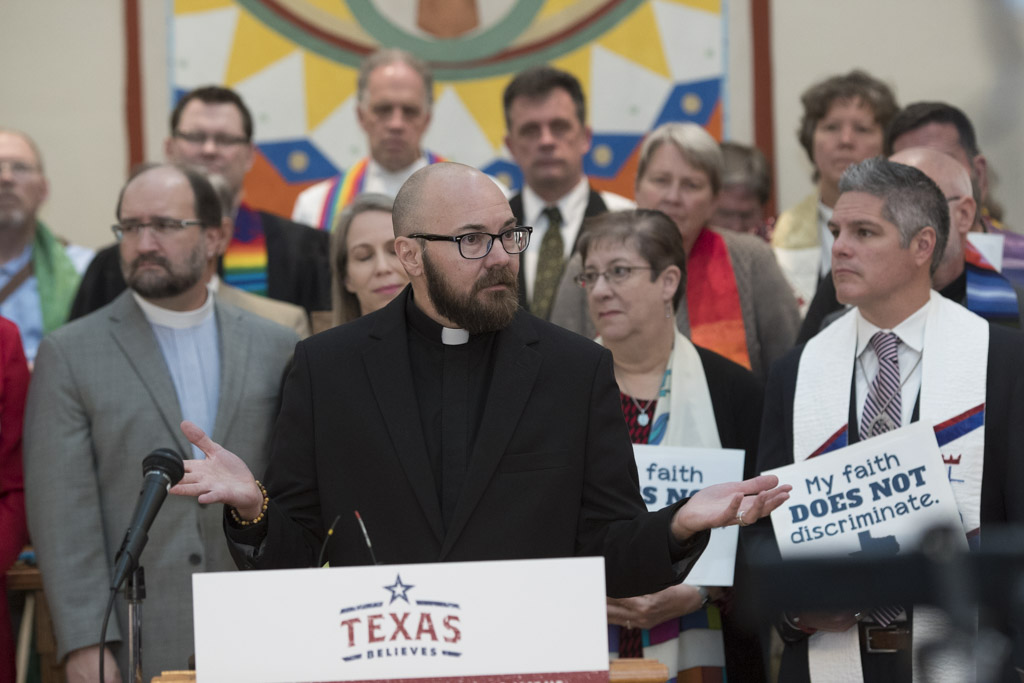 A transgender man sporting a full beard and a black suit, Wynn detailed the complications he would face under SB 6. Because the gender marker on his birth certificate still reads "female," the legislation would require him to go into the same restroom as young girls while visiting government buildings like the state Capitol.
"There's been a lot of conversation, too, about having men in the women's bathroom," Wynn said. "And I guarantee you there's going to be a problem if I show up in a woman's bathroom."
More than nine hours into public testimony, the committee had heard from almost 200 Texans with a large majority speaking against the legislation.
Former school teachers supporting the legislation voiced concerns about the "turmoil" that was being injected into schools over the issue. At least one said she opposed the "concept of transgenderism being forced" on school children.
Among other supporters of the measure were officials with two small school districts, a business owner and an Austin high school junior who all echoed Senate Republicans in raising concerns about privacy.
Meanwhile, local officials came out against the bill. San Antonio City Councilwoman Rebecca Viagran — who said she was testifying on behalf of the mayor, the council and the city — brought lawmakers a letter from the city's police chief, saying "there have been no reported incidents in public restrooms that SB 6 seeks to prevent.
And tourism officials from the state's five biggest cities also told lawmakers they oppose the legislation, saying they've heard from organizations that are reconsidering planned events in their cities — a move that could cost each of them several millions of dollars.
But some of the most poignant and emotional moments came late in the evening when parents of transgender students offered impassioned defenses of their children, asking the committee to consider the detrimental impact the legislation would have on their wellbeing.
With her young daughter comforting her, Louise explained through tears how she felt she failed as a parent for being unwilling at first to accept her transgender daughter.
"We bought clothes that she didn't want," Louise struggled to say. "She didn't feel right and instead knew that her parents had just told her that her happiness did not matter, fitting into society did."
Eventually, they "chose love and support and bought a whole new wardrobe," Louise said.
Wearing a cream-colored dress, the daughter then addressed the committee, recalling an instance in which she was "minding my own business in the boys' bathroom" when a boy "hopped over the stall" to look at her.
"It did not feel right," the daughter told lawmakers. "I thought that even though I had to go into that bathroom, I would still get some privacy, but no ... They shouldn't have been there, and if I ever go into a boys' bathroom again, it will just bring up that same memory over and over again."
Editor's note: The Texas Tribune has chosen to remove identifying information for two people in this story for privacy and safety reasons.
Cassi Pollock contributed to this report.
Texans need truth. Help us report it.
Our Fall Member Drive is underway, and we need your support. The Texas Tribune is a critical source of truth and information for Texans across the state and beyond — and our community of members, the readers who donate, make our work possible. Will you join as a member with a tax-deductible donation of any amount?
Yes, I'll donate today
---
Information about the authors
Explore related story topics