In Texas, lawmakers don't mess with employers of undocumented workers
For all their condemnations of illegal immigration, Texas lawmakers — Republican and Democratic — have shown little interest in cracking down on businesses that employ undocumented workers.

Few Texas politicians have harnessed anger over illegal immigration like Republican Lt. Gov. Dan Patrick, who rose from talk radio host to powerful state leader largely on the strength of his incessant border security screeds.
Though he once embraced a foreign guest worker program himself, Patrick got elected lieutenant governor in 2014 in part by decrying what he called an "invasion" of disease-carrying immigrants and tying his GOP foes to policies that supposedly draw them here. He went on to become the top Texas cheerleader for immigration hardliner Donald Trump's presidential bid.
But there's one arena in the battles over illegal immigration that Patrick hasn't yet entered as lieutenant governor: the private workplace.
Despite promising during the 2014 race to crack down on Texas employers who hire undocumented workers, it was status quo last session in the state Senate that Patrick oversees. And illegal hiring practices in the Texas workplace, which the state has authority to police, have largely gone missing from his public outrage over the porous border and illegal immigration.
That's not political apostasy. It's the default posture in pro-business Texas — and one of the increasingly rare areas where Republicans and Democrats come together in common cause year after year.
Trump's ascendency to the White House may or may not change the hands-off approach in legislatures and Congress to the illegal hiring practices common in U.S. businesses. It certainly has the potential to shake things up in unprecedented ways — as Patrick and other Republicans gush. But if past performance and recent public pronouncements are any guide, Texas leaders will continue going easy on those who avail themselves of low-cost undocumented immigrant labor — particularly in agriculture, construction, janitorial services and the leisure and hospitality industry.
The reason is simple: Business interests rely on undocumented immigrant workers, while pro-immigrant activists fight to protect the labor rights of those facing abuse and exploitation. When the Chamber of Commerce and the American Civil Liberties Union are on the same side of an issue at the Capitol, they're hard to beat.
"We know what an important part immigrant labor plays in Texas, and to suddenly wipe out large sectors ... would have a devastating impact on the Texas economy," said Bill Hammond, head of the influential Texas Association of Business, the state's top business advocacy group. "We need immigrant labor to do those tasks where not enough Americans will."
The left-right convergence — bringing businessmen and liberal immigration activists together — has been key in blocking legislation that would make life more difficult for undocumented immigrants in Texas, said Bill Beardall, executive director of the Equal Justice Center, a nonprofit law firm that advocates for immigrants and other low-wage workers in Austin.
"We begin each session of the Legislature highly concerned that some of these anti-immigrant bills are going to pass," Beardall said. "We've been extraordinarily successful in Texas in preventing that from happening."
Don't ask, don't tell
While the deals get cut behind the scenes at the state Capitol, workers continue to live in the vast shadows of the underground labor market, where a "don't ask, don't tell" system allows employers to accept fake documents, fraudulently treat employees as "independent contractors" or simply pay them in cash under the table — all with little fear of punishment.
The workers are everywhere: at construction sites, behind the kitchen doors of popular restaurants, in the fields and — when the lights go out — emptying the trash and cleaning the toilets in office buildings and shopping centers.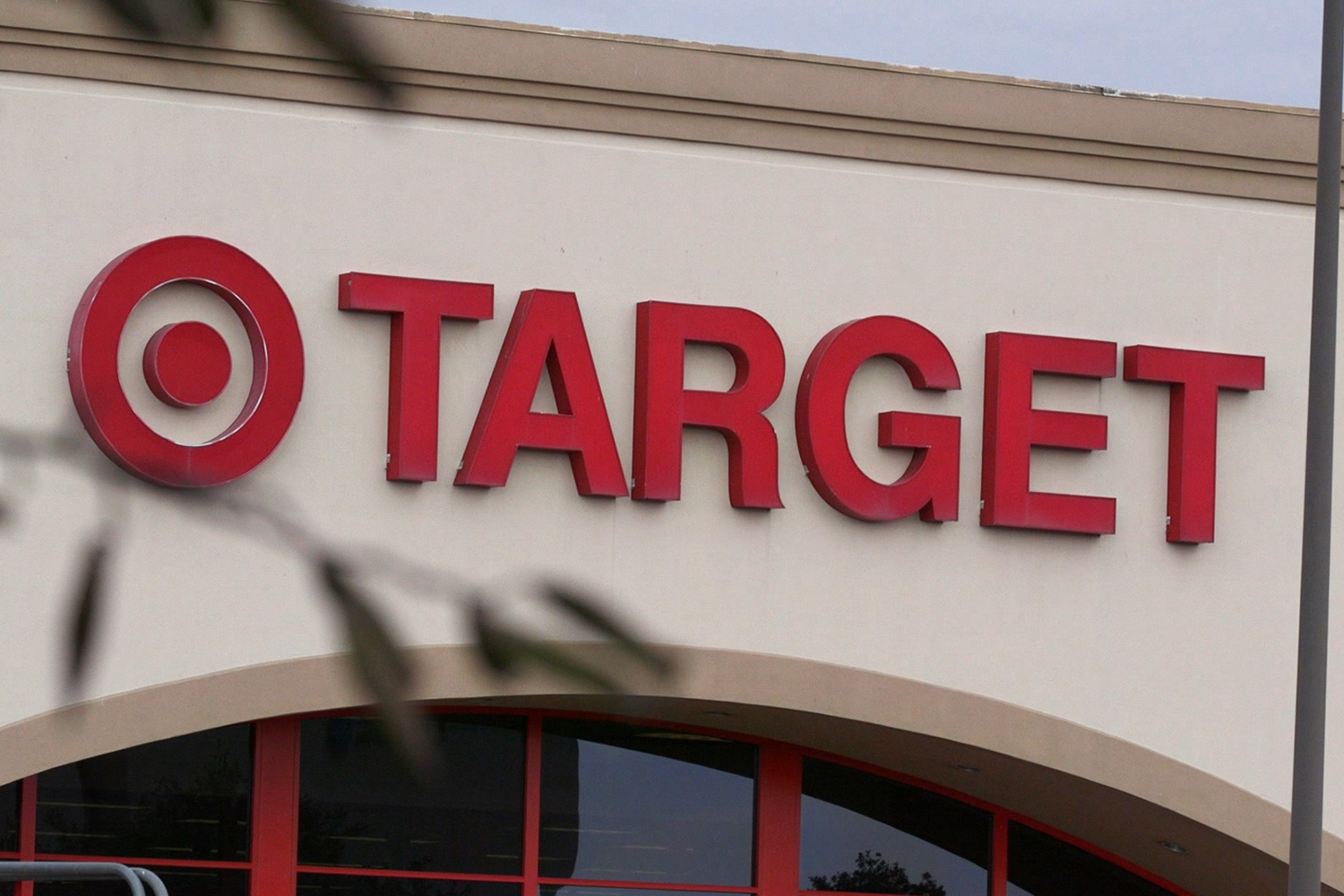 An Austin janitor from southern Mexico, who preferred to use his nickname "Chunco," says he bought fake documents for about $100 to get a job cleaning Target stores. He told The Texas Tribune he and other undocumented workers were paid less than the minimum wage and got no overtime.
With the help of Beardall's Equal Justice Center, Chunco and other workers sued the retail giant for labor law violations. Target denied the allegations, blamed a contractor also named in the class action lawsuit and did not admit fault in a settlement brokered by the Equal Justice Center. The legal status of the workers was immaterial to the claims of wage law violations, so it's impossible to determine from the court records who in the chain of employment might have known that Chunco in the country illegally.
He's now back at work on a custodial crew that cleans Target stores.
"In any company, store or wherever you go, you have to present a Social Security number and a permanent resident ID," Chunco said in his native Spanish. "What they want is to have something in which you identify yourself and that you do the work. They don't know or care how you got it."
Policymakers could potentially fix the problem by legalizing employment that is currently unauthorized, as backers of comprehensive immigration reform and proponents of guest worker programs through the ages have promoted.
Or they could get serious about regulating and heavily penalizing the companies and people who keep hiring undocumented workers — as conservative activists have urged Congress and legislatures to do with little enduring success.
Lawmakers have chosen the path of least resistance instead — political gridlock — allowing the problem to fester and prompting outrage in the electorate.
In the absence of a systematic fix, the high demand for illegal labor makes it virtually impossible to "secure" the southern border, said John Connolly, former executive associate director of Homeland Security Investigations in Washington, D.C.
"If you can come here and get a job and for 50 bucks, buy a Social Security card and some other type of documents and you get a job and you're getting paid, that's the pull. That's why you can come here," Connolly said. "If they're told, 'Look, don't come here anymore, they're enforcing the laws, you can't get jobs,' people aren't going to make that expense and make that long journey to come here to the United States."
A further border security complication: Many of the undocumented immigrant arrivals — nearly 6 out of 10, according to estimates by the Migration Policy Institute — aren't sneaking across a border at all but rather are overstaying legal visas. And many of the tens of thousands of Central Americans arriving at the U.S. border each month aren't running away from the U.S. Border Patrol when they cross. They look for the first uniformed agent they can find to turn themselves in and file a legal asylum claim.
Either way, the word is out: If you can get through all that manpower lined up on the U.S.-Mexico border, there is a job waiting for you hanging sheet rock, changing diapers, mowing lawns, whatever.
"The first thing you're going to do is send back messages to home," Connolly said. "To your hometown or wherever, and say, 'Hey, so and so is hiring and you make your way up here.'"
Business usually wins
While Texas has been under both Democratic and Republican rule, business interests have typically been able to douse a populist brush fire — like on immigration policy — even when the party in power is providing the fuel.
When former Republican Gov. Rick Perry was at the height of his power and sought to shore up his right flank ahead of a run for president in 2011, top business leaders joined with civil rights organizations to shoot down his effort to empower local police to crack down on undocumented immigrants in so-called "sanctuary cities." It was viewed as bad for business.
Those lined up against included one of Perry's largest state donors at the time, the late Houston billionaire homebuilder Bob Perry (no relation), perhaps best known for being the financier behind the infamous "swift boat" ads against 2004 Democratic nominee John Kerry; and Charles Butt, the billionaire chairman and CEO of H-E-B Grocery, a bipartisan political donor known for his support of public schools and opposition to private school voucher initiatives.
Their united opposition to the policing/immigration bill was recorded in an email, obtained by The Texas Tribune and other media outlets, sent June 23, 2011, by premier Austin lobbyist Buddy Jones. It was addressed to former state Rep. (and later Congressman) Pete Gallego, D-Alpine, then on the state House committee considering the bill in a special session whose agenda was announced and controlled by the Republican governor.
"They think it is very bad for Texas," Jones wrote to Gallego. "I wanted you to feel free to tell others that these two giants of Texas business are concerned that this is taking Texas in the wrong direction."
The bill died shortly thereafter.
Not much changed after Gov. Perry left town a couple of years ago. In the last session of the Texas Legislature, lawmakers adopted the moderate vision of Perry's successor, Gov. Greg Abbott, when it came to illegal hiring practices. It was the weakest possible iteration of a dozen bills proposing electronic employment verification (E-Verify) as a way of stopping undocumented immigrants from getting jobs here. Republican leaders didn't allow a public hearing on the tougher approaches, much less an up-or-down vote, legislative records show.
Instead, lawmakers voted to require E-Verify only for employees directly working for state government. Practically speaking, the law has had no measurable impact on government employment practices. The rule was already in effect under an executive order signed by Perry, the former governor. And the agency put in charge of implementing E-Verify rules for state government — the Texas Workforce Commission — says the Legislature never gave it the power to enforce the requirement, meaning compliance operates on the honor system. The agency has no records of anyone being turned down for state work because of the E-Verify rules, but they're not in charge of that, either, so assessing any impact from it appears to be impossible at this point.
The workforce commission is also supposed to police the kind of fraud that enables rampant hiring of undocumented immigrants by employers who dishonestly classify them as independent contractors instead of employees. But since the law took effect in 2014, the agency had penalized just 49 employers and issued only $138,000 in fines — $93,000 of them still uncollected as of late October. The agency says state law keeps secret the names of the people or entities fined.
To put the paltry fines in perspective, an investigative report by McClatchy Newspapers (dubbed "Contract To Cheat") calculated that 38 percent of the 806,000 workers in the Texas construction industry alone (2011 data) were "misclassified" as contractors, the highest of the states the news outlet studied.
A huge number of them are undocumented.
Abbott declined to be interviewed for this story. So did the other major state leader who sets the legislative agenda, House Speaker Joe Straus, R-San Antonio. Straus's office released a written statement taking note of bills that might expand E-Verify; it said the speaker was "generally supportive of a guest worker program but also recognizes that such issues are within the purview of Congress and the federal government."
The governor wants Texas to "enhance E-Verify" but did not specify how he would do that in a written statement released by his press office.
"The governor believes the Trump Administration and Congress will deploy the necessary resources this upcoming year to secure our border once and for all," the statement said. "Until that happens, until the border is secure, any discussion of immigration reform is premature. Reforming the immigration system rests solely with the federal government."
Patrick took a single question from the Tribune about his views on policing the Texas workplace. He didn't directly answer what the state might do with its own considerable power to restore the rule of law in the Texas workplace but said with Trump in the White House, Washington had a "real shot" at both securing the border and fixing the nation's immigration woes.
"If we have real legal immigration reform and a president that America really believes has done his best to secure the border, then the question you asked me will be irrelevant in several years," Patrick said. His office declined to answer other questions about Patrick's border and immigration views.
For his part, Abbott explained his go-slow approach on E-Verify in a rare open-ended press conference in 2014, saying the government should set the example for the private sector "before the state goes about the process of imposing more mandates on private employers."
Fast forward to the approaching 2017 session of the Legislature, though, and most of the private workplace appears likely to remain a safe space for private employers who hire undocumented immigrants.

When it comes to mandatory E-Verify, Sen. Charles Schwertner, R-Georgetown, author of the 2015 bill, said extending it to all private employers is a non-starter for now in the Texas Legislature.
"We don't like a heavy hand on business," Schwertner said. "If we can get something done without putting a heavier hand on business, that's kind of the best way to handle it."
Schwertner is proposing instead to extend E-Verify to state government contractors. Most of them are covered already by former Gov. Perry's existing executive order, but Schwertner wants to make it permanent and enforceable. It's too early to say what the chances are for that limited measure.
Patrick's earlier battle
Though knowingly hiring people without proper work documents became a federal crime in 1986, states still have wide discretion to regulate business activity and punish certain companies or individuals that do it. Thanks to a Supreme Court ruling on Arizona's controversial immigration law, states gained the explicit power in 2011 to require private employers to use E-Verify, and at least nine states — Alabama, Arizona, Georgia, Louisiana, Mississippi, North Carolina, South Carolina, Tennessee and Utah — made it mandatory for most or all private sector employers, according to a tally by the National Conference of State Legislatures. How far state regulators go in enforcing the laws varies significantly.
Long before the ruling on the Arizona law, though, a small group of Texas lawmakers in 2009 got the chance to ponder using their own power to punish employers who illegally hire undocumented immigrants in violation of state labor and tax laws. The lead crusader of that ultimately doomed effort in the Senate: Dan Patrick.
Then a rank-and-file state senator, Patrick proposed legislation that would have suspended business licenses to employers who knowingly hire undocumented immigrants and pay them under the table in cash.
"For whatever reason — cheaper labor, a bigger workforce, less accountability or an unfair advantage to their competitors, some employers in Texas choose to operate outside those laws," Patrick said during a contentious public hearing on the bill. "Those employers might prefer to pay a fine when caught. In other words, do it now, ask forgiveness later. This is not the way a business operation in Texas should run."
Patrick said then that the state had clear power to take business licenses away from violators, and he noted the "green light" he got to pursue the crackdown in the form of an official state legal opinion. The author of that opinion: then-Attorney General Greg Abbott, now the governor.
"Federal immigration law allows for the state government to address the employment of illegal aliens in relation to licensing laws," Patrick told the Senate Committee on Transportation and Homeland Security. "I see this as a pro-business bill."
In that view he stood virtually alone, however, and Patrick seemed genuinely perplexed when a parade of business heavyweights unloaded a heap of criticism on his bill.
When the Texas Association of Business panned the measure, Patrick told Hammond, its influential CEO, that he thought he had the group's support in closed-door meetings. Hammond said if he gave that impression he "misspoke."
Patrick's exchange with chicken magnate Bo Pilgrim, founder of Pilgrim's Pride, was more illuminating and entertaining. Pilgrim is no stranger to the legislative process or the use of political influence in matters of business regulation.
In 1989 the folksy chicken processor grabbed national headlines for passing out $10,000 checks in the (then Democratic) Texas Senate in a bid — ultimately successful — to gain more protections for business owners who face lawsuits from injured workers.
In the 2009 hearing, Pilgrim confronted Patrick with a passage from the Bible, Leviticus 19:34, urging that the "aliens" among us be treated as though they were native-born.
"It don't state where it's a legal alien or not," Pilgrim scolded in his deep East Texas drawl.
Patrick tried to convince him that the bill could help companies like Pilgrim's because it would ensure unscrupulous competitors don't undercut the company by illegally hiring cheap, imported labor.
Pilgrim didn't budge. He urged Patrick to lay off state employers and instead focus his efforts on convincing a gridlocked U.S. Congress to pass sweeping immigration reform. In the meantime, he said undocumented workers will continue to flock across the border in search of work.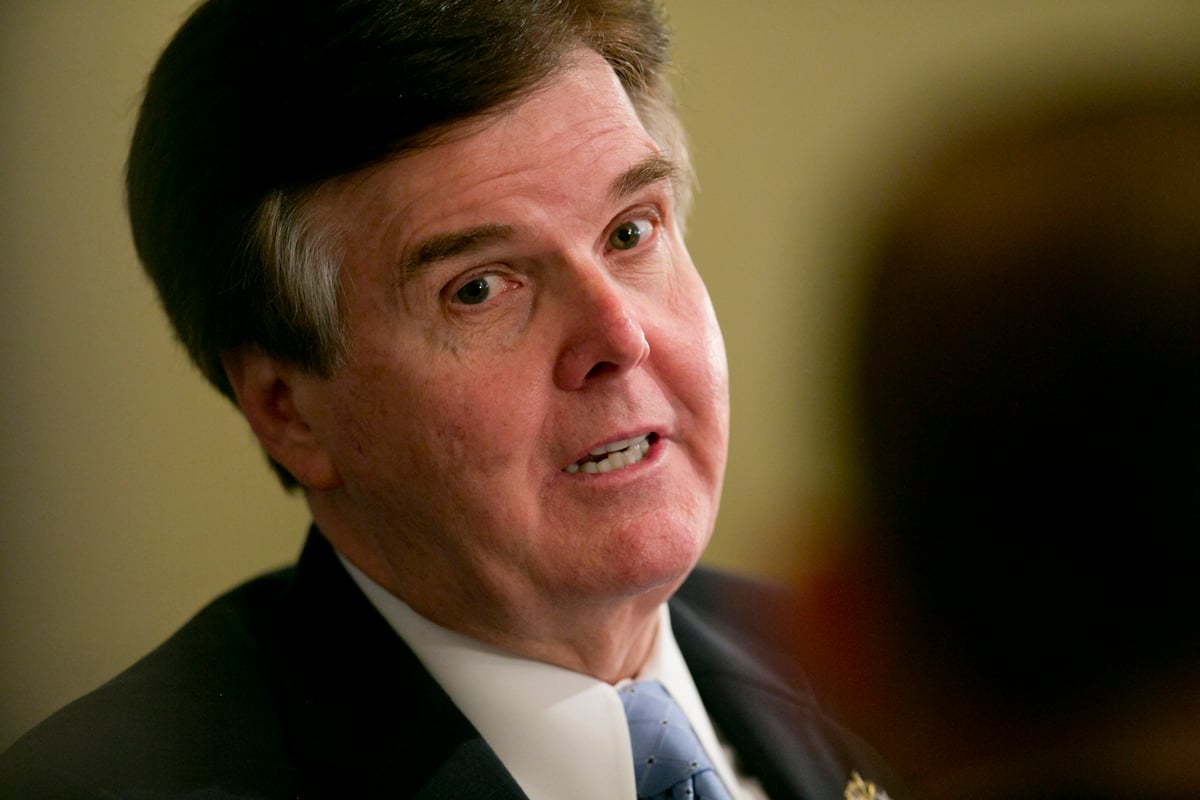 That's when Patrick reiterated his support for giving eventual legal status to foreign workers.
"I join you. We need to have a way to bring the workers here we need," Patrick answered. "But we in Texas cannot wait for the federal government to act."
As the hearing wound down, Patrick could see the writing on the wall. A virtual Who's Who of Texas business interests joined the Texas Association of Business and Pilgrim in opposing the bill, including representatives of The Texas Farm Bureau, the Texas Association of Builders, the Texas Nursery and Landscaping Association and the Texas Restaurant Association, to name a few.
The bill got closer than these efforts usually do: It went to a tie vote in committee, where it died on party lines — Republicans for it, Democrats against. A day later, on April 30, 2009, Patrick resurrected the measure and it was voted out of the committee, but moderate Lt. Gov. David Dewhurst never scheduled it for a vote on the Senate floor, records show.
"A new slave class"
Almost eight years have passed since Patrick attempted to rein in the worst business practices that, in his view, had turned undocumented immigrants into a "new slave class in this country."
Despite defeating Dewhurst in 2014 and taking the reins in Texas Senate, though, state government hasn't moved any closer to punishing or shaming private employers along the lines Patrick advocated in 2009 and 2013.
Nor has the U.S. Congress delivered the comprehensive fix Patrick said he wanted just days after he was first elected to the Senate: "We should begin to put into place a guest worker program that identifies who is coming to our country so we can stop drugs and criminals at the border and at the same time bring the workers to Texas that our economy needs."
Patrick's press office did not respond to an email asking if Patrick still thinks a guest worker program is needed.
With the 2017 Texas legislative session just around the corner, Patrick and his fellow GOP leaders have another opportunity to solve the border and immigration woes they campaigned on. They have huge majorities in both houses of the Legislature.
While there are no signs yet they'll directly target the employers who continue to give jobs to undocumented immigrants, Republican leaders might again push up against powerful business interests in their drive to ban so-called "sanctuary cities." The devil, as usual, will be in the details.
If their final version defines sanctuary cities as those whose jails refuse to hand over "criminal aliens" wanted for possible deportation by Immigration and Customs Enforcement (ICE), they'll get little blowback from Texas business interests. All Texas sheriffs currently cooperate on such matters with ICE, and only one incoming one, Democratic Sheriff-elect Sally Hernandez of liberal Travis County, has made any serious noise about changing that.
But if they go back to the 2011 playbook that drew the ire of business titans like Bob Perry and Charles Butt — basically changing what immigration enforcement powers local police have — they should expect a fight.
"We don't believe that the state should be dictating to city councils and then police departments with regard to their attitudes and policy of dealing with immigrants," said Hammond of the Texas Association of Business. "It's not the purpose of the police department. That's the job of Immigration and Customs Enforcement."
Disclosure: The Texas Association on Business, the Texas Farm Bureau, the Texas Association of Builders, the Texas Nursery and Landscape Association and the Texas Restaurant Association have been financial supporters of The Texas Tribune. A complete list of Tribune donors and sponsors can be viewed here.
Julián Aguilar, Travis Putnam Hill and Patrick Svitek contributed to this story.
This story is part of The Texas Tribune's yearlong Bordering on Insecurity project.
---
Information about the authors
Quality journalism doesn't come free
Perhaps it goes without saying — but producing quality journalism isn't cheap. At a time when newsroom resources and revenue across the country are declining, The Texas Tribune remains committed to sustaining our mission: creating a more engaged and informed Texas with every story we cover, every event we convene and every newsletter we send. As a nonprofit newsroom, we rely on members to help keep our stories free and our events open to the public. Do you value our journalism? Show us with your support.
Yes, I'll donate today