Analysis: Pulling the Texas House, pushing the Texas Senate
The differences in the House and the Senate aren't solely because of the personalities of their leaders. It's also in how those leaders are elected, and whom they answer to.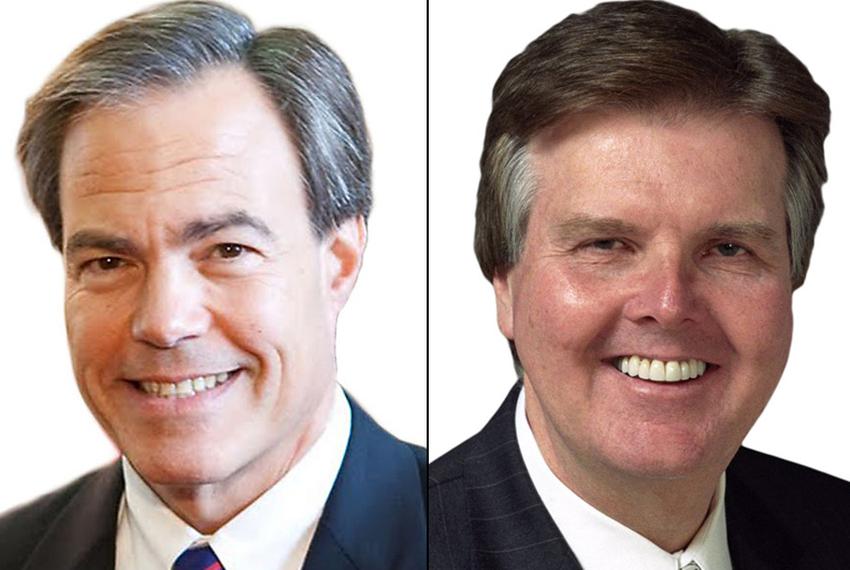 Editor's note: If you'd like an email notice whenever we publish Ross Ramsey's column, click here.
Part of House Speaker Joe Straus' job is to represent the people who made him speaker — the members of the Texas House.
Lt. Gov. Dan Patrick has a different setup — he's got to get senators to go along with him. Patrick is pushing a package of 30 separate pieces of legislation ahead of next year's legislative session. The speaker talks in general terms about what he hopes the Legislature will do.
Straus summed the difference up nicely in an interview on Tuesday: "I think House members would string me up if I said, 'Here's your bill. Pass it.'"
He's right about the House members, and if you read that carefully, you'll see he got in a jab at both Patrick and the senators carrying his bills.
This is more about the two chambers than about the two men who lead them. Straus and Patrick have different constituencies. The speaker is elected just like all of the other House members — in his case, from a district in Bexar County. Then the members of the House choose one of their own to preside. Straus has won four terms in a row and appears destined to win a fifth when lawmakers meet in January. His mandate, such as it is, comes from the other 149 state representatives.
Patrick runs on the statewide ballot, and on his own; Texas, unlike some other states, does not pair the governor and lieutenant governor candidates as part of a ticket. His fortunes are not tied directly to the governor's, and the 31 state senators don't have any more say in what he should do in office than you do. In this instance, they're just like the rest of us Texas voters. He gets his mandate, if at all, in his primary and general elections.
Just as he did as a state senator, Patrick has a list of bills he'd like to pass — legislation that matches up with what he promised voters and with what he thinks they want him to do. When he was a senator, he filed legislation just like everyone else. Lite guvs can't do that. Instead, Patrick has laid out two lists of 10 priority issues and promised one more. He reserved the bill numbers — starting with Senate Bill 1 — that correspond with his list.
The senators who file those bills get to put their names on them, but all of Texas will be able to see that bills numbered 1 through 30 are Dan Patrick bills.
The bet he's making is that the Senate will go along with his legislative wish list, and then that the House will go along, and then that the governor will go along. However it goes, it won't be hard to grade his paper.
Speakers are less accountable. They can do what they want, to a point, but the Senate's presiding officer is much more independent than a House speaker. Patrick's constituents aren't in Austin. Straus' are all in one room — and everyone knows everyone's name.
The tensions between the two chambers are already apparent, an admixture of past battles, new battles, the ideological makeups of the two bodies and the differences in their leaders.
Several of Patrick's priorities have stalled in past years in the House, like a ban on sanctuary cities and variations of vouchers that would allow money that now goes to public schools to follow students to private schools instead. Patrick considers his bid to regulate which bathrooms transgender people can use a high priority; Straus thinks otherwise, saying Tuesday that it is not "the most urgent concern of mine."
Neither house can make the other one pass laws. And the elbowing is a normal part of the legislative process, a 20-week period of ultimatum and compromise that somehow starts with 6,000 or 7,000 proposed bills and ends with a couple of thousand new pieces of legislation.
The only real hammer either side has is time, and the wind-down at the end of the session is a period where brinksmanship and threat come strongly into play.
The only bill that has to pass is the budget that keeps state government running from one session to the next. The Senate could hold its vote on that until the House passes bills Patrick wants, but when the deadline looms, the decision wouldn't be the lieutenant governor's to make.
In that narrow instance, he's like the speaker: He'd have to see if that's what most of his senators want to do.
More columns from Ross Ramsey:
It makes political sense for statewide officials like the governor and the lieutenant governor to do things that attract favorable attention from voters. Speakers of the House live a little farther from the limelight.
The president-elect might be drafting Texas political figures for his administration, but Donald Trump has shown no sign that he's bringing their view of federal power in with them.
Straight-ticket voting is generally popular with the political party in power, but not all Texas Republicans like it. The advantages and disadvantages vary widely by county.
Texans need truth. Help us report it.
Independent Texas reporting needs your support. The Texas Tribune delivers fact-based journalism for Texans, by Texans — and our community of members, the readers who donate, make our work possible. Help us bring you and millions of others in-depth news and information. Will you support our nonprofit newsroom with a donation of any amount?
Yes, I'll donate today
---
Information about the authors
Explore related story topics