UT-Austin gets bigger, but its energy bills and emissions are shrinking
UT-Austin's energy system operates as an island, outside of the electricity grid that covers most of Texas. It's getting more efficient over time, avoiding millions of dollars in fuel costs.
Editor's note: This is the third story in a series about global and local efforts to conserve energy and limit pollution through energy efficiency.
If fierce winds ripped down power lines across Texas' capital city, thousands of Austin residents could be stranded without power for hours — or longer.
But there might not be a glitch for University of Texas at Austin students working in high-powered computer labs and other energy-guzzling research facilities.
UT-Austin's energy system operates as an island, outside of the electricity grid that covers most of Texas. Facilities that started as a heating plant in 1910 and power plant in 1928 have evolved into technology that meets all of the electricity, cooling and heating needs of a state's flagship campus.
That system saves the university millions of dollars each year in fuel costs. It has also slashed carbon dioxide emissions and answers an existential question: how to meet the energy needs of a rapidly growing student body when space is scarce.
"If I have to expand the power plant, it's going to cost me $150 million, what I spent in 15 years here," said Juan Ontiveros, the university's associate vice president for utilities, energy and facilities management. "I don't want to do it. I don't have space for it."
Instead of building more power plants to accommodate its growth, the university relies on a system powered by natural gas turbines. It not only generates electricity but also captures energy that would otherwise be wasted — allowing the campus to heat, cool and send water to its buildings.
Part of this effort depends on embracing an ancient concept that modern technology is continuously improving: district energy, the heating or cooling of water at one centralized power source and piping it underground directly to the buildings it serves.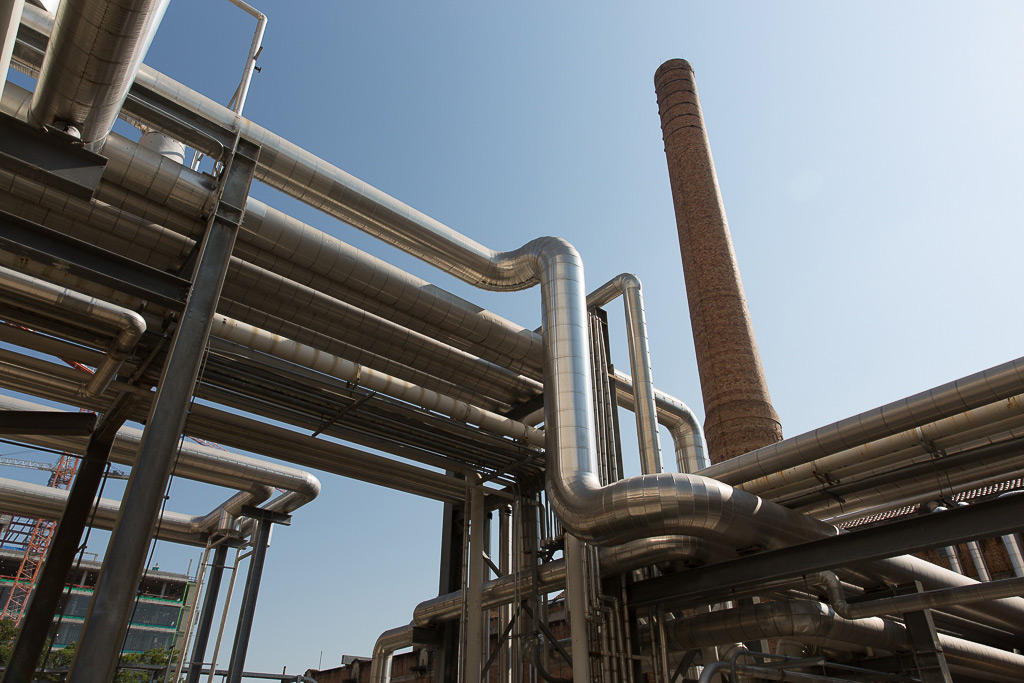 Denmark and other European countries have put district energy schemes at the center of their efforts to wean themselves from fossil fuels and to limit emissions of greenhouse gases linked to climate change. The majority of Danish households and businesses, for instance, hook up to district heating networks, using far less energy than those that depend on individual electric furnaces or boilers.
The Texas energy market, which has many competing power suppliers, doesn't accommodate such systems for homeowners. But the state's refiners, manufacturers, hospitals and college campuses with high energy needs are increasingly focused on slashing their utility bills — and carbon emissions — using various forms of district energy. It's a concept that can impact energy users across the state, as it can reduce the stress on the Texas electricity grid.
And as this idea gets more attention here, UT-Austin remains the Lone Star State's gold standard in maximizing the concept.
Now with 50,000 students and 20,000 faculty and staff members, the UT-Austin campus uses less fuel than it did 40 years ago, a time when it enrolled thousands fewer students (none of whom had smartphone-charging needs) and had to power at least 8 million fewer square feet of building space.
"They are the textbook of success," said Leonard Phillips, director of business development for the International District Energy Association, based in Massachusetts. "What Juan has done there, is to turn [energy efficiency] into a fine economic art."
Houston Methodist Hospital, ExxonMobil Corp, Dow Chemical USA and universities such as Texas A&M, Texas Tech and Rice are among the state's district energy practitioners, but experts call UT-Austin's system — among the nation's biggest — far more advanced.
Ontiveros figures the university has avoided about $90 million in fuel costs during his tenure — by upgrading its equipment and perfecting timing to generate energy at its cheapest and store it for later use.
Sitting in the middle of campus, the Carl J. Eckhardt Heating and Power Complex serves as the university's energy nerve center. With help of two natural gas-fueled turbines, it can generate up to 134 megawatts of electricity, sent to buildings through underground duct banks. The spinning turbines and fired boilers also produce 1.2 million pounds per hour of steam — such heat might be wasted at a less-advanced power plant. That steam turns separate turbines that generate more electricity. Equipment also extracts steam from those turbines, and that energy travels through a network of underground pipes to heat campus. On average, a megawatt-hour of energy can power as many as 100 Texas homes for an hour on the hottest summer day. During average temperatures, it can power many times more.
The plant sends about 30 percent of its electrical generation to four cooling stations, which chill water to 39 degrees. That water, also piped underground, cools buildings across campus.
The university can also shift water into a 4 million gallon storage tank on campus, where it can stay cool until buildings need it. Ontiveros says his ability to store water at certain temperatures is key to his energy-saving mission. It means he can run turbines at full blast (their most efficient stage) at night, when the campus uses less energy as a whole, and then release the cooling during the day. He would use far more energy — and potentially add stress to the power system — by only cooling water as campus demanded it.
UT-Austin can cool buildings on campus using half the energy — or less — than it takes to cool typical buildings elsewhere, according to Ontiveros. On average, the university uses 87 percent of the energy contained in the gas that fuels the system — more than twice what conventional facilities elsewhere use.
"It's about understanding where your strengths are and trying to optimize them. And that's what we're good at," Ontiveros said.
That involves keeping meticulous records and pondering complex math equations in which the variables can change.
Ontiveros attributes most of the university's success to one of his predecessors, a long-time mechanical engineering professor for whom the power complex is named.
Carl J. Eckhardt Jr. laid the groundwork for district energy at UT-Austin, where he wore many hats for 70 years. In 1928, he oversaw construction of a power plant and a tunnel system that still transports energy across campus. At the time, he sought to give the rapidly growing university some energy independence at a time when its local utility — Austin Energy — struggled to offer reliable power from coal-fired boilers (today, UT-Austin can connect to Austin Energy's resources in the rare cases that its system hiccups.).
"He's why we are what we are," Ontiveros said.
Disclosure: The University of Texas at Austin has been a financial supporter of The Texas Tribune.
Reporting for this series was funded through a Transatlantic Energy and Climate Network fellowship, a project of the nonprofit Heinrich Böll Foundation in Washington, D.C. A complete list of Tribune donors and sponsors can be viewed here.
Quality journalism doesn't come free
Perhaps it goes without saying — but producing quality journalism isn't cheap. At a time when newsroom resources and revenue across the country are declining, The Texas Tribune remains committed to sustaining our mission: creating a more engaged and informed Texas with every story we cover, every event we convene and every newsletter we send. As a nonprofit newsroom, we rely on members to help keep our stories free and our events open to the public. Do you value our journalism? Show us with your support.
Yes, I'll donate today
---
Information about the authors