1 energy crisis, 2 futures: How Denmark and Texas answered a challenge
Facing the Arab oil embargo of the 1970s, Denmark shifted from fossil fuels. Texas responded differently. Here's a look at how things went for each.
Editor's note: This is the first story in a series about global and local efforts to conserve energy and limit pollution through energy efficiency.
COPENHAGEN — Like other Danes of a certain age, Iver Høj Nielsen clearly recalls the 1970s Arab oil embargo that plunged his Scandinavian country into an energy crisis.
Lines stretched for blocks near gas stations in this capital city. There were calls to keep the lights off in buildings. Most vividly, Nielsen says, he remembers taking quiet walks down empty streets on Sundays — when a driving ban kept cars and trucks from rumbling to and fro.
"It was very strange," said Nielsen, who was a teenager when the Organization of Petroleum Exporting Countries (OPEC) turned off its spigot to Europe and the United States. "You got the feeling that this was very serious, and you must do something about it."
But Denmark, which is mostly surrounded by the sea and has few homegrown sources of fuel, did do something about it — and it went far beyond temporary cutbacks in oil distribution.
Through an elixir of policies, Denmark's strong central government began shifting from foreign fossil fuels. Now, a country that once ran almost entirely on imported oil is considered a renewable energy powerhouse that uses those sources — and its remaining fossil fuels — more efficiently than most anywhere else.
The World Energy Council, a United Nations-accredited body, this year ranked Denmark No. 1 in its "World Energy Trilemma Index," which scores 125 countries' performances in "energy security, energy equity and environmental sustainability." (The United States ranked 14th in the same index.)
These days, much of the world is focused on a less tangible but more existential crisis: Earth's gradual warming, due in large part to soaring global emissions of carbon dioxide and other greenhouse gases. Denmark's emissions-slashing shift to fuels such as wind and solar and focus on efficiency now plays a major role in its economy and is a source of national pride. In 2009, Denmark hosted international climate negotiations here in its bustling capital. Nielsen, a former newspaper journalist, now works for State of Green, a government-funded campaign to publicize the nation's cleaner-energy economy.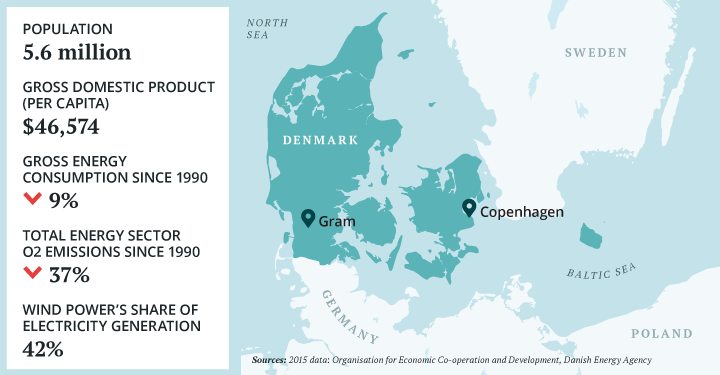 "You can grow the economy without using more energy," he said looking out at Copenhagen from a seat atop the roof of his office building. "You don't have to go back to the Stone Age to be environmentally friendly," he added, reflecting on Denmark's consciousness about energy use into day-to-day life. Here, it goes beyond efficient light bulbs and appliances. A potent symbol of that concept: Just two miles away, construction is underway for a waste incinerator that doubles as a power plant, equipped with technology that captures emissions. Atop it sits a ski slope that will be open to the public.
Denmark was hardly alone in being bedeviled by the oil embargo. A similar energy pinch also spurred calls to cut energy use in Texas, along with a heavy dose of head-scratching about the state's energy future, including suggestions that more renewables and efficiency should play a major role. But Texas ultimately responded differently, building a large fleet of coal plants and creating — but then discontinuing — an official body tasked with pondering the state's energy and environmental future.
Experts caution against drawing a direct comparison between two places with different sizes, different governments, different resources and nuanced histories. Nevertheless, some advocates and energy researchers see missed opportunities in Texas' response to the decades-ago crisis, particularly when they gaze across the Atlantic Ocean at Denmark.
"Texas lost a huge opportunity to reduce costs and pollution by looking at world-class practices to reduce energy consumption," said Tom "Smitty" Smith, who advocated for such practices in Texas — still the nation's biggest energy user — during his 31-year tenure leading the consumer group Public Citizen.
Crisis as opportunity
In 1973, OPEC members stopped shipping oil to the United States and a few other countries — punishment for their support of Israel, which was attacked by a coalition of Arab states led by Syria and Egypt.
Denmark, which relied on oil imports for more than 80 percent of its energy needs, was among those reeling during an embargo that stretched into 1974. Its leaders contemplated: How could they reduce their dependence on foreign supplies?
In the coming decades, the government pushed Danes — largely through tax policy and mandates — toward energy sources such as wood pellets, solar power and a rapidly growing wind sector, which last year churned out a staggering 42 percent of the country's electricity. (Denmark was the first country to build offshore wind farms, harnessing particularly fast-blowing winds.) Natural gas, which burns far cleaner than coal or oil, also played a prominent role after discoveries in the Danish part of the North Sea, though its production is now declining.
Denmark also focused on its cheapest energy resource: efficiency. The country's parliament laid the foundation for that effort in 1976, requiring electricity generators to capture and reuse heat that escapes their spinning turbines and would otherwise waft into the atmosphere. Called "combined heat and power," such plants can utilize up to 90 percent of the fuel put into them, compared with about 40 percent from electricity-only generation, according to the International District Energy Association.
Danish leaders also ensured that local government would approve new heat and power plants at the centers of their communities — not on the outskirts, as is often the case in the United States — to maximize efficiency. These days, more than 60 percent of Danish homes rely on district heating networks: underground pipes that bring in hot water or steam. Those homes don't need less-efficient boilers or furnaces. Here in Copenhagen, population 591,000, nearly every building draws heat this way. And most of that heat is the captured waste from electricity generation.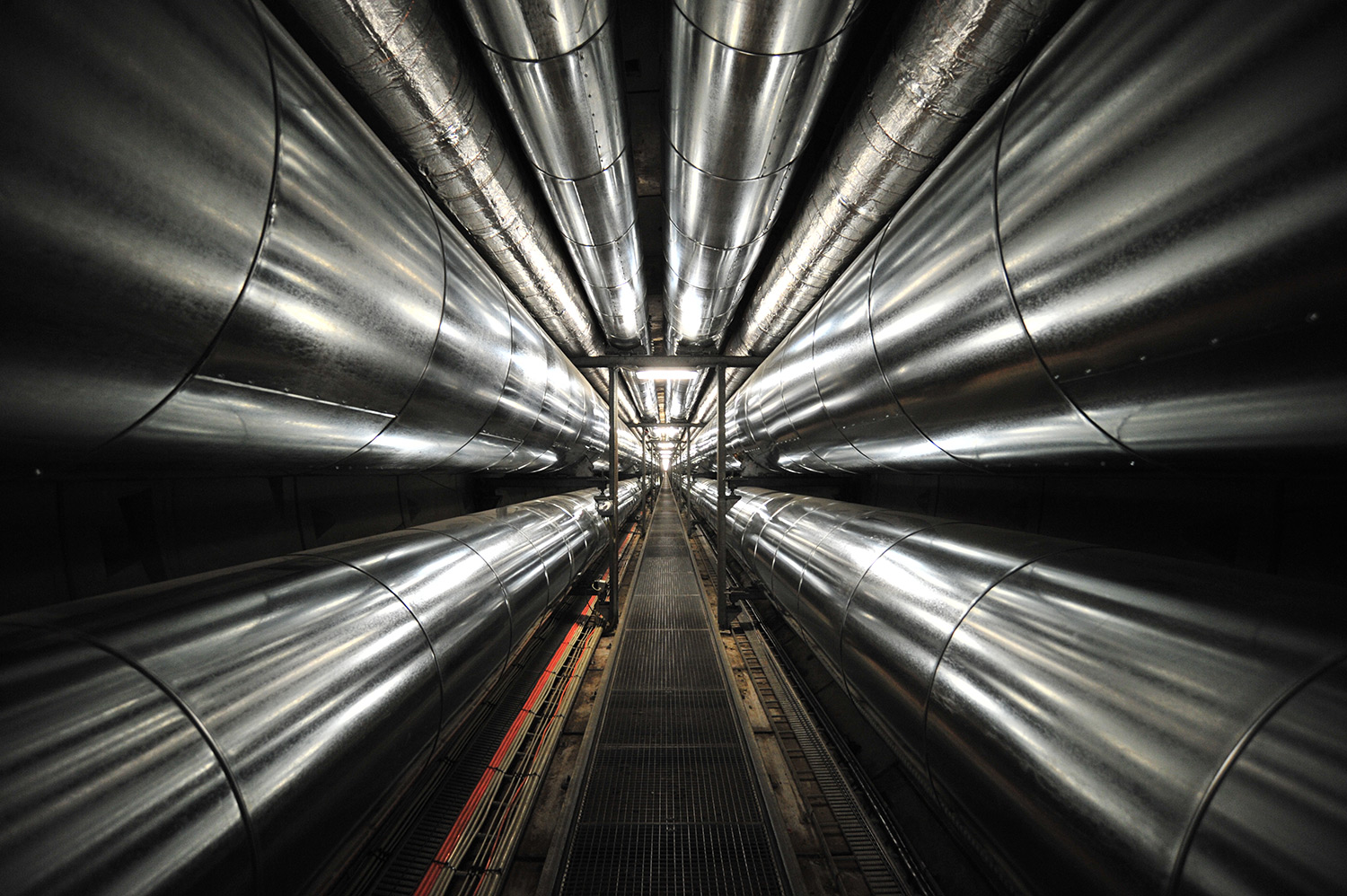 "It's utilizing energy that otherwise you could not utilize," said Lars Hummelmose, managing director of the Danish Board of District Heating.
Over the 12 years before the oil embargo, Denmark nearly doubled its energy use. More recently, however, those numbers have plummeted, even as the nation grows its economy and population. Total energy consumption fell nearly 9 percent from 1990 to 2015, according to Danish Energy Agency data. Over the same period, energy sector carbon dioxide emissions plunged 37 percent.
In an effort to fight climate change, the country has pledged to curb emissions 40 percent from 1990 levels by 2020.
Danish policies make for far higher energy prices than Texans or any American pay per unit of energy — mostly because of taxes, which take up more than two-thirds of residential electricity bills, according to European Commission data. In 2013, Danish households on average paid more than three times what Americans did per unit of electricity, a U.S. Energy Information Administration analysis shows.
But those policies also mean Danes use less energy in the first place.
"It is the taxes that determine the way we are working," said Lars Damkjaer, operations manager for district heating in Gram, a town of about 2,500 in southern Denmark. In 2009, the city built a solar thermal plant that has since expanded to more than 482,000 square feet.
"We are regulated by taxes in everything that we are doing."
But many Danes see taxes on fossil fuels as accounting for their environmental costs.
"The whole energy policy turns on community interests — what is best for the society of Denmark," said Anders Dyrelund, an energy specialist for Ramboll, a major Danish engineering firm.
A different path in Texas
In today's Texas, it might be tough to imagine snaking lines at the gas pump and talk of energy conservation. Thanks to technology like hydraulic fracturing, the state is flush with oil and natural gas — so much that low prices have slowed the state's fossil-fueled economic growth.
But the 1970s were far different. The Arab embargo struck as Texas feared it was running out of oil and natural gas for good. And most of the state's power plants ran on gas. They weren't very efficient, and fuel demands were on pace to double every decade.
In November 1973, a month after the embargo started, Gov. Dolph Briscoe Jr. lamented the "wasteful use of energy in every segment of our society." He called on Texans to conserve, suggesting: "We can give our friend or neighbor a lift to meetings and social functions." And he asked state agencies to use less fuel, buy small cars and set thermostats to 65 degrees in the winter. School districts would also file an "energy conservation plan" with the state.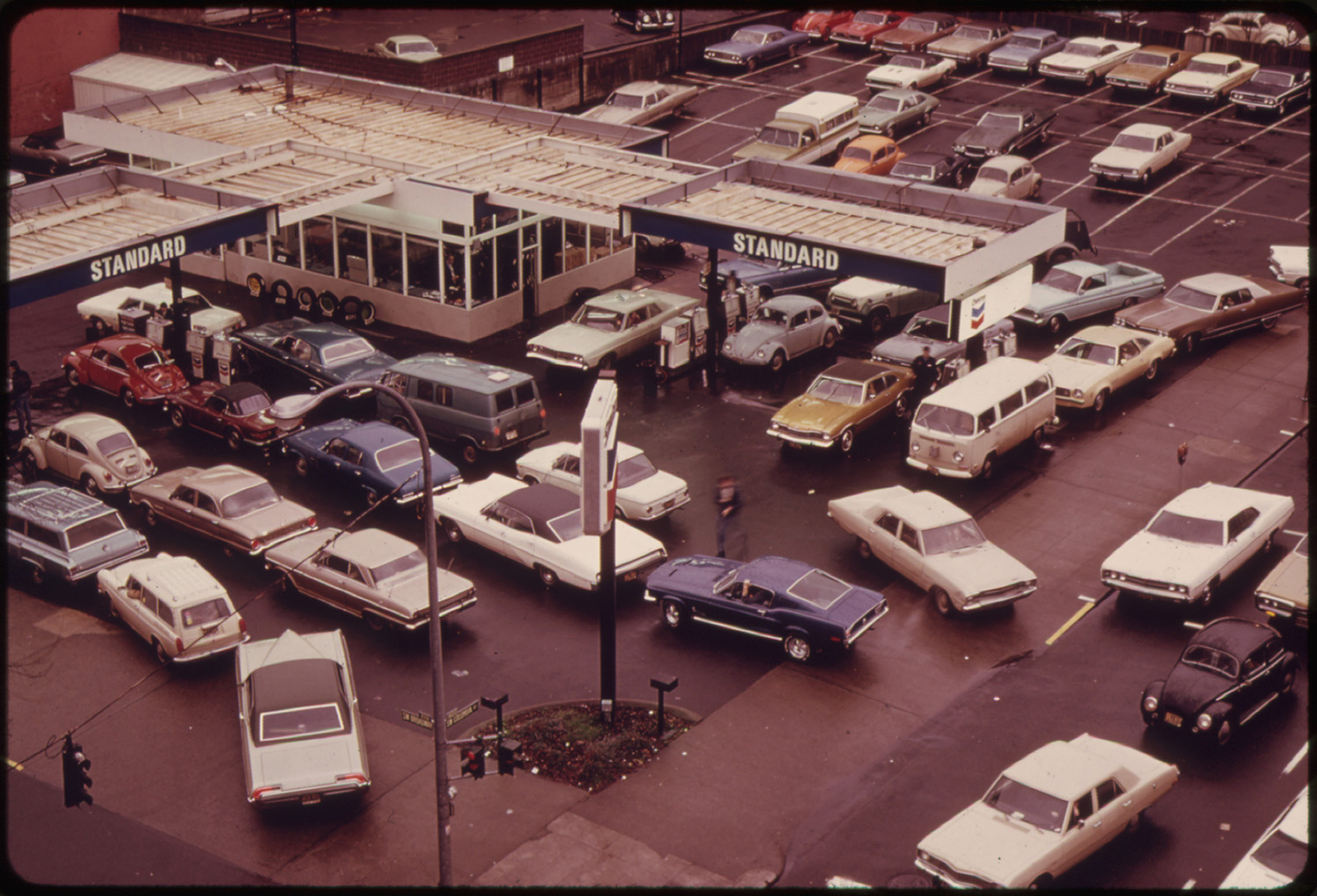 Briscoe, a Democrat, appointed a brigadier general, James M. Rose, to lead an Energy Conservation Task Force. Rose delivered frequent updates on the electricity and natural gas use under the Capitol's pink dome, even adjusting janitors' schedules so they would not waste light at night.
The state ordered utilities to reduce their use of natural gas. And the power sector instead shifted to coal, a fuel now vilified by environmental advocates. Most Texas coal plants — and its two nuclear plants — were built after the oil embargo. Federal policy drove much of that transformation. In 1977, President Jimmy Carter called for energy companies to grow coal production by 400 million tons each year, and he outlined policies "to assure the greatest possible conversion of utilities and industrial installations to coal and other fuels."
Briscoe pushed for an even more diverse fuel mix. Just before the embargo, he formed an energy advisory council chaired by Bill Hobby, his lieutenant governor. In the next few years, the group ordered studies on a variety of energy sources, including wind, solar, biomass and even exotics like algae. It pushed the Legislature to create a fund to develop the fuels — and ideas for mass transit. It also persuaded lawmakers to create the Public Utility Commission, an agency to regulate utilities.
The governor's council eventually morphed into an agency of its own: the Texas Energy and Natural Resource Advisory Council, which brought together state officials and experts to contemplate energy and environmental policy together.
But as energy supply fears ebbed, Texas eventually abandoned its energy conservation campaign. And in 1983, lawmakers under Gov. Mark White abolished the advisory council. Some who were involved in the agency or observed it called that a setback for the state.
"Back then, we were actually talking about energy plans, how to integrate with water issues" — some of the same questions state leaders are still pondering, said Robert King, who served on the council and authored a report on renewable energy. "I think we missed an opportunity by letting the organization go."
King, who now serves as CEO of the Austin-based South-central Partnership for Energy Efficiency as a Resource, said Texas — with its laissez faire power market — has a "very modest" set of efficiency programs with plenty of room to grow.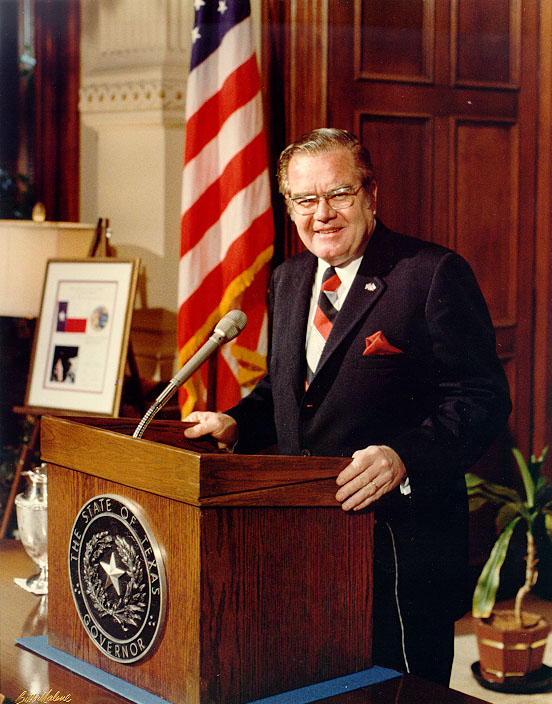 Texas does burn energy more efficiently than it did decades ago because of advances in technology and various federal standards. And in 1999, it became the first state to establish an energy efficiency resource standard — requiring utilities to offset a fraction of their expected energy demands through various efficiency programs. But efficiency advocates say Texas has only tightened such policies modestly more recently, putting it behind several other states.
In September, a national group that promotes energy efficiency ranked Texas 27th among states in progressive policymaking on the issue.
Ken Anderson Jr., one of three members of the state Public Utility Commission, suggests that the competitive market is spurring retail electric providers to get creative in their efficiency programs.
Some, for instance, offer lower rates (or sometimes free power) to customers who use energy during typically low-demand times — like nights and weekends. Others use "demand response," which relies on high-tech thermostats and meters that allow utilities to power down air-conditioners, heaters or pool pumps when demand peaks. In those voluntary programs, providers compensate customers for power they don't use.
King said such developments have helped curb energy use but that they so far fall short of what other states have achieved. In demand response, for instance, analyses show that Texas has only unlocked a fraction of its potential.
Milton Holloway, an energy consultant who oversaw research funding for the disbanded advisory council, said he "always regretted" that it didn't continue and that his program was underfunded compared with similar ones in other states. But if it had continued, would the Texas energy world look dramatically different today? "That's a hard one," he said. "There's always the debate about whether Texas ought to get out and lead the nation or whether we ought to let somebody else make the mistakes and then learn from them — and come in second or third."
With its size and industrial muscle, Texas continues to lead the nation in carbon dioxide emissions, which fluctuate each year (the state polluted more in 2014 than it did in several previous years, but less than it did in 2000, according to U.S. Energy Information Administration data). A more efficient Texas, therefore, could put a significant dent in national emissions.
After the embargo, Texas built up a large wind sector in part by pouring $7 billion into power lines that carry its electricity across the state. The state's turbines generate more power than any other state, and about 10 percent of its electricity generation in Texas. And the solar industry, after a very slow start, is growing fast.
These days, abundant natural gas is edging out less-efficient coal plants.
Anderson suggested that's proof that the competitive market is making the state more efficient. "The market has a funny way of making those decisions," he said. "When government policy tries to do it by predicting the future, historically, government gets it wrong more than it gets it right."
Smith, with Public Citizen, said he's encouraged by some of these trends, but he sees far more room for Texas to grow and he wishes Texas would have done more sooner.
"What we've never figured out is how to enable the big electric, oil and generating companies for energy efficiency," he said, "and that is going to take an entirely new regulatory model."
Reporting for this series was funded through a Transatlantic Energy and Climate Network fellowship, a project of the nonprofit Heinrich Böll Foundation in Washington, D.C. A complete list of Tribune donors and sponsors can be viewed here.
---
Information about the authors
Quality journalism doesn't come free
Perhaps it goes without saying — but producing quality journalism isn't cheap. At a time when newsroom resources and revenue across the country are declining, The Texas Tribune remains committed to sustaining our mission: creating a more engaged and informed Texas with every story we cover, every event we convene and every newsletter we send. As a nonprofit newsroom, we rely on members to help keep our stories free and our events open to the public. Do you value our journalism? Show us with your support.
Yes, I'll donate today