University of Texas/Texas Tribune Polls
UT/TT Poll: Texas voters give tough grades to top officials, institutions
Texas voters give tough grades to federal officials and better grades to state officials.
Donald Trump and Hillary Clinton have left a lot of Texas voters with very unfavorable impressions, but most of the bad reviews for each come from their opposition, according to the latest University of Texas/Texas Tribune Poll.
While it's true that both are viewed unfavorably by nearly three in five of the state's likely voters, there's some good news behind that. Among Democrats, 80 percent said they have a favorable opinion of Clinton. Among Republicans, 65 percent said they have a favorable view of Trump.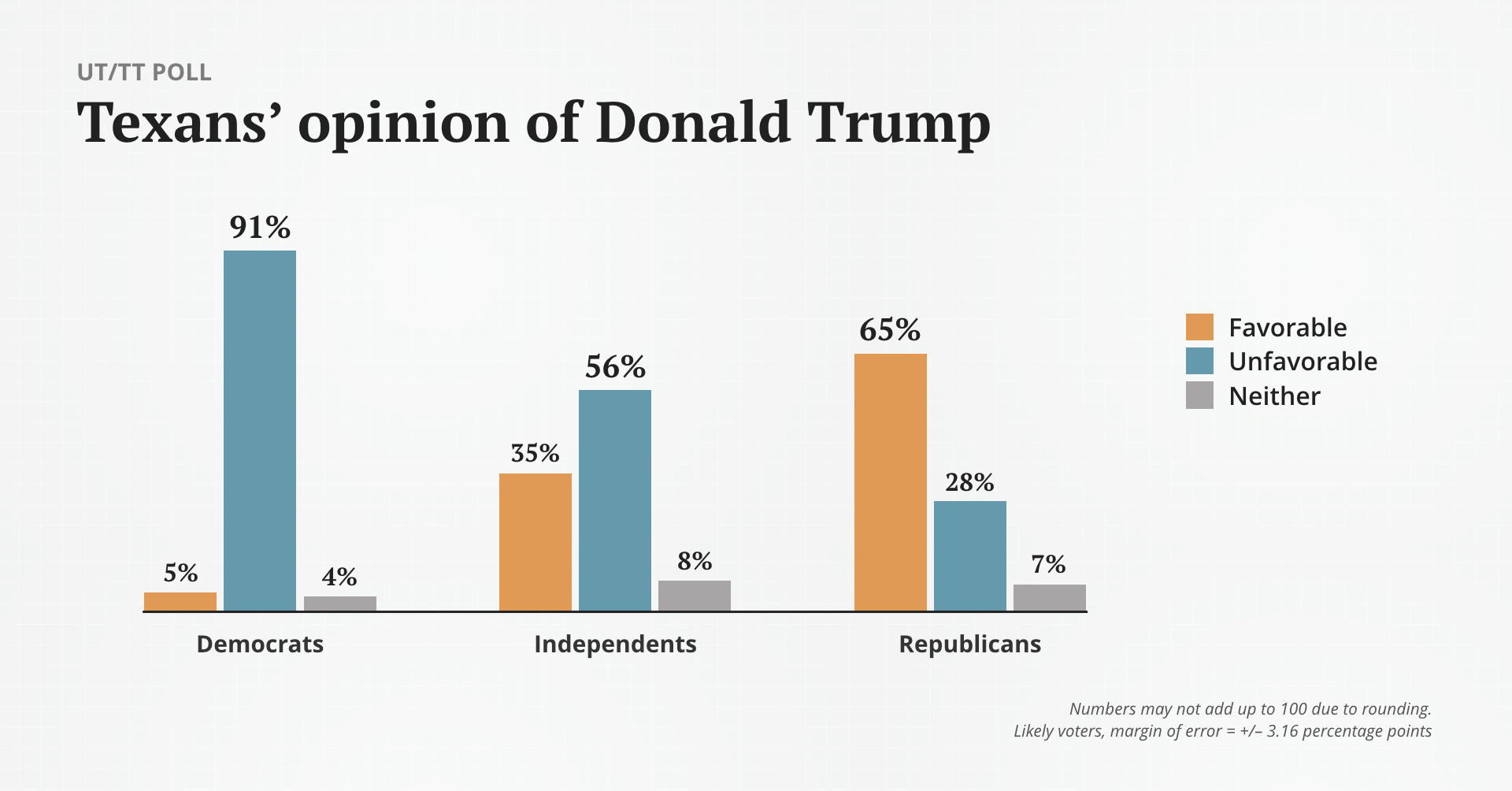 The two nominees have been called the most unpopular candidates for president in recent memory; in Texas, 58 percent of likely voters have unfavorable views of each of them. Only 8 percent of Democrats have an unfavorable opinion of Clinton, but 97 percent of Republican and 85 percent of independents have a negative opinion. Trump gets bad grades from 28 percent of Republicans, 56 percent of independents and 91 percent of Democrats.
Somehow, they have muddled through: Trump, according to the poll, leads the race in Texas with 45 percent of the support to 42 percent for Clinton, with Libertarian Gary Johnson trailing behind at 7 percent and Green Jill Stein at 2 percent.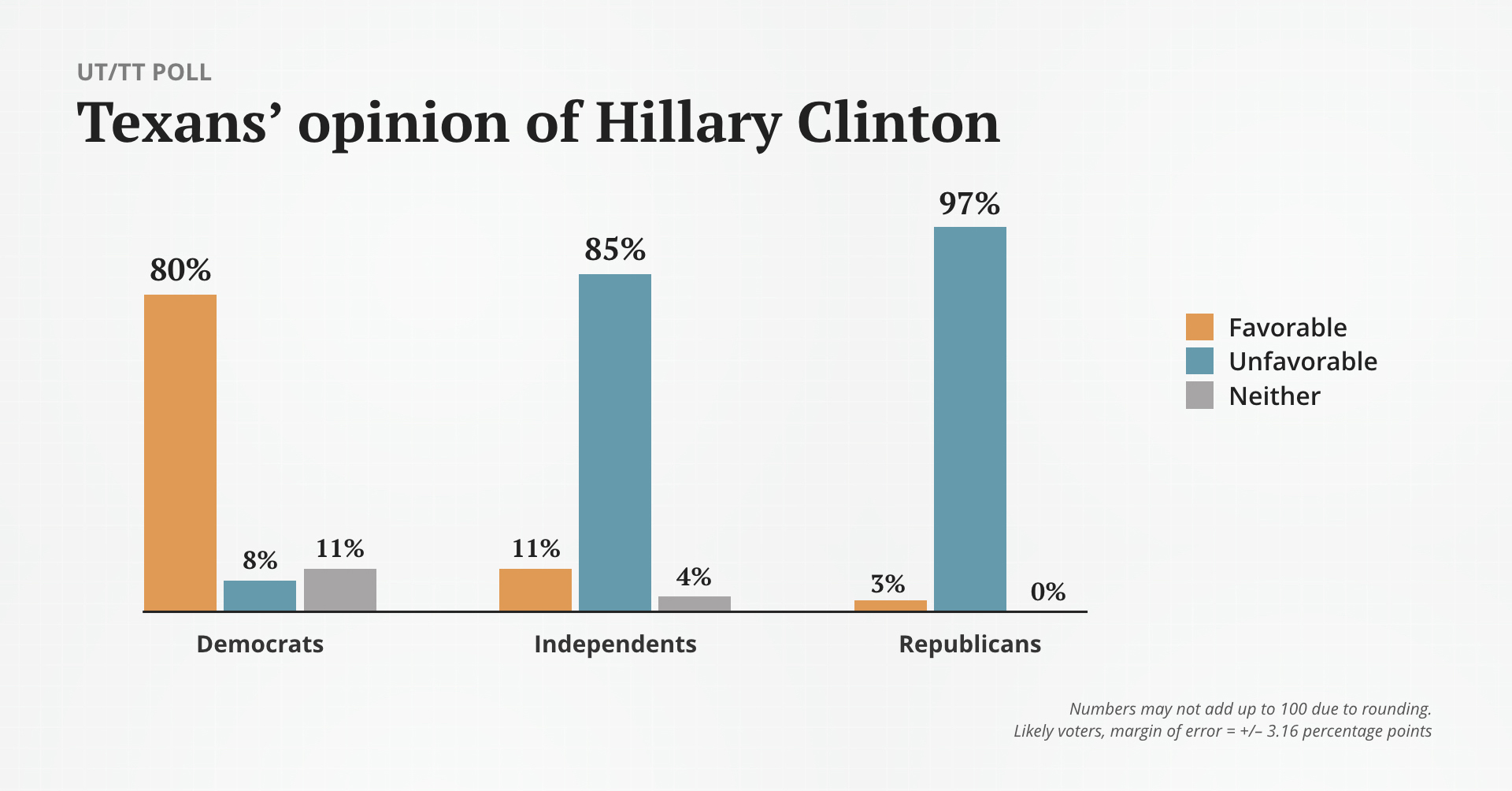 U.S. Sen. Ted Cruz of Texas has favorable ratings from 32 percent of Texas likely voters and unfavorable ratings from 49 percent. But after a long race for president and a bumpy few months reconciling himself to the party's nominee, Cruz appears to be sitting well with his Republican base. It's true that 81 percent of Democrats and 57 percent of independent voters have unfavorable opinions of him, but only 25 percent of Republicans share those views. He's going forward to a re-election race in 2018 with favorable reviews from 63 percent of Texas Republicans.
"Ted Cruz seems to have recovered a little bit," said Jim Henson, co-director of the poll and head of the Texas Politics Project at the University of Texas at Austin. "I think that's really a number to watch. If you're looking at Cruz and hearing some of the speculation about a primary challenge, you have to think that anyone challenging him would have an uphill battle."
Republicans and Democrats don't have high opinions of each other. No surprises there. If, however, you require numerical proof: 87 percent of Republican likely voters said that the Democratic Party does not welcome people like them, and 85 percent of the Democrats said the same about the GOP.
But the answers from the independents were interesting: 21 percent said they found the Democrats welcoming, and 15 percent found the Republicans welcoming.
Where independents' answers to candidate preference questions agree more with the GOP, 65 percent said they find that party unwelcoming to people like them; 60 percent said the same of the Democrats.
Ask Texans to grade the job performance of top officials and institutions, and Congress continues to get the harshest marks. Ten percent of the state's voters approve "strongly" or "somewhat" of the job federal legislators are doing; 68 percent disapprove.
In comparison with that, everybody else looks pretty good. President Obama gets approving nods from 43 percent and disapproving frowns from 49 percent. U.S. Sen. John Cornyn's work is pleasing to 28 percent and unpleasing to 36 percent. Thirty-five percent of Texas voters approve of the job Cruz is doing and 45 percent disapprove.
State officials have managed to remain unscathed by the battles on the national ballot and in Washington, D.C. Gov. Greg Abbott gets good marks from 42 percent and bad ones from 33 percent; Lt. Gov. Dan Patrick's numbers match, with 31 percent approving and the same percentage disapproving; and 21 percent of voters approve of House Speaker Joe Straus' performance, while 23 percent disapprove. In his case, 55 percent either registered neutral or no opinion.
"I was surprised at how much continuity there was," said Daron Shaw, co-director of the poll and a government professor at UT-Austin. Most of the favorable/unfavorable numbers have remained relatively constant during a turbulent political cycle.
"Greg Abbott's numbers are still impressively strong, whether you're looking in from the outside or if you're trying to figure out how to run against him," Henson said.
The poll asked how people would vote in a generic race for Congress; 46 percent said they would vote for a Republican, and 39 percent favored a Democrat. But when asked how they would vote if the Tea Party had a candidate on the ballot, 20 percent chose the Republican, 17 percent chose the Tea Party, and 37 percent chose the Democrat.
About a third of the voters said the Tea Party has too much influence, but 17 percent said it has about the right amount and 27 percent said it has too little influence.
The University of Texas/Texas Tribune internet survey of 1,200 registered voters was conducted from Oct. 14 to Oct. 23 and has an overall margin of error of +/- 2.83 percentage points. Among likely voters — those who said either that they are certain to vote or that they have voted in "every" recent election — the margin of error is +/- 3.16 percentage points (n=959). Numbers in charts might not add up to 100 percent because of rounding.
This is one of several stories on the latest University of Texas/Texas Tribune Poll. Yesterday: The race for president. Also today: What sort of voter fraud Texas voters fear in November's election.
Disclosure: The University of Texas at Austin has been a financial supporter of The Texas Tribune. A complete list of Tribune donors and sponsors can be viewed here.
Texans need truth. Help us report it.
Independent Texas reporting needs your support. The Texas Tribune delivers fact-based journalism for Texans, by Texans — and our community of members, the readers who donate, make our work possible. Help us bring you and millions of others in-depth news and information. Will you support our nonprofit newsroom with a donation of any amount?
Yes, I'll donate today
---
Information about the authors
Explore related story topics